At Pricing Van Lines, we are aware that people have a lot of questions and concerns related to planning their move in an effective manner, and doing it in a way that is simple and affordable for them.
Because of that, we've developed tools like our Pricing Van Lines moving cost calculator in order to help you learn as much as possible about what may be involved in the price of your move.
Having these resources available can help to prevent surprises and allow you to know exactly what you're getting into before you start getting moving company quotes from our website.
| Distance | 1 bedroom | 2 – 3 bedrooms | 4 – 5 bedrooms |
| --- | --- | --- | --- |
| <50 miles | $300 – $650 | $750 – $1,300 | $1,350 – $2,900 |
| 250 miles | $850 – $1,900 | $1,700 – $3,500 | $2,000 – $4,500 |
| 1000 miles+ | $900 – $2,700 | $2,100 – $6,900 | $5,500 – $7,900 |
| 2500 miles+ | $1,500 – $3,500 | $3,900 – $7,000 | $8,500+ |
What is the Average Cost of Hiring a Moving Company?
Hiring a moving company is going to vary in cost based on where you are, what you're doing, and how you want to take care of things. The table above gives you a very rough cost estimate based on the number of bedrooms and the mileage involved in your move.
But there are a lot more factors that are included when it comes to figuring out the cost of your move. The approximate size of the household and distance is just the beginning of what moving companies look at, hence why the prices that we are able to provide you via our moving cost calculator are an approximation, meant to give you an idea as to how you may want to budget for your move.
Moving companies often specialize in a particular type of relocation. Some of them will specialize in long-distance moves, others may only do local moves.
You may find movers that only take care of business or industrial moves, mainly because of how specialized the tools and training are for them.
When you hire through Pricing Van Lines' site, you are working with companies that specialize in long-distance moves, and their prices are going to reflect that expertise.
While it's not necessarily going to be cheap to hire a moving company, you will often find that it's equivalent (or only a little bit more) than what you would be paying if you decided to go about it in a manner where you did everything on your own.
Many people who end up considering moving companies will consider the extra cost worth it because it helps to reduce the time and energy that they would otherwise need to invest in the moving process.
This allows you to focus your efforts on other parts of your move while also ensuring that everything will be properly taken care of.
What Can Affect My Moving Price?
There are a variety of factors that will play a role in regards to your moving price, and it depends on what you're looking for from a moving company.
You want to be sure that you have a solid understanding of what may be involved so that you can do things correctly and see results for what it is that you've decided to do here.
Here is a quick overview of what may affect the results on your moving cost calculator.
1. Where are you headed?
The distance of your move is going to play a major role as to how much you're going to be paying for your move in the first place. The further the distance, the more things that are going to be accounted for and the more that you're likely going to need to pay in order to accomplish everything.
Your starting point is also going to factor in here – you may have to pay some additional costs if your moving company has to go to a rural area in order to load up your items.
2. When are you moving?
Moving costs are going to vary based on the time of year that you're moving. Most people move during the summer or at the very end/beginning of the year – either to coincide with their child's school year or with the beginning of a new fiscal year.
So, during those high-demand times, the costs will be much higher. Costs are lower during the "off season". Also, weekend costs are typically a lot more expensive than weekday costs.
3. How much is coming with you?
Obviously, the amount of stuff that is moving with you plays a role in your overall moving costs. Not only will it determine the size of the truck that your movers will need to have available, but it can also have an impact on how many movers that you need and how long your move is going to take. All of those details will make an impact when it comes to determining your costs.
4. Do you need any extra services?
Are you going to want the movers to take care of packing and unpacking for you? Do you need them to bring packing supplies or do you need them to take care of any other services that you may need? Many of those services are going to have some sort of an additional fee associated with them unless otherwise indicated by your movers.
In some cases, you may also need to call your moving company to verify these sorts of fees (especially if they don't happen to be listed on the site that you're getting your quote from).
5. Are there special requirements related to your move?
Do you have large items or fragile items that are going to need special arrangements in order to move carefully? Often called "white glove" services, these are services that are focused on carefully transporting items like pianos or large pieces of antique furniture that need some extra care during your move. And, as with any sort of special service, you are going to need to pay a premium in order to make it happen. 
6. How will you book the move?
Booking fees are another consideration that you're going to want to be sure of. Some companies will make you spend a certain amount in order to book your move.
Others will require you to make a small deposit that you'll either get back when your move is completed, or they will put that cost toward whatever your final moving costs are.
These are the most common factors that are included in regard to your moving costs. There are other fees and other such things that may come up as well.
Your moving company will ensure that you have a heads up about them before you commit to anything.
How Much Does a Cross-Country Move Cost (On Average)?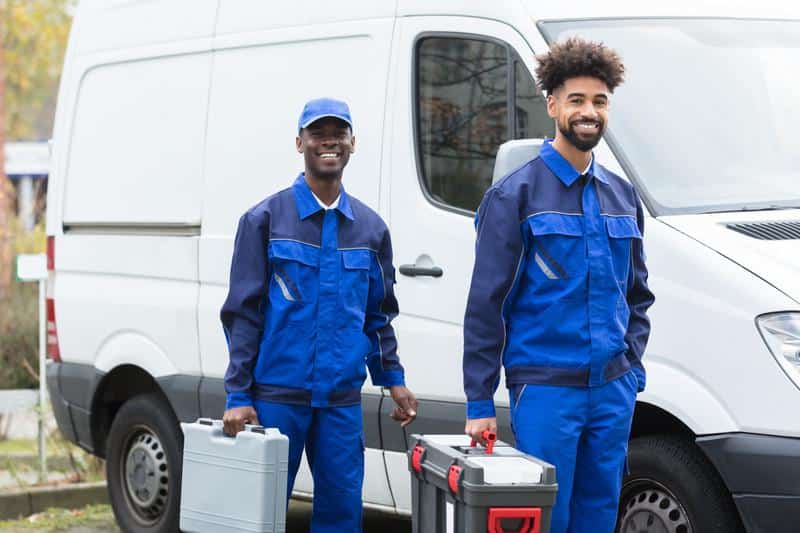 Cross-country moves can vary wildly depending on where you are and what you're moving from one location to another. If you're heading from one coast to the other, the moving company that you hire could end up charging you anywhere from $4500 to $6000 or even more.
But, for cross-country moves, you will often find that there are some criteria that you aren't going to see when you're scheduling an intrastate or local move.
For example, mileage plays a really big role when it comes to figuring out the cost of a cross-country move. They calculate both wear and tear and how much gas that you're likely going to use in order to get from one place to another.
If it's a trip that takes multiple days, the movers may also need things like hotel rooms taken care of (which your moving company will let you know about ahead of time).
Weight may also play a role as to how much you have to pay for your move. Many times, a moving company will give you an estimate based on a cursory look at everything that you own.
Then, they'll give you an estimate based on how much they think it'll weigh, and then give you a minimum and maximum cost based on those numbers.
In other cases, the moving company may use tractor trailers as part of their network in order to get multiple moves taken care of at the same time. The freight costs often help to lower the overall cost of your move, but you may have to schedule it based on their schedule.
This could leave you without some of your items for a period of time after you've arrived to your new home, so you want to keep that in mind when planning your move.
How Much Does a Local Move Cost (On Average)?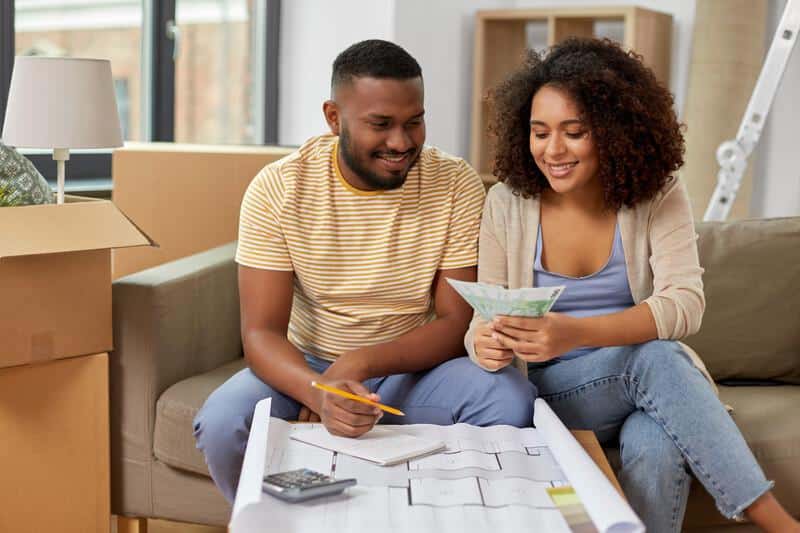 As you might expect, local moves are a lot more reasonable in terms of cost. This is because it's much less restrictive on the movers and their materials. The move can usually be done in the morning or afternoon, and they don't have to spend hours or days on the road in order to ensure that your move is taken care of properly.
Due to this, moving companies will have different ways for you to learn the cost of your local move via a moving cost calculator.
For local moves, it's likely that you're just paying by the hour per mover that has to come to your location. On average, local movers will have a cost between $20 and $40 per mover, per move.
Most local moves will take 2 to 3 movers, and about 3 to 5 hours for that move. So, on average, you're looking at anywhere from $120 (2 movers at $20 an hour for 3 hours) to $600 (3 movers at $40 an hour for 5 hours) if you're just moving across town. As the distance increases, those numbers will increase as well.
There may be some additional costs based on other services that you have as well, including packing and unpacking, any storage needs that you may have, and the truck (if they need to rent a truck or if they calculate wear and tear from your move).
White glove services (for large and/or fragile items) and other services that you may require in order for your local move to go smoothly will also accrue additional costs.
You can put those additional needs into our moving cost calculator in order to ensure that you have the most accurate estimate for what you should be budgeting.
Top Tips to Save Money During a Move
When looking to save some money during your move, you need to be sure that you do a little bit of research to see what may help to reduce your costs after putting them into our moving cost calculator. Here are some suggestions that we have so that you can cut costs effectively.
1. Pack and unpack on your own
While packing and unpacking services are definitely convenient, they are also going to be a lot more expensive than if you decided to pack and unpack the items on your own.
Now, for some people, they see time as money and they feel like it's a fair trade-off, but that's completely up to you and how you may want to do things.
2. Do a thorough job separating between what you want to purge and what you want to keep
One of the best ways to reduce your costs is to take fewer items with you to your new home. The fewer items that you have, the fewer movers they will need. They also won't need to take as much time for your move and they won't need to use as large of a vehicle to haul your items.
So, after you schedule your move, it's definitely a good idea to start the process of purging – giving items away, donating them to charity, or selling them at a yard sale.
3. Compare multiple quotes from multiple companies
The best way to save money is to use a moving cost calculator alongside of the services that we offer at Pricing Van Lines. By comparing multiple quotes and sorting out the details around them, you can have a more definite idea about what it is that you may need to change in order to save some money in the long run.
This is a good rule of thumb no matter what it is that you may be shopping for – you want to be sure that you're comparing prices so that you can attempt to get the best deal for your efforts.
4. Get moving supplies for free
Chances are, you live in a location where you're going to be able to find two essential types of moving supplies without paying too much for them. First, boxes – you can get boxes from any number of sources, including liquor stores, fast food restaurants, and convenience stores.
Stop in and ask if they have any boxes that they were thinking about getting rid of. Or, you can go to any of those stores and ask them to hold some back for you to pick up on a certain day. Many stores are happy to oblige.
5. Get your friends to help you out
It's really hard to try and take care of everything for a move by yourself. Because of that, you may want to talk to friends and see if they can help you with some of the tasks you may have paid movers to deal with. Many times, friends and family members will help you for free, or at the very least, if you feed them and give them drinks they'll be glad to give you some assistance.
6. Move-in the middle of the week and month
As mentioned earlier, the best time to move is in the middle of the week. Weekdays (specifically Tuesdays, Wednesdays, and Thursdays) could end up being close to 25% cheaper, depending on which company that you go with.
Also, consider planning your move for the middle of the month as well – that is usually the slowest time for movers, so you will likely get a better rate.
Saving money on your move takes time and planning, but once you situate the details and work out what you need to do, you can really find some options that are going to be able to reduce your costs significantly.
If you use our moving cost calculator to get a baseline and sort out what it is that you are likely to pay, you can then use some of these aforementioned tips to try and cut those costs down even more.
Budgeting for any move is important and you want to be sure that you use your available resources in order to make a decision about your process. By knowing and understanding prices, how quotes are calculated, and other relevant information, you can do everything possible in order to develop a game plan that keeps your move at an affordable price that will work well for your purposes.
We hope that our moving cost calculator was able to assist you in regards to your next move. At Pricing Van Lines, our job is to help you get the information that you need in order to make an informed decision about your move.
We are a moving broker that has worked hard to do the difficult work related to preparing for your move.
Our moving cost calculator is just one of the many tools that we have available for you so that you can price out your move in an effective manner.
Consider exploring the other areas of our website so that we can help you to get connected with the right moving company for your move.
Frequently Asked Questions
What information do I need to accurately estimate the cost of my move? 
In order to use a moving cost calculator to its fullest advantage, you're going to need some crucial pieces of information. You should know how far you're moving, what time of year you're planning on moving, how much of your stuff is coming with you, and whether or not you will need additional services like furniture assembly/disassembly or packing during your move.
What factors go into estimating the cost of a national move? 
As should be expected, moving across the country is going to be quite a bit pricier than moving across the street. When it comes to determining the estimated cost of a national move, several factors will come into play.
Some of these factors include how far you're moving, the number of belongings to move (weight), how much fuel it will require, any additional services you may require, and the time of year that you're making the move.
What factors go into estimating the cost of a local move? 
If you're just moving to a different part of the state or across town, then your move is going to be a lot more forgiving when it comes to the price. Generally, with local movers, you'll be paying your movers by the hour, and most local moves won't take longer than a morning or afternoon.
The cost might be influenced by how many movers you need, how much furniture and boxes need to be moved, how many hours it will take, and what sort of services you might need (like home packing or specialty services for oversized furniture).
How long should I expect my move to take? 
Most local moves (companies typically say a local move is 100 miles or less) are going to take a day to complete. If you're staying in the same town or county, it could be done within a morning or afternoon, unless you have a lot of stuff that is being moved.
Long distance moves are going to take anywhere from a couple of days to a week. Cross country moves can take even longer, depending on what needs to be done and how much you need to take care of things. Your moving company can give you a better idea of all of the logistics involved so that you can plan accordingly.
What other costs may come up while I'm sorting out my move?  
As you start sorting out your move, you will find that there are a lot of costs that can come up. Travel costs should always be considered during the planning process, so if you need to get meals, pay tolls, or stay overnight somewhere, you need to include that in your budget as well.
You may also find that, if you get help from friends or family members, you want to get them something to say thank you to them. Pay for their meals and housing, or their gas, if they're coming with you. Get them a gift card or something else to say thank you, as well.
Do I tip my movers? 
Yes! Your movers are providing you with a service, and so it's considered to be polite to tip them as a "thank you" for what they've done for you. Local movers should be tipped about $20 per hour, per mover, but you can always pay more if you think they did a great job.
Long distance moves are longer, of course, so you don't want to go by the local rate. Typically, you'll find that most people are going to give their movers $20 to $50 per day, per mover, depending on how long the move is and how good of a job that they did during the move.
Is it cheaper to move on my own or to hire a moving company? 
While it may be cheaper financially to get a moving van and move yourself, that doesn't mean that it's cheaper overall.  You'll have to take care of all of the logistics, you may need to bribe friends and family to help, and you don't have the tools that movers have.
In many cases, hiring a moving company is worth the extra cost. They take care of the hard work for you, and all you need to do is pack and make sure that everything is ready to go when moving day comes along.
How should I look for my moving company? 
There are a lot of options on the web that make it really easy for you to find the moving company that can meet your needs the best. Working directly with moving companies takes a lot of time, but if you're willing to search and see which one is best, you can actually get some great info.
Another consideration may be for you to go ahead and work with a moving broker or facilitator. These companies often have connections with a number of different state-to-state movers, and they've vetted and background-checked them so that you can feel confident scheduling them.
Either way, you want to compare rates and look into their reputations. This will give you a good idea as to who may be great to work with and how you may want to proceed with a company. A little bit of extra research could end up saving you time and effort.
Moving is something that needs to be meticulously planned weeks in advance. With a task this daunting, getting your moving budget in order is definitely something you should be considering before you even begin calling moving companies. To help you get your budget in order, using a moving cost calculator could help you find the ideal estimate before you ever even pick up the phone.