Interstate moves are usually characterized by a bundle of difficulties that do wear consumers out throughout the process.
One can enjoy a smooth moving experience when planning and hiring a trusted interstate moving company are placed on the highest priority.
In our quest to ensure that your move is seamless and less stressful, the Pricing Van Lines team researched over a hundred interstate movers and handpicked the best ones for your needs.
These moving companies have been reviewed to offer the best interstate moving services that will take you across the state line.
We considered many moving parameters to arrive at this list. These factors include professionalism, quality service delivery, affordability, excellent customer service, equipment, add-on services, and much more.
We also looked in-depth into their reputations and reliability in performing the task and they were referenced to be the best.
Top 10 Interstate Moving Companies of 2023
Our team concluded that these top 10 interstate moving companies are the best to get the job done. We considered many moving parameters to arrive at this list.
These movers were found to delivering top-notch interstate moving services that ensure a smooth customer moving experience.
Having researched more then hundred moving companies, we handpicked these top 10 interstate movers for you.
This is an American moving company which concept originated in 1928 the period when return loads services incorporation was created to cater for shipments and goods for independent companies.
When similar traveling companies started appearing in the country, the firm adopted the name United van service which was later dissolved in June 1933, and all its assets were transferred to the presently incorporate company known as United vans line. It prospered and eventually had its headquarters in st. Louis. Fenton.
This corporation has created related operating companies that provide customized insurance for people that want to move and sell equipment and provide a global mobility service, and in 1995 it became more successful and had its first billion-dollar revenue year.
Why Choose United Vans Lines
This company adds full-service protection on each move. Full Value Protection (FVP) is a type of moving valuation that provides coverage for the cost of replacing your household items if they get lost or damaged when you are moving.
Lots of company offers FVP for a certain fee, but with United Van Lines, you get it for free on each move. This advantage is highly valuable for those moving long-distance since the length of time your items spends on the road increases its risk of getting lost or damaged.
With the Full Valuation Protection from United, you can easily transport your valuable items across the nation without being worried about the replacement cost in case something happened on the move.
Atlas van lines is an American transport company earlier formed in 1948 by neutral storage firms. It has about 500 agents all around the world which an estimate of over 140 countries of which some shares are with Atlas world group.
The Atlas van lines are controlled by Atlas world group and are based in Evansville, Indiana. Presently it is the second-largest motor carrier in the United States of America that transports interstate and currently hold the current position as the 11th largest privately owned company in the state.
It is known for its efficient service and makes sure that their clients are satisfied.
Why Choose Atlas Van Lines
Atlas ensures all its employees are well checked to make sure customers, and their possessions are safe. This company performs local and long distance moves within the state, making it the perfect option for all types of moves.
Since movers can charge more on interstate moves than intra-state moves, some moving companies get their profit by performing only interstate moves for customers.
This business strategy is wise, but other customers who are not moving to another state will be left with no choice but to consider another company.
A reliable moving and storage company is located in Indianapolis, Indiana, and has about 250 authorized agents. In 1973 it had its the first carrier in the nation to hold complete star authority from the interstate commerce commission.
It's has been named one of the top 101 service companies in the United States of America and eventually became a corporate sponsor of giving kids the world which is a non-profit organization for children that have life-threatening diseases.
The company adds great benefits to this organization by providing a reliable transportation service alongside meals and attraction ticket.
Why Choose Wheaton Worldwide Moving
Wheaton gives you a quick online estimate. Even though an online estimate will not spell out the actual prediction of what you will be charged by Wheaton, it will give you a general idea of your expected cost.
After you obtain your quote, you can then choose the company by requesting a home estimate, which is more accurate or goes with another company; the choice is yours to make.
This company kicked off on the 1st of October 1997 and aimed at making moving more affordable for persons who are interested in moving but with little finance.
The ABF U-Pack is moving to provide a variety of services to its customers for both moving, self-packing and unpacking in countries like US, Canada as well as Puerto Rico.
Some of this services that this company provides are
Small Moves
College Moving
Moving of military officers
Far distance-moving especially to the above countries US, Canada, and Puerto Rico.
They also provide moving equipment such as moving trailers and shipping containers for moving.
This company offers free instant moving quotes on its website, and this is helpful when you are planning a budget for a big move. U-Pack's moving prices will amaze your purse.
If you prefer U-Pack and you still desire the convenience of the move, you can hire loading and unloading help from the company. Note that you will pay a few hundreds of dollars for these services, and they are sometimes not available.
Among the popular moving company in America is the Allied van lines which were founded In 1928 as a corporate organization with no profit Interest.
It is owned by some member agents in the East coast of the United States and specializes at handling return loads and reducing the operation of trucks without loaded shipments. The company was later organized as a standard public company in 1968.
In 1999 this company merged with North American van lines and the combined companies came under the holding company of allied worldwide which was eventually renamed as SIRVA in 2002.
Why Choose Allied Van Lines
If you need several options to choose directly from a moving company, then choose Allied Van Lines. It offers varieties of moving services available and allows you to pick the services you deem fit for your move.
When you think of what a full-service moving company offers, the list of services offered by Allied should come to your remembrance. Its movers perform quality packing, unpacking, and furniture assembly. However, Allied also offers features like custom crating.
This was established in 1933 by a small group containing just 13 agents. Eventually, it became more productive and expanded to about 120 agents. The moving company offers a lot of amazing services and at one time became the largest trucking company.
The company expanded to Fort Wayne, Indiana in 1947 and became an international company in 1952 alongside its international transport business which was added to it.
It's transportation business spread wide as it was able to create specialized transportation incorporation and this company turned out to be independent incorporation.
The NAVL trucks are all painted in white and some little blue color added to it, and if you want to identify their trucks, it is spelled "northAmerican" on each and every one of them.
Why Choose North American Van Lines
Moving is a task you hopefully don't want to do many times. It is a hard, confusing, and tiring process. First-time movers or those who are unsure where to begin the process should check some of the online resources provided by North American Van Lines on its website.
This will help you to know more about each step and read many FAQs, professional tips, and general tricks of the business. You can go through the resources to be able to pick the right moving company for the best price.
We believe this is one of the indications that the company so much values its customers as all these are to ensure the customer ends up with a great moving experience.
This is popularly known as the oldest and largest household moving company in the United States and is presently one of the largest moving companies in North America. When it comes to transportation, they endeavor to make sure their customers are well catered for.
They have about 300 locations and over 2100 vehicles which they use for their moving business. To show how serious they are as regards their business, the company owns a warehouse that exceeds 4 million sq ft.
Later on, the Bekins was bought by Wheaton worldwide moving, and this happened in 2012. The Bekins van lines name was used as a different brand after it has been taken over by Wheaton.
Why Choose Bekins Van Lines
This company has been offering moving service for several years, over 90 years to be precise. It has been discovered in those years that one move is different from another and thus needs special attention.
To ensure you are served what you need, Mayflower gives customers the chance to customize an ideal move for their specific situation. Its additional services such as junk removal, home cleaning, and appliance set-up, and so on, make moving a convenient task.
Choose a comprehensive package to avoid maintenance projects, thorough cleaning, and transporting of junks to dumpsite after a move.
Amongst the privately held moving company in the United States of America is the National van lines incorporation. The agents working with this company are spread about in over 48 states.
Majorly, the company offers residential services and commercial moving and storage both for those that want it locally or those that want it internationally. 
The company kicked off in 1929 by one f.j.Mckee who used just a single wagon to make deliveries before he expanded his business to vaudeville and acquired enough moving trucks to make his business more global.
As of 2015, national van lines joined forces with the move for hunger which is a non-profit organization that helps reduce wastage of food and encourages fighting against hunger.
Why Choose National Van Lines
This company offers professional storage solutions and storm-proof facilities alongside its moving services. There are climate-controlled storage units, personal storage units, as well as 24-hour video surveillance in these private facilities.
This can also be used for other situations aside from moving. For instance, when doing home renovations or amidst a long-distance move, you can use this storage solution.
National Van Lines also offers free online resources, moving quotes, and moving costs estimates that can help consumers obtain an instant look at how much they will spend on their moving services.
When considering a good and reliable moving company, the Graebel moving company is one to be trusted. This company has helped many organization's with absolutely everything as regards the relocation of their people and the relocation of organizations.
Graebel delivers an accurate line from A to B and more encouraging experience for everyone and a new lever for the growth of a business. A lot of business need higher mobility when transporting their products and Graebel is always available to make this a success.
Graebel services have widely spread in over 165 countries across six continents.  Their worldwide full-service relocation services are offered not only for workplace relocation service but hospitality facility relocation service as well.
Why Choose Graebel Van Lines
This company is widely known in more than 165 countries on 6 continents. Graebel delivers a move from one point to another and a greater moving experience for all and a new business development standard.
The company has moved lots of organization's employees, the organization, and their belongings. Moving is a tough task enough, even without thinking of the person handling your valuable belongings.
Many people choose a DIY approach because they are not sure of the movers' reliability.  With Graebel, you are covered.
10. Neighbors Moving and Storage
When talking about corporations that serve the local relocation needs of customers, it is the Neighbors moving and storage. The various staff help both residential and commercial clients in arranging for moves and reduction of stress when relocating.
The experienced ones among the consultants join hands and help customers by defining the scope of services required and giving vital efficient solutions.
Their services include assembling and disassembling of furniture, transportation and packing and unpacking of goods and luggage's and if you want to preserve anything for a long time, they also provide adequate storage facilities which are thoroughly well maintained and secured.
Why Choose Neighbors Moving and Storage
This company's transparent pricing simplifies budgeting a lot. This is one of the reasons we love it. The cost of hiring a full-service moving company for an interstate move can be hefty, and you will possibly spend more time planning the budget.
Sadly, many movers subject you to a time-taking in-home moving estimation, which makes budgeting hard and time-consuming. The base price for your move is exactly the packaged price, and your overall price will be your package plus the cost of transporting your possessions.
The whole services that are important parts of a full-service move are included in each package, like packing, unpacking, and loading and unloading of the truck.
How Much Your Interstate Move Will Cost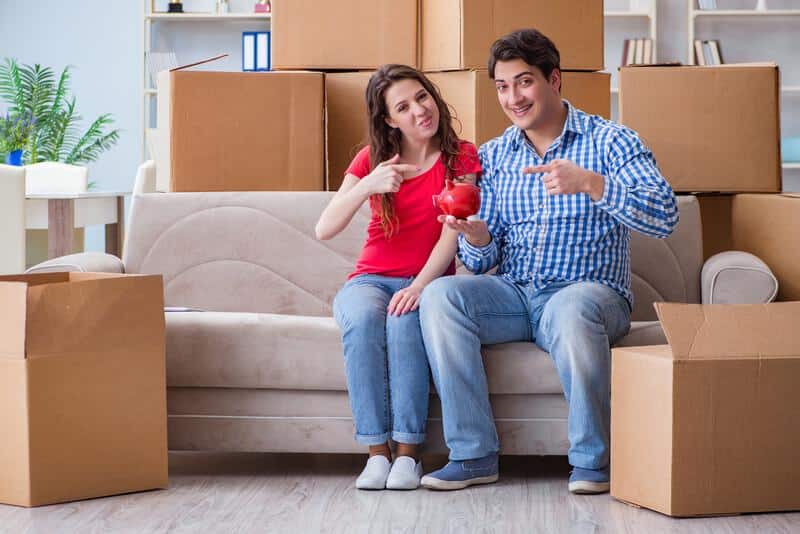 If you are planning on moving to another state, it is advisable to hire a professional moving company that provides efficient service and a cost-effective one.
Moving can really be stressful as it demands packing up belongings when trying to relocate to a new home but when you get a really good and effective interstate moving company, you will not necessarily need to pass through this stress as the company will provide all the needed services to make sure their client is not stressed out. So it is necessary to get an effective interstate moving company.
Definitely, an interstate company will save you time, it won't help you save your money as hiring an interstate moving company for a long distance journey can really be expensive, but if you see the services that most of them offer, you will be convinced that it is worth the bucks spent.
When considering the moving cost of an interstate moving company, you must first consider the location you are going to and the amount of stuff that you are moving.
Like for instance, the American moving and storage location stated that the average cost of an interstate company move is estimated around $4,300 and this is solidly based on the weight of about 7400 pounds with a calculated distance of 1225 miles with other various moving services needed.
Do not forget the fact that interstate movement can actually be more expensive than just local movement. Local move charges you per hour, but interstate move charges you according to the weight of the loads when passing through interstate lines.
How Moving Cost Is Actually Determined
Like I earlier mentioned,  the cost of an interstate move is determined by the following factors
The weight of your shipment. The more stuff you move, the more your money will increase as the weight determines whatever amounts that is to be paid.
The specified mileage to be covered between your point of origin and destination. The mileage covered by those moving within local states will definitely be less than that covered by those traveling interstate. 
Labor cost which will differ from one state to another.
The Labour cost from one state to another is also a contributory factor to the cost of an interstate movement.
When planning your movement cost, it will really be helpful if you put the above factors into careful consideration so as to make your movement a success.
How To Cut Cost During Your Interstate Move
Interstate moving can really be costly especially due to some factors involving distance and weight been carried during the journey.
The local movement is usually cheaper because less mileage is covered and you do not necessarily need to travel for a whole day or even days.
The average cost for interstate move varies, but according to the American moving and storage association, it is about $4,300. This can really not be afforded by every American citizen that might need moving company to relocate. 
We have made some research on possible ways to cut cost during your interstate move:
1. Enroll with AAA
For those with AAA membership, they may be eligible to get a special and moving storage discount given to them.
Take for example Atlas van lines; they offer good and full value protection only to those AAA members that are contemplating moving from one state to another.
2. Pack yourself
Hiring a professional moving company to pack your stuff will definitely save you time and save you stress but will not save you money.
It is advisable that you gradually start making needed plans to pack your belongings by yourself won that you can save cost and use the remaining money just to pay for your belongings to just be transported to the new location.
Though packing rates vary from one transport company to another, the difference with just be a few hundred bucks at least. I encourage packing yourself or probably calling family or friends to help pack up.
3. Selecting the right move date
When you live can actually make a big difference in the cost of your interstate relocation. Missing a day of work during the week is highly recommendable because according to our research, it is most ideal to opt for a mid-month, mid-week move.
Why is this so? Demands for movement during this period is low and do a lot of them will be readily available.
But if you are planning a weekend, you can keep in mind the fact that they're few weekends in a year and a lot of people will patiently be planning on using their spare time during the weekends to move. Also, avoid moving during labor day as such days make the movement more expensive. 
4. Reduce your belongings
The more stuff you own, the more cost your out of state move will be. I advise that before you plan on moving, you should trim down your household belongings first by donating some out, selling some, and using the money to buy them at your new location. This will definitely help you reduce costs.
Remember that though the above factors may help cut costs, it doesn't change the fact that interstate move will require a great cost so always endeavor to follow the above when trying to cut cost.
Changing location is something we can not do without and so it is advisable to always plan ahead when trying to move to another state.
Frequently Asked Questions Interstate Movers
How far in advance should I book my interstate movers?
If you have done your research and decided on the moving company you'd like to work with, then you should get in touch with them as soon as you have a moving date in mind for your big moving day.
Interstate movers can often be booked to capacity, which means you could be looking at a waiting time if you wait too long to schedule a moving company for your move.
Ideally, you should try to get in touch with potential moving companies and start getting cost estimates for your move at least two months ahead of the moving date you have in mind. This gives you plenty of time to settle on a moving company, set an official moving day with movers, and have a deadline in mind for yourself since you have a lot of chores to do when you're in the process of moving.
What is the best day of the week to schedule a move?
To save some time and money, you should always try to schedule your move during a less busy time of the week if at all possible. The busiest days for the majority of interstate moving companies are the weekends, so choosing a weekday (Monday-Thursday) as a potential day for your move is something you should be considering.
What is the cheapest time of year for moving?
Everyone wants to save money on expensive tasks like moving. Anyone who has ever been through a move before can tell you how busy and stressful it can be, along with how much work it is in general. Sure, hiring movers can take a lot of work off of your back, but you're still footing the bill for the job.
With that in mind, trying to save some money on your move is a very sensible thing to do. Sometimes, you can save a good bit of money with movers simply by choosing a less busy time of the year for your move.
The biggest majority of moving companies are busiest in the late spring to late summer months (generally May through September), so trying to schedule your move for the fall or winter may prove to be a simple way to save you some money on your big move.
Saving a good bit of money will be great for you when you get to your new home since you'll have some extra spending money. Interstate moving can really rack up the costs, but the time of year that you move can often have a noticeable effect on your final price.
How can I make sure an interstate moving company I'm thinking about hiring is legit?
For the sake of your belongings and your wallet, you want to make sure that any moving company you are thinking about hiring is a legitimate moving company.
Thankfully, in the digital and connected day and age that we currently live in, you'll be hard-pressed to find a business that has bad practices that aren't critically panned online by reviews from their customers.
Reviews are only one way that you can verify a company's legitimacy for yourself, too. You can also make sure they are compliant with the United States Department of Transportation since being licensed with them is required for moving companies, anyway. It is simple to look up the certifications of moving companies for yourself.
To do so, simply visit the official website of the Federal Motor Carrier Safety Administration and search for the moving company you are thinking about hiring. With their DOT number, you will be able to make sure they are compliant, as well as further information about their certifications.
What services do professional interstate movers offer?
The following are included in a full-service moving company's basic service:
Loading and unloading of all goods
Disassembly and reassembly of basic furniture
Moving blankets, pads, straps
All moving equipment including dolly, roller and more
Fuel, tolls, taxes
Parking permits
Basic valuation coverage
The following are additional services that generally cost extra:
Packing supplies such as boxes, paper wrap, etc.
Full pack service of moving boxes & loose items
Short or long term storage (free in some cases)
Additional insurance coverage
Disassembly & reassembly of large furniture
Packing of delicate or bulky items
Full unpacking of moving boxes and loose items
Is moving my furniture worth it?
Keeping your current furniture item when embarking on a local move might be reasonable. Local moves are generally cheaper than interstate moves, so you sure will be moving your old furniture items to your new home at a lower price than buying new ones.
How much should I prepare for a moving company?
Moving companies usually charge from $50 to $200 per hour for moves below 50 miles based on the number of workers required. Interstate movers, on the other hand, are charged based on the size of the move as well as the distance of the move.
The requirements of the relocation can also cause the cost to vary. Try to use our moving cost calculator to determine more accurate figures for your move.
How can I relocate to another state cheaply?
A long-distance move is typically expensive, but there are some tips you can follow to lower your entire cost. Try these:
Consider DIY moving options
Move during low-demand times
Obtain free moving boxes and supplies
Declutter as much as possible
What is the most cost-effective way to relocate across the country?
The most affordable option is to initially get a rental truck and drive it yourself down to your new home. You could easily move your household goods to your faraway home in a small moving truck for about $1,000. But when you consider taxes, fuel, hotels, and insurance, you may find the cost nearly the same with hiring full-service cross-country movers or renting a moving container.
What is the method to follow in choosing an interstate mover?
We recommend choosing a long-distance moving company with long years of experience and an excellent reputation for your interstate move. There are licensing and expertise required when relocating across state lines. Research for the following:
Active license and insurance from the Department of Transportation (DOT)
Positive complaint history on FMCSA
Check online review websites
Years of the establishment of the company
Is the company owner or staff listed on LinkedIn?
How active are they on social media?
Can you look up their address on Google? Are there moving trucks or a warehouse?
Which is better? Move your items or buy new ones?
Local moves are generally cheaper than long-distance relocation, so local transitioning of your belongings to another home will definitely be less expensive than purchasing new ones. However, for a cross country move, you will have to figure out when you know the overall moving cost, which is calculated by the weight of your belongings.
When you're armed with the right information and a few simple tips, you will often find that many things can be made much clearer and easier to understand. One thing that needs to be clear and concise for anyone to be able to understand is the process of moving.
Almost everyone will move at some point in their life, and equipping them with the information necessary to make successful moves will go a long way in helping them save time and money when their moving day finally rolls around.