In order to develop our list of the best interstate moving companies, we considered many parameters including professionalism, quality of service delivery, affordability, level of customer service, available equipment, add-on services and much more. 
We put a lot of emphasis on reputation and reliability in order to finalize which companies made it to our list.
The extensive research combined with our years of firsthand experience working directly with many interstate moving companies puts us in the prime position to understand what each company can offer and determine which companies should be your "go-to" when it comes time to plan your interstate move.
How Much Does it Cost to Hire Interstate Movers?
On average, hiring an interstate moving company will cost you between $1,200 to $8,600. Of course, each move is different and the exact price takes into account the size, distance and other factors. 
The chart below provides additional information about the costs of interstate moves:
| | | | |
| --- | --- | --- | --- |
| Distance | 1 Bedroom | 2 – 3 Bedroom | 4 – 5 Bedroom |
| 100 miles | $1200 – $1400 | $1150 – $1600 | $1400 – $3200 |
| 250 miles | $1300 – $1900 | $1400 – $3400 | $2,000 – $4600 |
| 1000 miles+ | $1500 – $2900 | $2000 – $7000 | $5400 – $7800 |
| 2500 miles+ | $1700 – $3700 | $3800 – $7600 | $8600+ |
If you want to read more about moving cost and pricing check the following article:
How Long Does it Take to Move Interstate?
The time that your move will take is highly dependent on the actual distance. Crossing state lines is considered an interstate move, but if the border is only a few hours from your current home, your interstate move could be done in one day. 
If your move is a longer distance, it can take anywhere from 3 to 14 days or even more. 
| | |
| --- | --- |
| Distance | ETA |
| 100-500 miles | 1-5 days |
| 500-1000 miles | 2-10 days |
| 1000-2000 miles | 3-17 days |
| 2000-3000 miles | 5-21 days |
Movers are subject to regulations regarding the number of hours they can drive in a day, so if your move is over 650 miles it will definitely take more than one day.
5 Best Interstate Moving Companies
The 5 moving companies that we highlight below deliver top-notch services that ensure a smooth moving experience. We highly recommend considering any one of them for your interstate move.
With over two decades of experience in providing relocation services nationwide, Moving APT has established itself as a formidable player in the industry. 
Their comprehensive range of services encompasses everything from providing no-obligation quotes to ensuring a fully licensed and regulated fleet and team, in accordance with all FMCSA regulations. The company takes security seriously and adheres to all Department of Transportation guidelines. 
The highly skilled and efficient Moving APT team members operate with a customer-first approach, providing round-the-clock services that include packing, loading, unloading and handling all logistics and technical aspects of your move. 
Their dedication to professionalism is reflected in the fact that all personnel undergo thorough background checks to ensure top-notch security during your relocation.
Why We Recommend Moving APT
Moving APT makes it possible to move with confidence and peace of mind. Their tailored approach and methodical planning ensure a seamless move, no matter the distance whether it is across the country or interstate. 
An added perk is their offer of 30 days complimentary storage, a convenient and cost-effective solution for those who need it.
Native Van Lines strives to provide their clients with a seamless and stress-free moving experience. As a nationwide moving and storage company, they offer comprehensive services for both residential and commercial customers across the United States. 
The company's network of experienced movers are equipped with the latest tools and techniques to make the moving process as efficient as possible.
Understanding that every move is unique, Native Van Lines offers a range of services to meet clients' needs. Whether it is to help with packing, loading, transport or storage (or any combination), they've got you covered.
Why We Recommend Native Van Lines
Native Van Lines impresses us with the dedication of their exceptional customer service agents to find the best quotes from their vast network of reputable moving companies. 
Their commitment to customer satisfaction is evident in their tireless efforts to go above and beyond to provide cost-effective, high-quality and reliable services that can fit any budget.
With over 20 years of experience in the moving industry, Adams Van Lines is a top-notch company that takes great care of its customers and pays attention to every last detail in completing every move. 
The professional movers are known for their promptness, reliability and exceptional customer service. The company streamlines the loving process by providing each customer with one central point of contact.
Adams Van Lines has completed over 1 million moves with an impressive rating of 4.5 out of 5 stars. Their expertise and in-depth understanding of the stress factors involved in moving enables them to take steps to alleviate as much of those stressors as possible.
Why We Recommend Adams Van Lines
Adams Van Lines is the ideal choice for anyone in need of additional assistance with packing. They also provide a wide range of storage options to accommodate a variety of needs, and are also equipped to handle the delicate transportation of valuable and fragile items. 
We also love the customized plans that Adams Van Lines provides, with clear expectations and step-by-step guidance that take all the guesswork out of any move.
The founders of Verified Van Lines had the explicit goal of enhancing the image of the moving industry by providing exceptional customer service and operating efficiently.
The company rigorously screens its workers to guarantee that only the most competent and dedicated people are hired.
Verified Van Lines places a strong emphasis on credibility. Understanding the anxiety that comes with entrusting one's possessions to a moving truck, they strive to instill confidence that all belongings will be handled with care and will reach their destination safely.
Why We Recommend Verified Van Lines
Verified Van Lines doesn't just "talk the talk." They don't just claim to offer a higher standard of trustworthiness and customer service, but they actually do! 
They take active steps to ensure that each customer feels their move is a priority. With Verified Van Lines, the security of even the most precious and sentimental possessions is never a concern.
iMoving.com offers a one-stop platform that provides customers with various moving-related services including quotes from trusted and well-established moving companies, practical moving tips, and a comprehensive checklist to ensure a seamless and stress-free moving process.
Whether you are planning a simple local move or a complicated cross-country, interstate or coast-to-coast move, iMoving.com offers the tools and services to make your transition as smooth as possible.
Why We Recommend iMoving.com
With iMoving's secure and user-friendly platform, you can plan and execute your move smoothly no matter your current location or your destination, anywhere in the country. 
Simply enter your moving details and get access to quotes and services from various movers, allowing you to pick the option that best fits your requirements.
How to Choose a Reputable Interstate Moving Company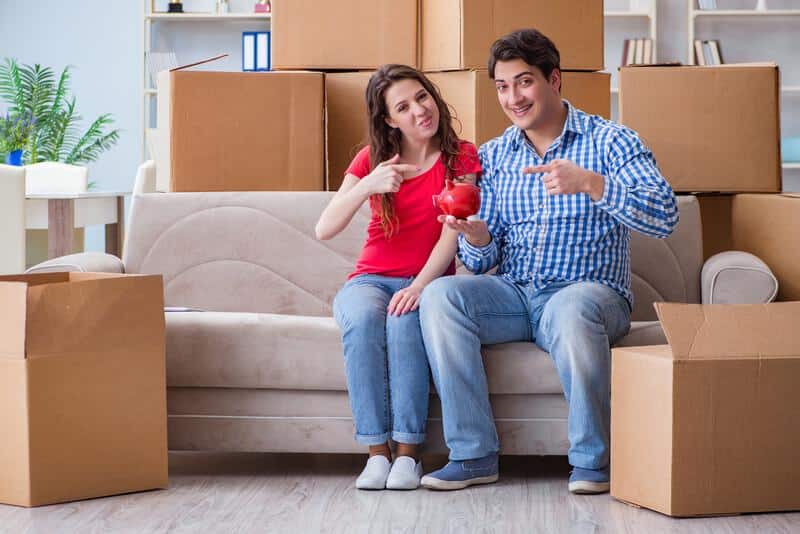 When searching for a trustworthy interstate moving company, it is crucial to consider the following factors:
Pricing – Research the prices offered by different companies to get an idea of the market rates and avoid companies that are significantly over or underpriced.
Binding Quotes – It's generally a positive sign when a company offers binding quotes as it indicates that the quote provided will be the final cost on the moving day, excluding any major changes made by the customer).
Deposits – While deposits are common in the moving industry, make sure the amount requested is reasonable compared to other companies and that the terms are clear.
Reputation – Read reviews on multiple platforms to get an idea of the company's service quality and customer satisfaction.
Credentials – Ensure that the movers you choose are fully licensed, insured, and legally authorized to operate in the relevant states.
Extras – A company offering extra perks such as free storage, insurance or discounts is a plus and adds to the overall customer experience.
What Factors Affect Moving Costs?
A multitude of factors contributes to the cost of a move. The most evident ones include the distance as well as the weight of the shipment. However, there are other factors that may not be immediately apparent, including:
Timing – Moves during peak times like summer and weekends tend to be pricier than off-peak times due to the higher demand.
Additional Services – Some moving companies offer extra services like packing and storage, which may not be included in the original quote.
Special Items – There may be additional charges for oversized items like pianos, or for fragile or valuable items requiring extra packaging and special handling.
Stairs and Elevators – If you are moving to or from an apartment building, there may be fees for a long walk to the elevator or for carrying items up or down multiple flights of stairs.
Long Carry – An extra fee may also be charged if the movers have to carry items a considerable distance from the truck to your doorstep (or vice versa), usually based on the actual distance.
How to Cut Costs on Your Interstate Move
Interstate moving can be rather costly, especially if you have a lot of possessions to move and are traveling a far distance. There are some steps you can take to cut down costs, including:
Enroll in AAA – AAA members are usually offered discounts on moving and storage services with many different companies.
Pack Yourself – Hiring movers to pack for you may save you time and stress but it will not save you money. Though rates vary from company to company, packing yourself will save you at least a couple hundred dollars.
Choose the Right Date – If you are able to take time off work, moving during the week is generally cheaper than on the weekends. Along the same vein, if you can avoid moving during high-peak summer months or holidays, you can also save some money.
Reduce your Belongings – The more stuff you have, the more expensive your move will be. If you can declutter and get rid of things you don't need, your move will cost less (and it will be easier to unpack too).
Pricing Van Lines has over 20 years of experience and successfully moved more than 180,000 people. We are not just another recommendation site – we have first-hand experience with the hundreds of movers in our nationwide network. Our recommendations are based on an extensive research process focusing on the following:
Reputation
We comb through thousands of customer reviews to find the most highly-ranked and experienced movers.

Industry connections give us a big-picture view of the services provided in the field.

We pose as mystery shoppers to test customer service and pricing.
Licensing
We use the Federal Motor Carrier Safety Administration's (FMCSA) database to confirm that moving companies have an arbitration program in case of damages, and we check any outstanding claims against them to ensure that they respond to and resolve customer complaints quickly. 
The FMCSA's Safety Measurement System tells us all we need to know about each company's safety records including any accidents they've been involved in or inspections they have had. 

We confirm compliance with the legal requirement for long-distance movers to offer full or released-value protection for your belongings. 
Feedback
In addition to online customer reviews, we gather feedback from our own clients following each move.

Video testimonials provided by our clients reveal which movers go above and beyond.

Detailed surveys give us the lowdown on how each mover performs.
Negotiations
It's our responsibility to make sure our clients get the best deal – we work one-on-one with moving companies to make sure they offer competitive prices and outstanding service.

We do not work with movers who engage in last-minute upselling and overcharging. We know the going rates and we can tell when a mover is trying to take advantage and we won't let that happen.

We look for movers who are willing to exceed expectations so we can send them more business. The movers that need improvement will not be recommended by us.
Frequently Asked Questions Interstate Movers
How far in advance should I book interstate movers?
As soon as you know which movers you want to use, you should get in touch with them and schedule a date. Most movers like a 2 month lead time, and interstate movers can often be booked to capacity, so don't wait too long.
What is the best day of the week to schedule an interstate move?
To save time and money, it's best to schedule a move on any weekday, Monday-Thursday. Most movers are busier on Fridays-Sundays so it may be harder to schedule as well as more expensive.
What is the cheapest time of year to move interstate?
Most moving companies are busiest in the late spring through the summer, think May through September. If you can schedule your move during the fall or winter (October through April), you're likely to save significant money.
How can I make sure an interstate moving company is legit?
It's easy to search for a company on the Department of Transportation's website – you can check and make sure all licenses and registrations are up-to-date. It is also helpful to look at reviews and make sure that most customers are happy and satisfied and that there are no major red flags.
What services do professional interstate movers offer?
Professional movers usually include the following services: loading and unloading, disassembly and reassembly of basic furniture, moving blankets and other equipment, fuels, tolls and taxes, parking permits, and basic insurance coverage. Additional services that cost extra include: packing supplies, packing services, storage, additional insurance coverage, and unpacking.
What is the most cost-effective way to move interstate?
The most affordable option for any move is to rent a truck and drive it to your new home by yourself. This, in theory, could cost as little as $1,000. But when you take into account taxes, gas, hotels, and insurance you might find the cost to be almost equal to hiring full service movers, to say nothing of the time and energy saved by hiring professionals.
Almost everyone will have to move at some point in their lives and now is your turn! Being armed with the right information and tips to make things easier can help make the difference between a stressful move and a stress-free one. 
Here's hoping this article helps make your move stress-free!