In addition to the boxes of belongings, your furniture is some of the most precious and important items that you need to get safely from Point A to Point B. 
It needs to be properly wrapped and protected against bumps along the road, and in some cases, certain pieces might need to be taken apart and then put back together in your new home.
Pricing Van Lines has years of experience working with hundreds of different moving companies. This first-hand experience, along with our in-depth research process, enables us to provide you with this list of the top 5 furniture moving companies. 
These companies will take the best care of your furniture, no matter how big or fragile it is. 
How Much Do Furniture Moving Companies Cost?
A full-service furniture mover costs anywhere between $400 and $4600 for local move while long distance moves can range from $1200 – $12000 or more.
The total cost of your move will depend on various factors, including the distance of your move, the size of the furniture, and the services required.
| | | | |
| --- | --- | --- | --- |
| Distance | 1 Bedroom | 2 – 3 Bedroom | 4 – 5 Bedroom |
| Local (Less than 100 Miles) | $400 – $700 | $850 – $1900 | $1300 – $4600 |
| 100 miles | $1200 – $1700 | $1350 – $2000 | $1700 – $3600 |
| 250 miles | $1400 – $2100 | $1600 – $3600 | $2100 – $4900 |
| 750 miles | $1600 – $3000 | $2100 – $6900 | $5600 – $8000 |
| 1500 miles | $1800 – $3400 | $2600 – $7500 | $6800 – $9700 |
| 2500 miles+ | $2000 – $3900 | $3950 – $8300 | $12700+ |
If you're looking for further information on the costs and pricing associated with moving, consider reading the following article:
1. iMoving
2. Moving APT
3. Adams Van Lines
4. Native Van Lines
5. Verified Van Lines
We don't throw the term "best" around lightly – hours of research and real-world experience have given us the insight and expertise to recommend the following five companies with confidence. Each one will ensure that your furniture is in the best possible hands during your next move.
iMoving has been around for over 50 years, providing top-quality furniture moving services and other solutions to household and corporate moving requirements to thousands of customers nationwide.
iMoving.com is a one-stop platform that provides all the information needed to plan a move from start to finish, customized to meet the needs of even the pickiest and most complex client.
The platform provides an easy way to gather information and quotes from a number of furniture moving companies at once and then choose the one that best fits your budget and needs.
We love iMoving.com because of the easy access it provides to the best furniture moving companies in the industry.
It offers full transparency between movers and potential customers so that you'll always know exactly what you are going to get for your money.
Moving APT is the moving company that understands that each move is unique, and is therefore dedicated to providing smooth moving experiences regardless of the type of move. Corporate or residential, local or long-distance Moving APT has all kinds of furniture moving covered.
This fully licensed company has provided moving services to several thousands of people over the last 10 years. Moving APT's experienced and skilled moving crews can take care of any size move, no matter the distance.
The company offers an array of premium services including packing and transporting all types of furniture. A flexible pricing system is appealing to customers, especially those on a tight budget.
Why We Recommend Moving APT
Moving APT's well-trained and professional moving crews are experts at taking extra good care of all your furniture-moving needs.
They go the extra mile to make sure that not only is the furniture properly wrapped and protected, but they also pack the truck in such a way that the furniture is kept separate from appliances or other large items that might shift in transit and potentially damage the furniture.
Adams Van Lines is well-known for their expertise in moving furniture and other household goods. Each move is personalized with a customized plan put in place that meets the unique needs of the customer.
The moving crews that are trained by the company work with each customer to help make sure their goals are met and that the entire relocation experience is stress-free.
They will complete all of the paperwork and make sure all legal requirements are followed in order to move to another state.
Why We Recommend Adams Van Lines
Adams Van Lines often has discounts and promotions available, ensuring a great price for any move.
Their pricing system is very transparent so there will never be any hidden surprises at the end of the move, and you'll always know exactly what you are paying for and how much it will cost.
They are also experts at moving large and fragile pieces of furniture and other items.
In its 20+ years of operation, Native Van Lines has moved over 250,000 satisfied customers. The company has agents in over 500 locations nationwide, so wherever you are moving to or from, Native Van Lines has you covered.
The company partners with local movers and works with each customer to connect them to the mover that has the skills, experience, and tools to help ensure that their move is completely stress-free and that all furniture and other belongings are delivered safely to the new home.
Why We Recommend Native Van Lines
No matter how many pieces of furniture you want to move or how fragile or valuable they are, Native Van Lines will set you up with an agent who will help you get quotes from a number of furniture moving companies until you find the one that you are most satisfied with.
We are impressed with how far Native Van Lines goes to ensure that all customers are matched with the highest quality movers for the most reasonable prices.
Verified Van Lines' main goal and focus is on customer service and providing the best possible and most efficient experience. The company was founded out of the desire to improve the reputation of the moving industry and prove that moving doesn't have to be stressful.
Verified Van Lines screens all employees to make sure that they are only hiring the most committed and talented professionals who will go above and beyond to instill confidence in the customers and ensure that furniture and other belongings arrive safely at their destination.
Why We Recommend Verified Van Lines
Any company that stands up for its values is a winner in our book. Verified Van Lines prides itself on putting their customers first and they really do it.
From an old sofa to a dining room table that is a cherished family heirloom, Verified Van Lines' professionals will move your furniture with the utmost care.
The Cheapest Ways to Ship Furniture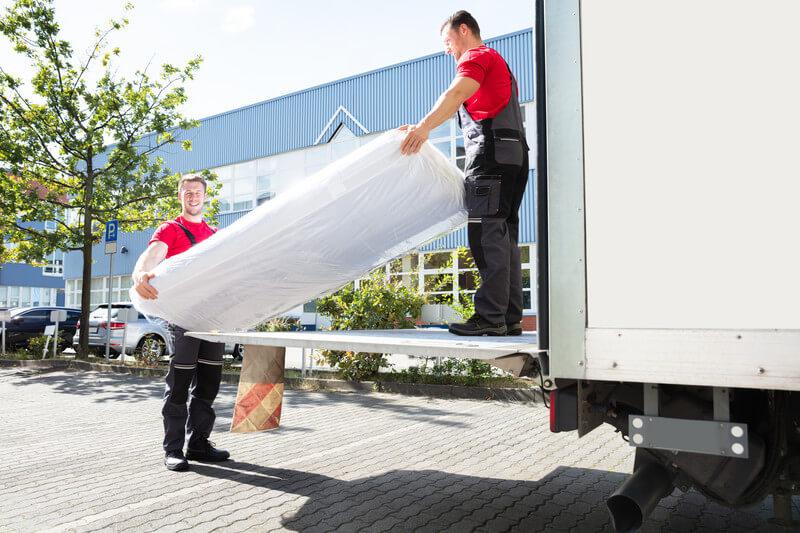 Depending on how much furniture you have and how valuable or fragile it is, you will have to spend some amount of money to get it safely to your new home. You don't, however, have to break the bank. Here are some ways to keep the costs down:
1. DIY
The cheapest way to move furniture (or anything else) is to do it yourself. This includes renting a truck, wrapping and packing the furniture yourself, and then driving it to the new location and unloading and unpacking it.
While definitely the cheapest option, this is also the most labor-intensive and time-consuming so you'll have to determine if the trade-off is worth it.
2. Moving Containers
Another option that is still cheaper than full-service furniture moving companies but less time-consuming than doing it all yourself is renting a moving container. This entails having a container dropped off at your existing home for you to pack and load with your furniture or whatever else you want to move.
Once you are ready, you call the container company and they come and pick it up and transport it to your new home. Then, you unload it there at your leisure. You still have to do the packing and unpacking, but it saves you the hassle of driving from one place to the other.
3. Less-than-Truckload (LTL) Freight
If you don't have a full truckload of furniture and household items to move, another less expensive option is to purchase space on someone else's moving truck. Called less-than-truckload freight, this option means that your furniture will be shipped in a truck with other people's furniture as well and may actually switch trucks mid-way.
You may not have much control over the timing, but if you are flexible and can wait a little longer for your belongings to arrive, you'll definitely save some money using this option.
4. Moving Cheaply with Full-Service Movers
There are ways to keep the costs down even when hiring a full-service mover. There are a number of factors that go into determining the price of a move, and there are things you can do to keep some of those costs down.
For example, it's much more expensive to move at peak times such as during the summer months or on a weekend. If you can book your move at an off-peak time, you'll find cheaper options.
For more information on the factors that go into determining the price of a move, click here.
How Much Does it Cost to Move Furniture Locally?
Local furniture moving companies (under 100 miles and within the same state) will cost you between $260 and $8000 or more, according to the chart below:
| | | | | |
| --- | --- | --- | --- | --- |
| Home Size | No. of Movers | # Hours | Ave Cost / Hr | Average Price |
| Studio | 2 movers | 2 – 4 hours | $80/hr | $278 – $599 |
| 1 Bedroom | 2 movers | 3 – 6 hours | $80/hr | $389 – $750 |
| 2 Bedroom | 3 movers | 4 – 8 hours | $125/hr | $750 – $1900 |
| 3 Bedroom | 4 movers | 6 – 12 hours | $165/hr | $1250 – $3500 |
| 4 Bedroom | 4 movers | 8 – 14 hours | $165/hr | $1,400 – $4900 |
| 5 Bedroom+ | 5 movers | 10 – 16 hours | $225/hr | $2500 – $7800 |
By doing the move yourself, your costs will include paying for truck rental, gas, and insurance plus any food or treats you supply for the friends and family that you need to bribe to help you.
If you use a moving container, your costs will be made up of both a rental fee and a transportation fee depending on the distance.
The price of a full-service move will depend on how long the process takes, how many movers are needed, and how big your home is.
How Much Does it Cost to Move Furniture Long Distance?
Moving furniture long distance (over 100 miles or across state lines) can cost from $1000 – $8500 or more.
Long-distance movers tend to price moves based primarily on the weight and distance of the move. See the chart below for more details:
| | | | |
| --- | --- | --- | --- |
| Distance | 1 Bedroom | 2 – 3 Bedroom | 4 – 5 Bedroom |
| 100 miles | $1100 – $1400 | $1150 – $1600 | $1400 – $3200 |
| 250 miles | $1300 – $1900 | $1400 – $3400 | $2,000 – $4600 |
| 1000 miles+ | $1500 – $2900 | $2000 – $7000 | $5400 – $7800 |
| 2500 miles+ | $1700 – $3700 | $3800 – $7600 | $8600+ |
What Factors Affect the Cost of Moving Furniture?
There is number of factors that go into determining what furniture moving companies will charge you, including the following:
Time of year – times when movers are in peak demand such as summer vacation and other holidays tend to be more expensive.
Access fees – furniture moving companies are likely to charge additional fees for anything that adds significantly to the effort they will need to expend. For example, having to load and unload an elevator can incur a fee, as can navigating tight hallways or flights of stairs.
Special equipment – things like dollies, furniture pads, boxes, and tape are all essentials that might be needed for your move, but the movers are likely to charge extra for all of them.
Complex moves – if you have a piano or a large painting or anything else of a weird size or shape that is hard to move easily, your movers will have to come up with a plan that could include taking things apart or even lowering them out a window. These types of extra-complex situations tend to cost more.
Weight and distance – this is the most obvious and the most important determining factor in the cost of any move. The more pieces of furniture that you have and the further it has to be driven, the longer it will take which means a higher price.
FAQ About Furniture Moving Companies
Do I need to hire furniture movers?
Furniture moving companies are there to make your life – and your move – easier. There are plenty of logistics involved in moving furniture, to say nothing of how heavy it can be. 
So, while of course, it is up to you to decide whether or not it is worth hiring furniture movers, remember that they have experience in moving all types of furniture and they also have the tools needed to move furniture safely.
Do I tip furniture movers?
Absolutely! The fact is that your furniture moving companies are providing you with a very helpful service. While you are paying a fee to the moving company, there is no way to know how much of that the movers themselves receive, so tipping is a great way to show your appreciation.
How long will it take to move my furniture?
The time it will take is fully dependent on how much furniture you have and how far you are moving. If you are moving locally, it can probably be done in one day, but the farther you go the longer it can take.
How much does it cost to move a sofa?
For a local move, it will cost somewhere between $60-$80 per hour for 2 movers to help you. The exact cost, though, is highly dependent on how far it is being moved, as well as whether it needs to be taken apart and put back together.
How much does it cost to move a piano?
The average cost of moving a piano is around $400, but it could be as low as $150 or as high as $3000 or even more. It depends on the size and condition of the piano as well as how much it is worth and how complicated of a move it will be.
Pricing Van Lines has over 20 years of experience and successfully moved more than 180,000 people. We are not just another recommendation site – we have first-hand experience with the hundreds of movers in our nationwide network. Our recommendations are based on an extensive research process focusing on the following:
Reputation
We comb through thousands of customer reviews to find the most highly-ranked and experienced movers.

Industry connections give us a big-picture view of the services provided in the field.

We pose as mystery shoppers to test customer service and pricing.
Licensing
We use the Federal Motor Carrier Safety Administration's (FMCSA) database to confirm that moving companies have an arbitration program in case of damages, and we check any outstanding claims against them to ensure that they respond to and resolve customer complaints quickly. 
The FMCSA's Safety Measurement System tells us all we need to know about each company's safety records including any accidents they've been involved in or inspections they have had. 

We confirm compliance with the legal requirement for long-distance movers to offer full or released-value protection for your belongings. 
Feedback
In addition to online customer reviews, we gather feedback from our own clients following each move.

Video testimonials provided by our clients reveal which movers go above and beyond.

Detailed surveys give us the lowdown on how each mover performs.
Negotiations
It's our responsibility to make sure our clients get the best deal – we work one-on-one with moving companies to make sure they offer competitive prices and outstanding service.

We do not work with movers who engage in last-minute upselling and overcharging. We know the going rates and we can tell when a mover is trying to take advantage and we won't let that happen.

We look for movers who are willing to exceed expectations so we can send them more business. The movers that need improvement will not be recommended by us.
Who Will Move Your Furniture?
Hiring reliable and trustworthy furniture moving companies can reduce your stress and ensure that you know exactly what services you will get for the price you are paying. Use our list above to find the movers that meet your needs and budget and have a great reputation.