Simplify your move and ensure it runs smoothly, safely, and even easier with the right planning and a professional team from the best nationwide moving companies.
Check out a researched drill-down and insider info and tips from us on America's top 5 and absolute best national moving companies. 
Our insights are based on research of real reviews, customer service and reputation, and provide critical info that'll make your move fun – believe it or not.
Top 3 Recommended Nationwide Movers By Experts
And now, presenting America's 5 best nationwide moving companies that'll make your move an actual pleasure each of them have reached this all-star level of quality and customer service in our books based on our experts' research. 
We investigated the ins and outs of the various services and solutions they offered, their business model, pricing process and system, and possibly most important, we carefully researched customer reviews to ensure you have a positive and enjoyable moving experience.
Find one the best nationwide movers that will meet your needs – from timing and prompt service to the punctual and safe delivery of your goods to packing and accessorial services.
Compare Best Nationwide Moving Companies
| | | | |
| --- | --- | --- | --- |
| Company Name | Company Type | Local and Long-Distance Moves | Offers Auto Shipping |
| Moving APT | Van line and brokerage | Yes | Yes |
| Adams Van Lines | Van line | Yes | Yes |
| Mayflower Transit | Van line | Yes | Yes |
| Allied Van Lines | Van line | Yes | Yes |
| Arpin Van Lines | Van line | Yes | Yes |
The 5 Best National Movers in America
We don't rest until you get the most important insider info on best national moving companies, and without waiting for a second longer, here's the list of 5 best nationwide movers – sweet and simple.
A strong leader among the best nationwide moving companies in the industry, Moving APT brings over twenty years of experience relocating Americans. Its range of services and qualifications include quotes with zero commitment required, a fully licensed and regulated fleet and team meeting FMCSA compliance requirements, bonded and sticking to regulations of the Department of Transportation for your security.
Moving can be hard work. Make your move easy and painless with Moving APT's strong and skilled crew working smart, safely, and with your every need in mind 24/7. Enjoy everything from packing, loading, and unloading services, to all the logistics and technicalities of moving handled with genuine professionalism. Staff undergoes a full background check, ensuring top-level security for your move.
Move with confidence and absolute peace of mind, cross country, state to state, or long distance, with Moving APT covering all your bases. We reach customers in a vast range of territories in the United States with a customized plan, approach, and solid methodology for every single move. Plus enjoy the bonus of 30 days of free storage. Overall, a great package is offered by this nationwide mover, yours and at your fingertips wherever, whenever in diverse corners of the country.
A superior nationwide mover with two decades in the industry, Adam Van Lines ensures your move is done with the utmost of care and attention to detail, prompt and truly on top of timing, punctual and experienced. You can relocate and safely get your home or business moved with great customer service and one centralized point of contact to make it efficient and easy. 
They know their stuff and focus on making your move hassle-free, with in-depth understanding and knowledge of the stress moving can present. Their goal is to take the load of your shoulders – both literally and mentally. Rated a 4.5 out of 5 and around since 2002, Adam Van Lines bring an impressive count of over 1 million moves to their portfolio. 
Storage services are robust and cover various types of moves, items, and complex transport of valuables, with short and long-term solutions. Plus, before the stage of storing, get them to pack up your space with full packing services at your disposal.
Enjoying your move with packing and accessorial services is simple, and this mover is fully compliant, licensed and regulated to ensure you have the legitimacy of a fully equipped and documented fleet moving households or commercial spaces. 
Unloading your move is now something easy with Adam Van Lines maintaining its position as one of the best national moving companies. This mover will custom build a plan and personalize every step of your move, coordinating the logistics and details so you can focus on the demands and tasks only you can cope with, while they move you and your space with insight and experience.
A veteran in nationwide moving, MayFlower Transit has been in business for nearly a century, taking care of America's long distance moves for over 90 years. As one of the best nationwide moving companies – legit, licensed and compliant with FMCSA regulations and requirements, Mayflower moves homes and businesses across the country safely and with simplicity.
With high ratings, fabulous reviews and a remarkable reputation it maintains for decades, (a sister company of United Movers), Mayflower provides precise quotes and pricing with every home or business it relocates. This nationwide mover goes the extra mile to offer terrific customer service with white glove moving. Location tracking of items and valuables is easy and accessible in real time to all customers, on the edge of innovation and progressive.
As one of the best national moving companies in business for nearly 100 years, Mayflower focuses on a truly positive moving experience for customers, prioritizing service with a smile. Your budget is important, and so are your needs. This leading and experienced mover helps meet your requirements with every step of the planning process. Use their checklists, helpful online resources, tips and articles and your move becomes a dream.
For a nationwide mover that offers flexible payment options, a range of services – from full to partial service packages, and nearly a full century in the moving industry, Allied Van Lines is a great option. With everything from end-to-end packing solutions, portable container storage solutions – (imagine the possibilities of container storage and mobility in one), and reaching 50 states in America, Allied is undoubtedly known as one of the best nationwide moving companies.
For the DIY client, this mover offers great options, alongside fragile valuable packing services as a standalone option. Plus, enjoy additional packing and accessorial services from furniture disassembly, vehicle, and valuable transport of various sorts. Add loading and unloading to the list, and yes, actually getting you set up in your new space and the possibilities Allied offers are endless. Note too that unpacking services are a great asset and available, and the team can reassemble furniture in your new space – home or business.
Licensed, compliant, and registered as a legit and certified moving carrier and broker, Allied does work within designated territories, and if your move is not within geographical parameters, they may recruit an external mover to take the gig.
The price tag for Allied Van Lines' range of services is both fair and flexible, with this nationwide mover offering various payment options – cash, certified check, or credit card. Allied Van Lines also offers insurance, and pricing depends on the season of your move, time, day, and other items impacting cost, without demanding a penny of your funds in advance. All payments are processed upon completing your move, making Allied Van Lines an attractive option for anyone on a budget and looking for honest and fair business models.
Arpin Van Lines is a privately owned company that was founded by the Arpin Group and has been in operation for over 100 years. Their headquarters are located in West Warmick, Rhode Island.
A trusted and reliable industry leader in moving household goods, Arpin provides storage services for military, government, residential, and corporate clients.
This nationwide mover is also a member of the AMSA, and they refer to themselves as the customer-centric moving company with over 330 locations spread across the United States. Their longevity in the moving industry has positioned them as a reliable and trusted state-to-state moving company.
The Following Table Displays The Best National Moving Companies in The USA
| No. | Best Nationwide Moving Companies | Website |
| --- | --- | --- |
| 1. | Moving APT | www.movingapt.com |
| 2. | Adams Van Lines | www.adamsvanlines.com |
| 3. | MayFlower Transit | www.mayflower.com |
| 4. | Allied Van Lines | www.allied.com |
| 5. | Arpin Van Lines | www.arpin.com |
Know The Facts: Questions and Answers Find the Best Nationwide Movers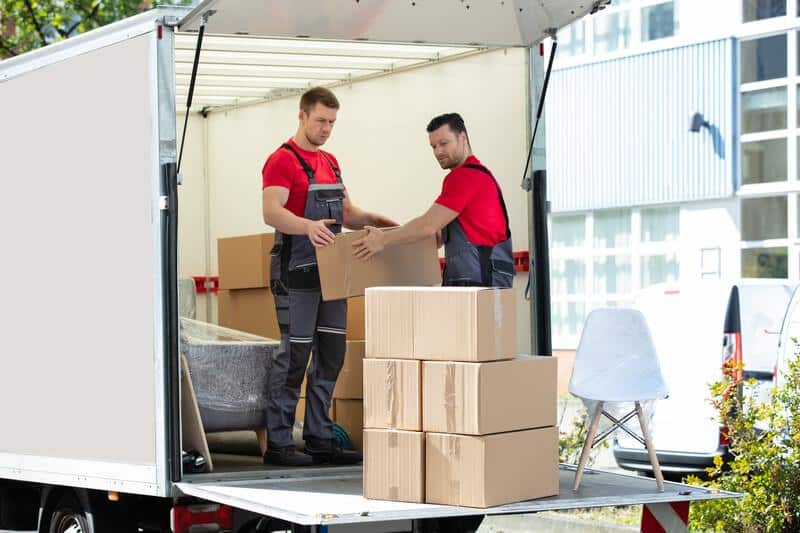 Finding the right mover for your needs can be a tricky task, but we want to simplify the process for you by helping you know what to look for based on your moving needs. Everything from budget, to location, distance and number of rooms and items is critical to finding the best nationwide mover for the gig. Factor in items like insurance, compliance and certification, logistics, shipping and relocation of valuables, vehicles and containers, and you have you have lots of items contributing to the decision.
Some of the most frequently asked questions by moving customers will give you both insight and perspective on how to best nationwide mover for your relocation, whether moving a business or home.
Frequently Asked Questions Nationwide Moving
What are the most critical factors to consider when planning and moving a home or business?
Price, punctuality, reliability, reputation and transparency, plus legitimacy and certification based on local and federal motor carrier regulations all make the list for being super high priorities to consider. Of course, most homes and businesses moving will think of price first, as budget is always an issue. But, consider the fact that you want not only an affordable move, but also a safe one. That means items are transported, shipped, packed, hauled, unloaded safely and according to regulations.
However, lots of homes and businesses overlook the idea that services and price go hand in hand, and while a mover might be cheaper, if they aren't the best nationwide mover for your needs and don't provide the services for your every step of the move, you might pay, and lose out even more. Look at everything involved in your move, from packing, planning, and even storage, and consider if your mover can truly offer what you need for every step of the process.
How much should my nationwide move cost and what factors impact price?
The average cost or peak of the higher end of a long distance or nationwide move can range from $2500-$7000 or up, depending on:
The number of rooms, items, and logistics involved.
Accessorial services like crates, containers and fragile goods packed, hauled, transported, or shipped
The season – off-season means pricing will be more competitive and peak season pricing will be dynamic and likely higher.
The type of move – residential, commercial, or corporate
Is it worth hiring a mover for a nationwide or long distance move?
The truth is we all have a long to-do list every day and our daily success depends heavily on how we manage our time. Packing, loading, hauling, and unloading a move can incur serious time and cost on our agenda and pockets. If a DIY move sounds like a feasible option for you, then go for it.
Many prefer hiring a licensed mover who's truly experienced and opt-out of the DIY moving experience to preserve sanity, avoid stress, broken items, ultimately saving time and money. With professional movers, particularly those offering insurance, your goods, home and/or business are transported cost-effectively by professionals.
Should I hire a mover that offers insurance from one of the best national movers?
Life happens, moves happen, and things can happen during your move. Good things and bad things. Items can break, seemingly disappear, or sadly, can even get stolen or damaged in the process. For a move that involves valuables, or even for a standard residential or business move, looking into insurance and liability can save you money. For a standard residential move, look into full-value protection, but if you're moving expensive items, you might want to look into third-party liability and protection.
The best nationwide movers that adhere to policies and standard procedures should automatically insure you with basic coverage at roughly $0.60 per pound. Full-value protection is recommended for moves that are more complex, involve precious or high priced items, devices, and expensive household or business items to replace – (computers, technologies, home medical devices and more).
How can I find an affordable, reliable, and safe mover from the best nationwide moving companies and get quoted with fair and transparent pricing?
The truth is the moving industry is full of shady businesses, while also having outstanding and trustworthy ones. We want to help you find moving companies nationwide with great pricing and payment options and equally great reputations.
Be aware of movers that provide too many promises and price quotes over the phone. The best and safest way to get a transparent and trustworthy moving quotes is either in-person with an on-site inspection of the space and items being moved, or online. Progressive and innovative companies will often offer online moving cost calculators, and make pricing estimates easily accessible on their website or comparison sites. Make sure you enter your moving credentials accurately so you can get a precise quote, and never overlook the cost or value of accessorial and packing services.
If a licensed mover offers an online quote calculator, look for their USDOT number, providing additional assurance of business registration and insurance provision. Watch out for any mover requesting large deposit sums in cash, and go with your gut. If you think a mover smells fishy, avoid them. Most reliable movers will ask for about a 15% deposit via credit card, and will offer a diverse range of payment options overall.
How many days or how much time will a nationwide move take?
While most nationwide moves can last anywhere from a week and a half to two weeks, (10 to 14 days, depending on the distance, load, and border procedures between states), the time for all goods reaching a home or business can vary. Remember that you could end up shipping items or sending them via container, or you might need to transport a vehicle, impacting the duration of your nationwide move.
Some items can arrive at your new destination within 72 hours (3 business days), while others can take as long as over a month or a few weeks, varying based on the services you use and season. Also, it's important to note that fleet drivers and movers have regulations for the on-road time they must abide by. Driving over 650 miles a day is not allowed and is the daily maximum for a driver.
3 Simple Tips to Help You Find the Best Nationwide Mover for Your Needs
1. Plan Your Move Like a Pro and Consider The Various Factors Involved
Moving is something we've all probably been through at least once in our lives, and it can be a pain or pleasure. You choose – because today with all of the resources available, it's easier to make your move a simple and fun process just by considering and deciding on the various factors that will make your move more cost-effective and simpler.
Look at the following factors carefully and make sure you create a checklist to help plan your move so it runs smoothly:
The distance of your move – knowing how far and the mileage involved in your relocation can help you decide as to whether you'd take care of moving DIY style or hire a professional mover. It's not the distinguishing factor of the type or which mover you'll hire, or not, but it'll help you understand if you can cope with the distance, the intensity, loading, unloading and whole process.
The size of your move – identify the number of rooms, boxes, items, furniture and overall size and scope of your move for precise and satisfying price quotes.
Your budget – yes, understanding precisely how much you can and can't spend on your move will help you find the best way to move and the right mover for you. Again, DIY is often an option with companies that allow you to rent trucks, and if you have a few helping hands to maintain the process, but remember that the stresses of moving can cost more than money. Sometimes, despite the cost, you might end up saving by hiring a professional mover.
2. Make a Checklist and Prioritize Tasks – from Packing to Unpacking and all the In-Between 
Making a list of supplies, tasks and errands involved to get your move done cost-effectively and with the right approach and mover is essential when dealing with a nationwide move, especially when looking to hire a mover. Think of everything involved, from cleaning, to sorting out old clothes, household items, furniture to be shipped or sold, and then the entire packing process.
Make a list of everything you want to get from point A to point B and consider the cost and logistics behind the process. Then decide who will do what.
Questions and items to consider:
Are you equipped and do you have the time to properly pack fragile goods?
Do you risk the chance of seeing your move flop and fail because you haven't got a clue how to get expensive fragile items shipped or moved at long distances? What about your car, your antiques, a piano? You don't want to see keys flying off the beautiful instrument as it rattles in the back of a U-Haul, do you?
Think twice about the entire process and make lists of everything to help you know what to ask movers when you make inquires if you hire one.
Be as organized as you can from setting your moving date, to actually knowing exactly where and when everything will arrive as much as possible.
3. Find Your Mover: Make Your Nationwide Move Simple and Smart
Looking for the right mover can mean considering the big bundle of factors involved. The most important one is making sure the full set of services you need are at your disposal from a licensed, legit, and compliant mover that's ideally registered with the FMCSA.
Some movers offer full packing and accessorial services, whether you need to pack up an entire house with your granny's favorite books, a playroom, your home gym, or entertainment system, or a fully equipped office. The process of packing, getting supplies, and doing the physical labor involved is critical to ensure your home or business is delivered safely from point A to point B. Also, remember that some items are just better shipped.
Find a mover that'll customize a moving plan to your needs with the services you need. Containers, storage, and unpacking are all serious services to consider if you're moving nationwide, so never overlook the value of a full-service mover who also offers insurance.
Look into the coverage you'll get, the various options and discuss what costs are in advance. Avoid unpleasant surprises. Try to get an on-site quote or access the estimate online if that's convenient for you. Most importantly, tailor your move to your specific needs and make sure a mover can do exactly the same.