The moving company that you hire will determine how smooth your moving process is – a great moving company with a professional team will ensure a smooth, safe and easy move. 
We've spent hours researching real reviews and getting insider information on customer service and reputation in order to present you with the top 5 national moving companies.
Pricing Van Lines investigated the ins and outs of the services they offer, their business models, pricing process, and most importantly, the level of customer service. Each of the companies we've chosen offer all-star level quality customer service in addition to a wide array of services at competitive prices.
How Much Does it Cost to Hire National Movers?
The average cost of hiring national moving companies is between $2,500 and $7,000 or even more. The cost is based around how large the move is, the total distance, as well as other factors. 
See the chart below to get an idea of how much your move is likely to cost:
| | | | |
| --- | --- | --- | --- |
| Distance | 1 Bedroom | 2 – 3 Bedroom | 4 – 5 Bedroom |
| 100 miles | $1100 – $1400 | $1150 – $1600 | $1400 – $3200 |
| 250 miles | $1300 – $1900 | $1400 – $3400 | $2,000 – $4600 |
| 1000 miles+ | $1500 – $2900 | $2000 – $7000 | $5400 – $7800 |
| 2500 miles+ | $1700 – $3700 | $3800 – $7600 | $8600+ |
If you want to learn more about moving costs and get a personalized estimate for your upcoming move, use our moving cost calculator.
How Long Does it Take to Move Nationwide?
The amount of time your move will take from start to finish really depends on just how far you are going. Most nationwide (i.e. cross-country) moves will take anywhere from 10 to 14 days, but that can vary.
| | |
| --- | --- |
| Miles | Days |
| 0-500 miles | 1-7 days |
| 500-1500 miles | 3-14 days |
| 1500-2500 miles | 5-21 days |
| 2500+ miles | 7 -21 days |
Depending on the shipping method, it's possible that some of your belongings will arrive at your new home within 72 hours (or 3 business days), while others might take a few weeks or even over a month.
Keep in mind that fleet drivers and movers have to follow certain regulations about the amount of time they can spend on the road each day.
In most cases, 650 miles a day is the maximum allowed.
5 Best National Moving Companies
Now for the part you've been waiting for (or scrolling to find) – here are the 5 best national moving companies that we are confident will offer you the best service:
Moving APT has over 20 years of experience helping Americans relocate nationwide and has become a strong leader in the industry. 
The company's range of services and qualifications include no-obligation quotes and a fully licensed and regulated fleet and team that are in full compliance with all FMCSA requirements. 
They are bonded and follow Department of Transportation regulations to ensure security. Moving APT's strong and skilled crew work smartly, safely, and with your every need in mind 24/7. 
They offer everything from packing, loading and unloading to handling all of the logistics and technicalities with genuine professionalism. All staff involved have undergone full background checks, ensuring top-level security for your move.
Why We Recommend Moving APT
If you want to move with confidence and absolute peace of mind – whether it is cross-country, state-to-state or any other long-distance move – Moving APT covers all the bases. 
We love how they create a customized plan and approach based on a solid methodology for each and every move. The bonus 30 days of free storage is a nice touch and very convenient for those who need it.
Native Van Lines is a national moving and storage company providing residential and commercial moving services across the USA. 
The company partners with experienced movers who use modern equipment and techniques to offer a smooth and hassle-free moving experience.
With Native Van Lines, you can opt for the full-range of services including packing, loading and transportation of belongings as well as storage solutions if needed. 
Native Van Lines focuses on customer satisfaction and works hard to give each client a stress-free and personalized moving experience.
Why We Recommend Native Van Lines
We are very impressed with how diligently Native Van Lines' exception agents work to gather quotes from their large network of trustworthy local moving companies, at both your points of origin and destination. 
They are successful at reaching their goal of providing the most cost-effective, top-notch and dependable service for any budget. They definitely go the extra mile to prove their commitment to customer satisfaction.
As a superior nationwide moving company with over 2 decades in the industry, Adams Van Lines ensures that each move is completed with the utmost of care and attention to detail. 
The professional movers are prompt, punctual and experienced, offering great customer service. The company offers each customer one centralized point of contact to make the whole process efficient and easy.
Consistently rated 4.5 out of 5, Adams Van Lines has an impressive over 1 million moves in their portfolio. 
They know their stuff cold and their in-depth understanding and knowledge of what specifically causes the most stress during moves allows them to really focus on making every move hassle-free.
Why We Recommend Adams Van Lines
If you need extra help with packing, Adams Van Lines should be your go-to. They also offer a robust array of storage options to cover various types of moves and items, and can handle the complex transport of valuables and other fragile items. 
We also appreciate the customized plans that Adams Van Lines creates and implements so that you also know what to expect and what the next steps are.
Verified Van Lines was founded with a mission of restoring the moving industry's bad reputation by offering a better way to move with improved customer service and efficiency. 
They carefully vet their employees and make sure to find and hire the most talented and committed professionals. Verified Van Lines prides themselves on their trustworthiness. 
They know how stressful it can be to watch all of your personal belongings be loaded onto a truck and driven away and they want to be sure that their customers trust and know that their belongings will arrive safely with no damage.
Why We Recommend Verified Van Lines
Verified Van Lines puts their money where their mouth is. They don't just say that they are committed to being extra trustworthy and provide a new level of customer service, they actually do go above and beyond to make sure that every customer feels like theirs is the most important move. 
With Verified Van Lines you never have to worry about the safety of even the most valuable and sentimental items.
iMoving.com is a comprehensive platform that offers customers a wide range of moving-related services including quotes from vetted and reputable moving companies, moving tips and advice, and a useful checklist to ensure a stress-free and hassle-free moving experience.
These tools and services can help facilitate everything from the simplest local move to the more complex national or coast-to-coast moves as well as everything in between.
Why We Recommend iMoving.com
No matter what state you are in or where you are moving to nationwide, you can use iMoving's secure and simple platform to help you plan your move and manage the moving process from start to finish. 
It's so easy to enter your specific details and then be able to compare services and prices from a number of movers so that you can choose the one that best suits your needs.
How to Choose a Reputable National Moving Company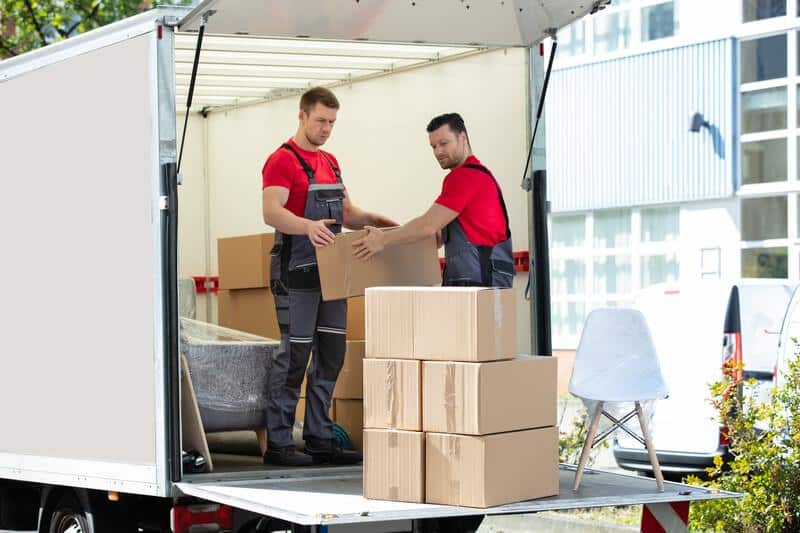 The most important things to look at when looking for a reputable company to help with your move include:
Prices – it's important to research and gets a range of prices so that you can understand where the market is and recognize when a company is pricing themselves either way below or way above – both of which should be warning signals to you.
Binding Quotes – although there are plenty of reputable moving companies that don't offer binding quotes, it is generally a good sign when one does. This means that the quote you are given is what you will pay on the day of the move (barring any major changes that you make to the amount of belongings you are moving, etc.) and you can budget accordingly and know that you won't be hit with additional costs.
Deposits – it's reasonable for a moving company to ask for a deposit, but you should make sure that the amount they ask is in line with other comparable companies and find out what the terms are. The deposit should be refundable or at least partially refundable up to a point.
Reputation – scour as many customer reviews as you can on a range of sites. This is the best way to get a good sense of how good (or bad) the moving company is.
Credentials – it's not just about customer experience, it's important to also make sure that any moving company that you hire is fully licensed and insured and is legally allowed to operate in the relevant states.
Extras – it's always nice when a company throws in some extra perks just to be nice. This could be anything from free storage to extra insurance or other discounts.
What Factors Affect Moving Costs?
A whole host of factors go into determining exactly how much a move will cost. The obvious ones are the distance involved as well as the size and weight of the shipment. But some other elements that you may not have considered include:
Timing – moves that take place during high-season and high-demand times like during the summer and on weekends tend to cost more than when demand is lower during off-peak times.
Additional Services – many movers will offer the choice to buy additional services like packing and storage if needed. Be aware that these types of services are probably not included in the quote unless you specifically ask about them.
Special Items – there could be additional fees for pianos or other large items, as well as for extra fragile or valuable things that require extra care with wrapping and packaging.
Stairs and Elevators – if you are moving into or out of an apartment building, extra fees may be incurred if there is a long walk to and from the elevator or if items have to be moved up and down multiple flights of stairs.
Long Carry – similarly, if the movers have to carry things a far distance from the truck to your front door (or vice versa), there may also be an additional fee, usually based on the actual distance.
What are Some Ways to Save Money on a National Move?
Here are 5 easy ways to save some money on your big move:
Comparison Shop – get quotes from several reputable companies (like the ones on our list!) and don't be afraid to play them off each other and negotiate.
DIY – we aren't saying do the whole job yourself (unless you really want to and have a lot of free time), but you can save a good amount of money by packing by yourself and just hiring the movers for the actual moving part. 
Declutter – getting rid of things you don't want or need anymore will reduce the amount of boxes and furniture that you have to move, making the overall cost less.
Go Off-Season – unless you have specific time restraints, booking your move during the off-peak season, such as fall or winter, is another good way to save some money.
Free Supplies – instead of buying boxes, check out local supermarkets and stores and ask if they have any empty boxes that you can take. You'll be surprised at how many boxes in great condition you can get for free.
What are the best national moving companies?
The best national moving companies are Moving APT, Native Van Lines, Adams Van Lines, Verified Van Lines, and iMoving. The sad truth is that the moving industry is full of shady businesses, but there are also outstanding and trustworthy ones. 
It's our job to find the moving companies nationwide that offer great pricing and payment options with equally great reputations, and that's just what we've done for you.
Can I get insurance coverage for my belongings during a move out of state?
You can and should get insurance coverage for your belongings for any move no matter how short or long the distance. It's easy for things to break accidentally, even with the most careful movers. 
For a fairly standard residential move, you can look into full-value protection, but if you are moving expensive and valuable items, you might want to look into third-party liability and protection. The best nationwide movers will automatically insure you with basic coverage at around $.60 per pound.
What will movers not move?
There are certain things that movers will not move, including hazardous materials like chemicals, explosives, and flammables. They also are unlikely to be willing to take perishable items and some valuables like money or jewelry. 
Many movers will not take pets, and no movers should be willing to take illegal items. It's best to check with your moving company to find out their specific restrictions.
Can I negotiate with movers?
Yes, you can negotiate with movers. It's a good idea to get quotes from a few different moving companies to compare the services and prices. Then you can use that information to try to negotiate a better deal with the company of your choice. 
Factors that you can try to negotiate include the cost of the move, the services included, and any other special requirements you might have.
What is the best way to move from one state to another?
The best way to move from one state to another depends a lot on your budget and time frame. The cheapest way to do it is to pack by yourself and rent a U-Haul, but that is also very time consuming. If you are able to spend a bit of money, hiring a moving company will make the process much easier and less burdensome.
Pricing Van Lines has over 20 years of experience and successfully moved more than 180,000 people. We are not just another recommendation site – we have first-hand experience with the hundreds of movers in our nationwide network. Our recommendations are based on an extensive research process focusing on the following:
Reputation
We comb through thousands of customer reviews to find the most highly-ranked and experienced movers.

Industry connections give us a big-picture view of the services provided in the field.

We pose as mystery shoppers to test customer service and pricing.
Licensing
We use the Federal Motor Carrier Safety Administration's (FMCSA) database to confirm that moving companies have an arbitration program in case of damages, and we check any outstanding claims against them to ensure that they respond to and resolve customer complaints quickly. 
The FMCSA's Safety Measurement System tells us all we need to know about each company's safety records including any accidents they've been involved in or inspections they have had. 

We confirm compliance with the legal requirement for long-distance movers to offer full or released-value protection for your belongings. 
Feedback
In addition to online customer reviews, we gather feedback from our own clients following each move.

Video testimonials provided by our clients reveal which movers go above and beyond.

Detailed surveys give us the lowdown on how each mover performs.
Negotiations
It's our responsibility to make sure our clients get the best deal – we work one-on-one with moving companies to make sure they offer competitive prices and outstanding service.

We do not work with movers who engage in last-minute upselling and overcharging. We know the going rates and we can tell when a mover is trying to take advantage and we won't let that happen.

We look for movers who are willing to exceed expectations so we can send them more business. The movers that need improvement will not be recommended by us.
Enjoy Your Stress-Free Move
While the thought of moving can be stressful, in practice it can actually be exciting and fun. If you've got the right national moving company on your side, you can let them do all the heavy lifting (literally and figuratively) and you can focus on the fun parts of planning your life in your new city and home. 
All of the national moving companies on our list are well-equipped and ready to provide you with the best moving experience.