Cross country moving can be complicated, as you have to deal with uprooting your whole life and transporting your furniture, valuables and more. 
While you will definitely have to spend some amount of money on your cross country move, it does not have to be as expensive as you might think.
At Pricing Van Lines, we've screened and vetted hundreds of moving companies to find you the most affordable cross country movers who will provide you with the stellar service you deserve. 
We took a deep look at customer reviews and combined that data with our firsthand experience working with tons of movers in order to bring you this list of the cheapest cross country movers.
How Much Does it Cost to Hire Cross Country Movers?
A cross country move using full-service movers will cost you anywhere between $2,000-$5,000. Different factors such as distance, size and shipment weight will help determine the exact price.
The chart below will help you figure out how to budget for your specific move:
| | | | |
| --- | --- | --- | --- |
| Distance | 1 Bedroom | 2 – 3 Bedroom | 4 – 5 Bedroom |
| 1500 miles | $1750 – $3200 | $2950 – $7200 | $4400 – $10200 |
| 2000 miles | $1900 – $3700 | $3100 – $8100 | $4900 – $11900 |
| 2500 miles | $2100 – $3900 | $3500 – $8900 | $5800 – $14800 |
| 3000+ miles | $2400 – $4500 | $3900 – $9800 | $6500 – $19100 |
Of course, there are ways you can make your cross country move even cheaper by opting to either DIY some or all of the process or rent a moving pod or container.
How Long Does a Cross Country Move Take?
When you are moving cross country, you can expect your move to take at least a week and possibly up to or more than 3 weeks. 
There are many moving parts involved in such a long distance move, all of which need to be coordinated which can take time.
The chart below will help you figure out how long cross country move will take:
| | |
| --- | --- |
| Distance | ETA |
| 1500 miles | 4-10 days |
| 2000 miles | 5-14 days |
| 2500 miles | 6-21 days |
| 3000+ miles | 7-21 days |
Don't be surprised if you're movers tell you that your move will take a long time even if you do not have a huge shipment – if your belongings don't fill a truck completely, the shippers may choose to wait until they combine it with another customer's shipment so as not to waste gas on a half-empty truck.
Always ask your moving company to tell you exactly how long they expect your specific move to take so that you can prepare accordingly.
The Top 5 Cheapest Cross Country Movers
We researched the industry's leading cross country and long distance movers, rated by over 15,000 customers. Looking at details like licensing, reputation, services offered, pricing and more, we narrowed it down to the following list of the top 5 cheapest (and best) cross country movers.
Founded with the goal of improving the moving industry's bad reputation, Verified Van Lines offers a new and improved way to move with a strong focus on stellar customer service and efficiency while keeping prices low.
All employees are carefully screened and vetted in order to ensure that only the most committed and talented professionals are hired. 
Knowing how stressful it can be to watch your entire life be loaded into a truck and driven across the country, Verified Van Lines goes above and beyond to instill trust and make sure their customers feel confident that their belongings will arrive at their destination safely.
Why We Recommend Verified Van Lines
We love a company that practices what they preach, and Verified Van Lines doesn't just say they are trustworthy and put their customers first, but they actually do. 
You'll never have to worry about the safety of your items, whether it's just a random sofa or a family heirloom. 
The Verified Van Lines team will go out of their way to ensure your comfort throughout the entire process, and they do this while being extremely budget conscious.
Moving APT is known for their white-glove services for those who need a little extra attention and care as well as their high standards for customer service and satisfaction at affordable prices. 
Moving APT's professional customer care agents work closely with each customer to understand their needs and then connect them to the mover that best meets those needs.
With thousands of cross country moves every year, Moving APT only works with companies that are licensed and insured, providing protection for customer belongings.
Why We Recommend Moving APT
We are impressed by the sheer number of customer success stories and positive reviews that Moving APT regularly receives. Full compliant, Moving APT is strict about all regulations making sure that all movers they recommend are insured, licensed and bonded.
They are also fully transparent with no hidden fees and a commitment to being cost-effective and affordable, making them an obvious choice for one of the cheapest cross country movers.
Knowing that each customer and each cross country move is unique, Adams Van Lines offers customized services at affordable prices based on the customer's preference and needs. 
A professional crew stays with the customer from beginning to end, taking care of all the details and paperwork involved with moving cross country.
One of the best state-to-state movers out there, Adams Van Lines is known for its quality service, customer satisfaction and safe moves.
Why We Recommend Adams Van Lines
Adams Van Lines has years of experience and has amassed a wealth of knowledge on all the industry's trade secrets. 
They use this knowledge to provide a stress-free, cost-effective and seamless moving experience in full compliance with all rules and regulations in the relevant states. They always offer a binding estimate and flat-rate price to keep your costs down.
Adams Van Lines offers the full gamut of services from packing and unpacking to furniture dis-assembly and reassembly. All of this is done by professional movers who operate with great care to ensure that all belongings arrive safely and with no damage.
Native Van Lines has been operating for more than 20 years, serving over 250,000 happy customers. As one of USA's leading moving companies, Native Van Lines has agents in 500 different locations. 
Their business model is one in which they partner with local movers, connecting customers to the movers who can best meet their needs.
Why We Recommend Native Van Lines
We love Native Van Lines' customer service agents. They are professional, friendly, and work fast to gather quotes from a range of moving companies to find customers the best and most reliable service within their budget.
iMoving.com provides customers with a comprehensive platform of moving-related services. In addition to quotes from reputable moving companies, the platform also offers moving tips, advice, and checklists to help provide a smooth and seamless moving experience.
iMoving is easy to use. Wherever you are moving to or from, you can use the platform to plan your move and manage the entire moving process from beginning to end. 
All you have to do is enter your details once, and you'll be able to choose from a wide range of movers offering different prices and services.
How to Choose a Reputable Cross Country Moving Company?
Many factors come into play when choosing a cross country moving company, especially when you are budget-conscious. You want to make sure that your belongings will arrive safely and that all the services you need are available and reliable, all without breaking the bank.
Here are 5 important features that we always look at it when researching cross country movers:
Years of Experience – there is no replacement for experience. The amount of time that a company has been working in the industry and consistently delivering quality service is a huge indicator of how well a job they will do for you.
Licensing – it should go without saying that you should never employ a moving company that isn't properly licensed. Make sure they have a US DOT number, issued to all moving companies by the Department of Transportation. You can search the Department's database to make sure the DOT number is valid and that the company is up-to-date in compliance.
Insurance – on the same site where you check out a moving company's license status, you can also verify that they have insurance policies in place to protect you in case of any damage to your belongings.
Online Reviews – take some time to scour the different review sites like Yelp and see what real customers are saying about the moving companies you are considering. You can also check out the company's rating on the Better Business Bureau website as that will give you a good indication as to their reliability.
Rates – the company that offers the cheapest price might actually end up costing the most – make sure you are fully aware of everything that is included in the price and what is considered an "extra" that will add more to the final cost.
What is the Average Cost of a DIY Cross-Country Move?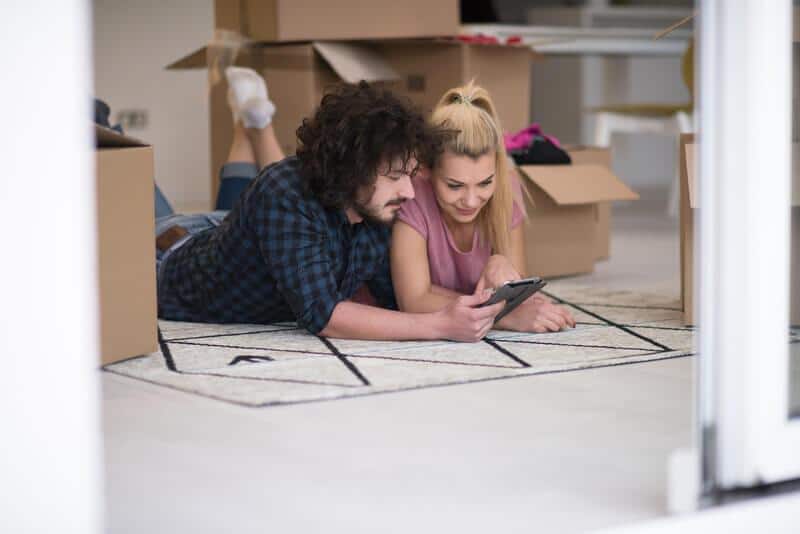 If you choose to do the move yourself, keep in mind that instead of spending money on a moving company, you will need to put in all the time needed to pack, drive cross country and unload/unpack everything.
You will also need to rent a truck, which is still an expense, even if it's less than hiring a mover. You need to determine whether the cost savings are worth the time you will need to put in to get this done.
Renting a pod might be a good compromise – it gets delivered to your home where you pack up your belongings and load it up. The shipping company will then pick up the pod and transport it to your new home where you unload and unpack.
The chart below offers guidance on pricing of the different options:
| | | | |
| --- | --- | --- | --- |
| Type of Service | 1 Bedroom | 2-3 Bedrooms | 4-5 Bedrooms |
| DIY/Truck Rental | $400 – $2300 | $750 – $4150 | $1500 – $4900 |
| Moving Container | $700 – $2800 | $1100 – $4950 | $2300 – $7800 |
| Full Service | $1200 – $3800 | $1700 – $8700 | $3400 – $15200 |
Average Cost of a DIY Move: Renting A Truck
U-Haul is one of the most well-known moving truck rental companies nationwide, with a vast number of fleet vehicles, particularly designed to service a DIY move. Rentals range from pickup trucks to proper moving vehicles, servicing everything from smaller moves to those filling 26ft moving trucks for three to four-bedroom house moves.
Claiming to be one of the cheapest cross country movers or moving options with a price tag of $19.95 on the side of their trucks, U-Haul uses smart marketing but may not be the most efficient vehicle or service for your move.
A long-distance move from Florida to New York with approximately a 1,365-mile relocation and quick stops along the way could amount to costs similar to those listed in the table below:
| | |
| --- | --- |
| Type of Truck | Cost per Day |
| 12 ft. truck | $800 |
| 15 – 17 ft. truck | $1200 |
| 20 ft. truck | $1750 |
| 26 ft. truck | $2200+ |
The Average Cost of Using a Moving a Container
Moving container services are a common option for self-service moves, but they only offer some of the benefits professional and affordable cross country movers provide at roughly $4500.
While self-service moving might seem like you're saving it might not actually be your best option to move artwork, a large TV, or items that require special care.
To sum up, container services can be useful but they don't offer the same services a local or long-distance mover can offer, and certainly are not a replacement for the best full-service local or long-distance mover for your needs. 
Getting a list of the cheapest cross country movers that meet your needs is simple and straightforward. Find the ideal mover for you now.
| | |
| --- | --- |
| Distance of Move | Approximate Moving Cost |
| 100 Miles | $1600 |
| 450 Miles | $2600 |
| 1000 Miles | $4500 |
| 2000 Miles | $4700 |
What are the Key Factors that Affect Cross Country Moving Costs?
Pricing a move is more complex than you may think. It's not solely about how many miles are involved or how big of a truck is needed.
There are are additional factors and fees that are taken into account, including the following:
1. Shuttle Fee
If the moving truck is unable to get to the final destination (for example if the road is too narrow and the truck is too large), a smaller shuttle will be provided to move everything from the truck to the final destination.
This service usually incurs a fee of $.10 to $.15 per pound with a minimum charge of $300.
2. Long Carry 
When the distance from the door of the moving truck to the door of the property is 75 feet or more, there is generally a long carry fee of $75 for every 50 feet. 
3. Stairs
A fee of $50-$100 for each flight of stairs is common when moving in or out of a walk-up. 
4. Special Items
Things like pianos, pool tables, antiques and other large items needing special care typically come at a cost of around $150 per item. 
5. Packing
Depending on the amount of things that need to be packed, most movers will charge between $300 to $2500 or even more for full-service packing. 
6. Insurance
You definitely don't want to leave yourself unprotected in case any damage occurs to your belongings during the move, so it's probably worth the cost of extra insurance which can run around $10 per $1,000 of valued possessions. Deductibles are usually $250-$500. 
7. Storage
If you need temporary storage as part of your move, it will probably cost around $.07 per pound with a $200 minimum. Some movers offer a certain amount of storage time for free.
Tips to Organize Your Cross Country Move
There are so many tasks involved with getting ready to move cross country. Here are a few tips to keep in mind to help relieve some of the stress:
1. Give Yourself Time
Starting early is the most important thing you can do when getting ready for a cross-country move. Don't underestimate the amount of time it will take you to pack up your entire life! It's a good idea to start packing at least 8 weeks before your move if you can – this will give you plenty of time to stay organized and avoid last-minute stress.
2. Reduce the Load 
The cost of your move will be heavily dependent on the weight of your shipment. The more you can declutter and get rid of things you don't want or need in advance of your move, the easier it will be to pack and the cheaper your move will be.
You can donate furniture and clothes in good condition to charities or you can put items up for sale on various online marketplaces or host a yard sale.
3. Get Multiple Quotes
Even within the list of amazing and affordable movers that we've provided you, there are price differences. Contact at least 2-3 companies and compare their quotes before making a final decision. 
4. Confirm Licensing and Insurance
We can't emphasize enough how important this is to ensure that you avoid hiring a dishonest moving company. Make sure you always double-check that your movers' license is up-to-date and in good standing.
If they won't provide you with the relevant documentation, you can be pretty sure that means they are not following the legal requirements.
5. Check Reviews and Ratings
Although we've spent hours combing through thousands of reviews, you don't have to just take our word for it. Read reviews and see for yourself what other customers are saying about the movers you are considering – making sure you are choosing reliable movers will save you tons of hassle down the line.
6. Note the Condition of Possessions
Take some pictures or videos of your belongings as you pack them so that you have a record of their condition at the start of the move. This will serve as important evidence should any damage occur during the move and will be useful if you need to file any insurance claims.
7. Pack a Moving Day Bag
Pack a small bag of all the essentials you may need in the days leading up to and after as well as moving day itself. This bag should include things like toiletries, wallet, tool kit, clothing, medication, pet food, etc.
Pricing Van Lines has over 20 years of experience and successfully moved more than 180,000 people. We are not just another recommendation site – we have first-hand experience with the hundreds of movers in our nationwide network. Our recommendations are based on an extensive research process focusing on the following:
Reputation
We comb through thousands of customer reviews to find the most highly-ranked and experienced movers.

Industry connections give us a big-picture view of the services provided in the field.

We pose as mystery shoppers to test customer service and pricing.
Licensing
We use the Federal Motor Carrier Safety Administration's (FMCSA) database to confirm that moving companies have an arbitration program in case of damages, and we check any outstanding claims against them to ensure that they respond to and resolve customer complaints quickly. 
The FMCSA's Safety Measurement System tells us all we need to know about each company's safety records including any accidents they've been involved in or inspections they have had. 

We confirm compliance with the legal requirement for long-distance movers to offer full or released-value protection for your belongings. 
Feedback
In addition to online customer reviews, we gather feedback from our own clients following each move.

Video testimonials provided by our clients reveal which movers go above and beyond.

Detailed surveys give us the lowdown on how each mover performs.
Negotiations
It's our responsibility to make sure our clients get the best deal – we work one-on-one with moving companies to make sure they offer competitive prices and outstanding service.

We do not work with movers who engage in last-minute upselling and overcharging. We know the going rates and we can tell when a mover is trying to take advantage and we won't let that happen.

We look for movers who are willing to exceed expectations so we can send them more business. The movers that need improvement will not be recommended by us.
How can I find genuine reviews of moving companies online?
There are plenty of online resources where customers post reviews based on their real experiences. Well-known sites like Facebook, Yelp, Google My Business and the Better Business Bureau are your best bet for finding truthful and reliable reviews.
How can I find the cheapest cross-country movers?
Start with the list we've provided for you. Give a few of the movers on that list a call and discuss your specific situation with them. Let them know exactly how far you are moving, what services you require, and your budget. Get more than one estimate from more than one company and then you can compare and choose the one that works best for you.
Is it possible to negotiate a lower price?
It never hurts to ask. Especially if you have multiple quotes, you can let one company know that another has beaten their price and ask if they will match it. You can also ask about discounts or special promotions.
What is a binding estimate?
A binding estimate means that the price quote given by the moving company prior to your move is set in stone. That will be the price that you pay, provided that you do not add additional items or services. Any unexpected delays or issues that arise will not add more to the final price.
How soon should I hire a cross-country moving company?
As soon as you have a moving date, you can start putting everything in motion, including reaching out to cross-country movers. The sooner you can get on the schedule, the better prices you'll be able to get.
Should I purchase moving insurance?
The simple answer is yes! You want to make sure you are protected in case any of your belongings get damaged in the move. Some movers include a limited amount of protection, but it's always good to purchase additional insurance and make sure the full value of your belongings is covered. It's possible that you are covered via your homeowner's or renter's policies, so it's a good idea to double-check before you make additional purchases.
Is it better to move myself as opposed to hiring a moving company?
It really depends on your situation. In some cases, it might be easier and more affordable to deal with your move by yourself. But, keep in mind that it means packing, loading, hauling, and unpacking all without the help of professionals. So, while it may reduce the costs, it might not be worth the time and stress.
Find Affordable Cross Country Movers Today
It doesn't have to be that hard to find quality moving companies on a budget. Once you've got a budget in mind, you can go to the ones on our list and let them know what you are able to spend. 
A good moving company will work with you and help create a customized moving package that suits your budget and your needs.