Do you want to know why people moving from New York to Florida?
The reason why a lot of people are moving to the south is because of the low taxes, warm weather, affordable cost of living, and beautiful beaches of Florida.
But what is the actual cost of moving to Florida from New York?
We'll also provide a detailed answer later in this article but below is a quick answer.
Moving from New York to Florida on average is charged between $1,700 and $3,000, based on the distance, size, route, as well as timing of the move.
Hiring a professional mover will cost even more (but with much relief and smooth moving experience).
Moving truck rental or the use of a moving container will help you save money but will require you to put in much effort.
Everyone will find a move to Florida from New York unique. However, there are lots of tips and ideas that will not just provide guidance to you on the cost of the move to Florida but also will teach you how to save money on the move.
Below is the typical cost of moving from New York to Florida.
What Is The Cost To Move From New York To Florida?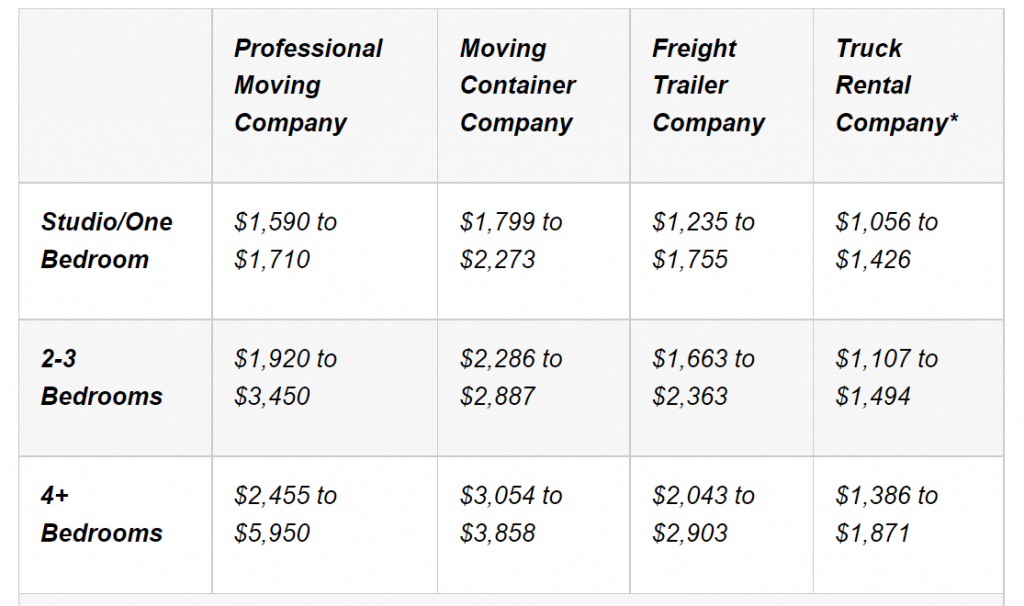 Professional Moving Company

Moving Container Company

Freight Trailer Company

Truck Rental Company*

Studio/One Bedroom

$1,590 to $1,710

$1,799 to $2,273

$1,235 to $1,755

$1,056 to $1,426

2-3 Bedrooms

$1,920 to $3,450

$2,286 to $2,887

$1,663 to $2,363

$1,107 to $1,494

4+ Bedrooms

$2,455 to $5,950

$3,054 to $3,858

$2,043 to $2,903

$1,386 to $1,871

Note: fuel cost is included in the estimate but other costs like lodging, parking, or tolls are excluded
Now, let's dive into the details
Your moving budget might be a huge factor in your decision. Firstly, you need to make time to plan and organize your move, since it is the most vital part.
You should find an interstate moving company that is experienced with moves that involve crossing state lines, legal requirements as well as familiar with the area.
You can look into the following to move to Florida from New York.
Partial DIY
Full DIY
Hire full-service movers
Partial DIY State to State Move from New York to Florida
This implies that you do some of the work yourself, but a moving company will handle the rest. You can combine services based on your moving budget.
Hire moving labors to handle packing and loading, drive the moving truck yourself, after arrival, hire moving labors again to unload the moving truck and unpack your belongings.
Take care of packing and unpacking and the movers handle the rest. You can take care of packing and unpacking while leaving the rest in the hands of your movers. Movers can take care of disassembly and reassembly of furniture, load your items into the moving trucks, and haul the moving truck to your new place.
Easy timing
Less stressful than complete DIY
Wrong packing may lead to damage of your items
Cost of Performing a Partial DIY Move from New York to Florida
The price of a partial DIY move from New York to Florida will begin at an average of $3,000. The overall cost is based on the part of the moving work you do yourself and the ones you would like to hire movers to handle.
You can get a free in-home estimate from your movers. This will enable you to make an estimate of the overall price of the services. 
Furniture disassembly and reassembly: Charged at $70 to $100 per hour. Professional disassembly and reassembly of furniture is an extra service, which will cost you more.
Professional packers: Charged at $60 to $80 per hour per packer. They will pack everything you own properly, so your belongings will not be damaged. If you hire packers, you should first perform some preparation before they come.
Declutter your house, get rid of useless items, and make a list of your belongings. Disconnect and get your household appliances ready for packing. Designate an area for no pack and label items that are not to be packed. Packers often come with packing supplies, so you should not worry about that.
Loading and unloading the moving truck: Charged at $80 to $100 per hour. Before the movers come on-site, be sure to place labels on all the moving boxes and make a list of inventory. Set aside the items that you will move by yourself.
Rent a moving truck or hire a freight company: The best option is to hire a freight company because they will be delivered directly to your new place by professionals. But if you choose to move your belongings yourself, remember to make plans for the route and factor in extra expenses like fuel cost, hotels, food, and drinks in advance.
Full DIY State-to-State Move from New York to Florida
Full DIY simply means you do everything (such as packing, loading, unloading, unpacking, and driving your household goods to your new home) yourself. You also have to rent a moving truck for this purpose, try out containers or boxes, fuel, motel, wrapping materials, and food expenses.
Cost of Full DIY Move from New York To Florida
Moving trucks are often priced based on the size per hour, rental duration, and mile driven. For instance, a 20-ft U-Haul moving truck accommodates a two or three-bedroom apartment.
It is priced at $39.95 per day together with $1.79 per mile. You will drive about 1,200 miles to Florida from New York. If you complete it in 3 days, you will pay $2,300 excluding gas, food, and motel expenses.
For other expenses, you have to look into your needs and plan accordingly in advance. There will be additional moving truck fees, like fuel cost, toll roads and truck insurance fee. 
Hire Full-Service Movers to Move from New York to Florida
If you are too busy and have no time to organize a DIY move, hire a full-service moving company to have a comfortable and smooth moving experience. Full-service moving companies take care of all the tasks associated with your moving:
Moving boxes and packing supplies
Disposal of packing materials
Disassembly and reassembly of furniture
Loading your items into a truck
Packing and unpacking your belongings
Transportation of your goods
Unloading your goods from the truck
Cost of Using Full-Service Mover to Move from New York to Florida
You will spend between $3,000 and $6,000 on a full-service move to Florida from New York-based on apartment size, distance, the total quantity of your belongings, and other factors.
The cost of hiring full-service movers will be higher than performing full or partial DIY moves because it includes services like packing, loading, and unloading by movers, moving trucks with drivers, and many other expenses.
Types of moving services:
Full-service movers will help you a lot if you are short on time or capacity to pack your goods. The company takes care of it all.
Residential movers are there to make your household moves as smooth as possible from New York to Florida.
Commercial movers transport your business to Florida from New York.
Last-minute movers can move you on a short or emergency notice if moving for a job or have an emergency family move, or any other circumstances that require an urgent move.
Specialty movers can move your valuable items like art collection, antiques, or your piano with you to Florida
You can also make use of storage to keep your items in a safe storage facility.
The Determinant Factors Cost To Move From New York To Florida
The exact cost of hiring a moving company from New York City Florida will be based on many factors such as:
Distance: The approximate drive between New York City and Florida is 1,135 miles. It will take extra 327 miles of driving to get to Key West which is the Southern tip of Florida State. Your moving quote will factor in the distance between the zip codes of your current and destination locations.
Size of the home: The weight and volume of your shipment dictate the cost of moving long distances. The larger the size of your home and the more items you move, the more costly your NYC to FL move.
Time of year: Rates are usually higher in the peak summer relocation season when movers are busy with demand.
Moving services: If you need moving supplies and assistance with the packing, or you just need helpers to load your pre-packed moving boxes and furniture onto a truck that is heading south, all these will be added to your moving costs.
The best means of discovering the overall cost of your move is to call in help from Pricing Van Lines. We are have licensed and properly insured and bonded movers to offer moving services in NYC, and we do this at affordable moving costs. Check-in with us now to get Free New York to Florida moving quote. 
Tips for Smooth Interstate Move from New York City to Florida
You finally made the decision. You've chosen to relocate from snowy NYC to sunny Florida. Before your moving day kicks in, below are some ideas to make your moving from cold to warmer climate a smooth and safe endeavor:
Schedule your movers: Starting to plan the logistics of your NYC to FL moving is never too early. If you decide to not drive a moving rental truck over 1000 miles from NYC to your Florida home, you can go ahead and book a long-distance mover now.
Regardless of who you hire, be sure they are licensed with the United States Department of Transportation and possess insurance to cover your belongings.
Purge your old closet: Before moving out, purge your closet and dresser of all cold-weather clothing you will not be using. Downsize your wardrobe before your move as it will help you reduce moving costs, and will make you organize your new home easily.
Start the packing: After downsizing your items, you can now begin to pack. At one month away to your move date, get moving boxes and supplies, then begin to pack up your occasionally used items. We often recommend packing seasonal clothes, books, décor, and other non-essential items first. As the moving day approaches, you can pack the rest of your wardrobe and face the kitchen and bathrooms.
Label your items: During packing, be sure to designate time to make labels for each packed box that indicates the content. This step will not just help the movers to know where to unload moving boxes; it will also help you to be organized as you unpack.
Be sure to prepare your vehicle: Your vehicle is important to your daily life. When you relocate to Florida, be sure to focus on your vehicle or truck's needs after you reach your destination. You will need to buy fuel more often and make sure you have sunscreens on to block off harmful rays from the sun as you drive and when you park.
Pack a box of essentials: If you are leaving your household goods in the hands of a moving company, it may take few days or more until everything reaches your new home. For the short time, pack a box or bag of essentials that will be needed to survive the period. This box or bag could contain some pairs of clothing, linens, few kitchen items, toiletries, and an inflated mattress.  
Plan for unpacking: After your items arrive, you might feel overwhelmed when you think of the task of unboxing and organizing everything. Don't panic, instead, come up with a strategy to unpack, taking it one room at a time. Begin with the most important rooms like your bathroom, kitchen, and bedroom, before you proceed to secondary places like the living room, home office, and spare guest room.
Now you know the median prices for moving to Florida from New York. Pick full-service movers, full or partial DIY based on your budget. 
Finally, remember that each move is unique. To know the exact cost of moving your items from New York to Florida, obtain a quick free moving quote now from Pricing Van Lines by clicking on Get a Precise Quote.