Getting ready for a big move is exciting, but there are quite a few logistics that you need to try and sort out. You want to search out all of the best places to get free boxes, make sure that your mail gets transferred, and start the process of packing up your home.
When it comes time to actually get things in order, you may find that it can be kind of puzzling to try and move your electronics from your current home to your new place. If you have a flat-screen TV, you may notice that it's even more difficult. How can you get it to your new place without breaking anything or making it harder for you? Can you even find a moving box that fits it?
These are big questions, so you may be at the point where you're trying to find TV boxes for moving that can make sense for your purposes. How can you be sure that you can move that TV safely and where can you find TV boxes in the first place? Here's a quick look at where you can go to get TV boxes.
Did You Save Your own TV Boxes?
First off, look around your home. Every TV is sold in heavy-duty TV boxes, so there's a chance that you thought about saving yours in case you needed it to transport your TV in the future. See if you put it in the basement, attic, or wherever else you typically put this type of box or storage – you may be surprised.
The original box is often your best bet when it comes to packing your TV box away. These boxes have been specifically designed for your exact TV, and they typically have all of the foam and other pieces that you are going to need in order to secure your TV in the box. So, if you can find the box, you're going to be in a pretty good position for the packing process.
Department or Hardware Store For TV Boxes
If you can't find your original box, then you want to do some searching at local department stores, big box stores, and hardware stores. Nowadays, many of these stores have all sorts of moving supplies on hand so that they can assist people like you. This includes moving boxes of all sizes and types, including the TV boxes that we're discussing in this article.
You will need to make sure that the box fit is going to be secure around your TV without too much give. While a very small bit of giving is fine, you don't want it to be too much, because you'll run the risk of damaging the TV while you're trying to transport it.
You will always need to put some soft items around the edges (since the TV isn't completely the same shape all of the ways around), but the less give you have, the less risk there will be.
Contact Moving Companies For TV Boxes
Lately, when you consider where to get TV boxes for moving, you can actually find some good ones at the moving company that you're working with. Most moving companies sell packing supplies nowadays, and they are always expanding the options that they have.
Similar to the department store or hardware store, you're very likely to find different sizes of boxes that have been specially designed for all sorts of TV's, and they're brand new. You just have to be sure that you check for box fit, as mentioned above, and that you'll be able to get your TV in and out without too many problems.
Electronics Store For TV Boxes
Lastly, you want to go and check out the electronics store to see if they have boxes that are similar to the size of the TV that you have. While they typically keep boxes for their display items (since display items get sold from time to time), that doesn't mean that they don't have some spare boxes sitting around from other orders or from past returns. Ask the people at the front desk and see if they have anything available for you to use.
Explore what's out there and see what you can get your hands on. Many times, you will find that there are a lot of different ways in which you can get a TV box that makes sense for your purposes and that is going to keep your TV as safe as possible throughout the entire trip.
Where to buy TV Boxes for Moving
Have tried the above place to get the boxes for free but not result? Are you looking for where to buy TV boxes for your move? We are here to point you in the right path as you get ready to move.
Regardless of the reason behind your need for moving boxes, we've compiled a list of top picks for where to buy TV boxes and other moving boxes. 
Below are our picks:
1. Amazon
Amazon is one of the largest online retailers globally and sells various types of boxes with just a few clicks of a button. Whether you have a specific size of boxes in mind or require a specialty box to pack your fragile TV, you will surely find a box that matches your needs.
Amazon provides a lot of options, but the online retail site is also the best place to find out how each box actually performs in the real world. 
Each item has multiple customer reviews, which can help in making decisions if buying such a box is a good idea.
Note: not that Amazon will sell just one box to you. So if you are buying just one or two boxes to pack your stuff, you can try one of our other box sellers on our list as your better choice.
Reasons for recommending Amazon for TVand other moving boxes: 
You are allowed to buy boxes without leaving your sofa
2-day free shipping for Amazon Prime members
Amazon offers home delivery services to anywhere
You know if you are buying quality boxes with user reviews
2. Walmart
Walmart supplies everything you need; you just name it. From tires to toe socks, to moving boxes, Walmart got you covered. The company offers several types of large moving boxes, both online and in its physical locations.
You can also order for your TV boxes online and go to the company's local store nearest to you for pickup on the same day. This is an extra convenience for you in the midst of a busy move or home remodeling or renovation project. And if you also need to get some other moving supplies, they are also available even with the same process. 
Reasons for recommending Walmart for TV boxes: 
You probably will find a Walmart near your home as the company has about 5,000 stores across the nation.
The majority of the stores are always open so that you can get more moving boxes very early in the day of your move.
There is an option to choose your local store on Walmart's website and go through their stock from the comfort of your home. 
3. Lowe's
This company doesn't allow pickup of your boxes and other items, unlike Walmart. However, Lowe's offers a lot of tools, home fixtures, and lumber alongside moving and packing supplies, which make it a place to get all you need for packing as well as the huge do-it-yourself project you are working on.
Similar to Walmart, Lowe's allows you to order online and pick up in-store, and there are various and special types of boxes for packing up your dishes, boxes, and electronics such as TV. 
Reasons for recommending Lowe's for TV and other moving boxes:
During online shopping, you can search for items currently available at the nearest Lowe's stores and see the items they have on each page. 
You can get tools and materials for your DIY projects at Lowe's.
4. Home Depot
There are similar benefits available at Home Depot just as with Lowe's, including wide choices of home improvement tools, but the online shopping experience with Home Depot is the best of the two.
Alongside the wide choices of TV boxes, Home Depot's website also displays a visual representation of the dimensions of each box, the available quantity at your local store, as well as a project guide that contains basic tips for moving and packing.
Reasons for recommending Home Depot for TV and other moving boxes
There is more product information on Home Depot's website than other retailers' websites.
The website also offers a basic moving guide to assist you in buying all the required materials.
The website allows customers to order a packing kit for special sizes of houses or apartments that perform free shipping at your local store.
Home Depot sells tools and materials for your do-it-yourself projects. 
5. U-Haul
This is also one of the top companies on our list of best moving truck rental providers, and if you plan to get a truck rental from U-Haul for your next DIY move, you might just buy your moving boxes there as well.
Just like other companies we have on our list, U-Haul offers several types of moving boxes and kits that you can buy online and in-store.
Alongside its wide selection of moving boxes, the company also sells special supplies such as disposable moisture absorbers and storage bags for getting your items ready for short and long-term storage. 
Reasons for recommending U-Haul for TV and other moving boxes: 
You can buy moving kits and storage supplies together with boxes
Some items ate cheaper with a pickup in their store. 
How to get a TV ready for Packing and Moving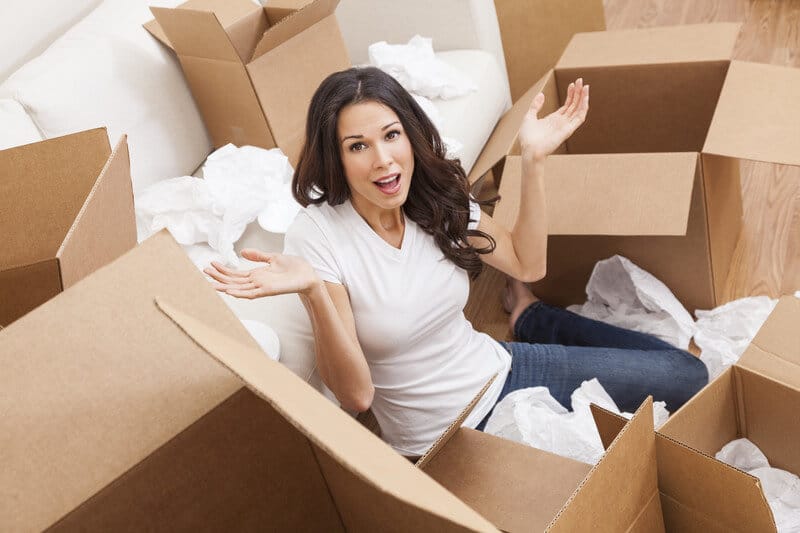 Whether you have your TV mounted to the wall or seated on a base, there are many essential steps to take before packing the electronic device for moving: 
Take some pictures of the wiring and cables that the TV offers to other accessories such as game consoles, antennas, DVD players, sound systems, and so on, and the power supply. Keep the photos on your phone or print them and pack together with the TV so you can always check them when you arrive at your destination and want to reconnect your TV. 
Label the cables – place one colored tape on the TV and wrap small matching tape on the cable that should be connected there. Or you just indicate 'power,' 'sound system,' and more on small white painter's tape and use them to secure the cable and the respective ports. This will assist you in finding out which cable belongs to which port during your new home setup.
Disconnect electricity – disconnect all cords and wires from electrical outlets. 
Unplug all accessories, and home theater features – disconnect each device one after the other, coil the cable, and keep it using a twist tie to prevent it from tangling. If you couldn't remove any of the cords, use painter's tape to attach them behind the TV (do not tape anything to the screen to avoid damaging the fragile surface with an adhesive). We advise you to have an expert bring down your flat panel TV for you. 
Keep all cords as well as small TV accessories like remote in another box. You might feel it is easier to keep them in the same box with your TV, but if they should shift around during transit, then your TV may get damaged. Properly seal the box containing the cords and indicate its contents and the room where the TV will be placed to make it easy to locate during setup in the new home. 
Clean all your TV devices using a microfiber cloth, use packing paper and bubble wrap to wrap them, and pack them in a strong and right size moving boxes alongside their power cords, manuals, and remote controls. Remember to remove batteries from the remotes. 
Dismount the TV from the bracket and the wall if it is mounted on it. Remember not to try and remove the TV with the bracket attached to it because you want to save time as this can easily damage your TV, wall, and even cause you bodily injury in the process. Check the manual to see how your TV is mounted and how you can safely remove it from the wall.
Enlist someone to help you bring down the TV regardless of the weight, as the large flat-screen TV can be too big for you to handle alone. Gently lift the TV and place it somewhere flat and safe. Be sure to keep all screws and small hardware parts of the TV in a zip plastic bag and keep it in a box with the TV mount, cables, and remove so that you have them all in a single place. 
Get all brackets away from the wall – the next step is to tackle the bracket removal process. This is done by removing any bolts and anchor screws that hold the bracket to the wall, keep them in a plastic zip bag together with other parts in the right moving box size. 
Detach the TV from the base – if your TV is instead placed on a stand or on an entertainment center, you only need to remove the stand or base. Again, make sure all screws, bolts, and so on are kept in a sealable bag. Use bubble wrap to wrap the base and pack separately.
Clean the TV – the TV screen can get scratched or the interior electronic parts of your TV damaged by dirt and dust during the move, so we advise you to clean the TV before you pack and move it. Get a screen cleaner for the screen and wipe the TV casting down using a microfiber cloth. 
How to Safely Transport a TV during a Move
Make sure your TV is kept in an upright position all through the moving process to your new home. Since you have safely packed your TV, it is ready to make a move to your new home, but you must also be careful when lifting and moving it around since it can get seriously damaged when dropped or banged against a wall, door, or floor.
You also need to know how to safely haul your flat screen. Avoid lifting your TV by yourself, regardless of its weight.
The following tips will help: 
Use a dolly: It helps to easily and safely maneuver your TV. Just be sure to secure the TV well using moving straps or ropes to prevent it from tilting or slipping off the dolly. 
Keep the TV upright all through the move: Do not lay the TV on its side, back, or front. Flat-screen TV weights are balanced as it is distributed towards the edges to keep the screen's fragile surface away from pressure. There will not be internal support if you lay the TV flat, and pressure will not distribute evenly. This will expose the screen to cracking, and the vibrations in the moving truck (which give additional pressure) can cause the glass to crack or shatter. 
Secure the TV in the truck: Place the TV in a safe place, where there will be adequate protection. You can place your television in between other moving boxes of the same sizes to avoid wobbling during transit, or over an armchair or couch as extra padding will be added by the soft furniture. You need to make sure that the TV is protected from sliding all through the move. If you can, you should place your highly-priced electronic items between mattresses or behind sofas to get support and cushioning for the TV all through the move.    
Unpacking and Setting up your Television
When you get to your new home, bring out your TV from the box and leave it to adapt to the room's temperature before you turn it on.
You can use the adaptation period to bring out the cables, parts, and the photo you took from behind the TV. Since your new space may be different from your old home, you might need modification for your home theater setup.
Below are some simple calculations to assist you in figuring out where to place your TV and furniture. 
Lowest viewing distance: Multiply the screen size by 1.5. For example, a 55' TV should be placed at 90" or 7.5' away from your household furniture. However, you may place a 4K Ultra HD TV closer and still get a clear picture.
Highest viewing distance: Just multiply the lowest viewing distance. The example above shows that the 55" TV with a 7.5' lowest viewing distance would need a 15' highest distance between the television and your furniture. 
Immediately you begin to settle into your new home, you may discover that you need to make some changes. Or there is a larger entertainment space in your new home that needs a larger screen TV. Or your new home will look more appealing if you stand your TV.
If you are looking to create better angles for viewing for each household member in their room while keeping the great look, we suggest you mount your TV. If you consider that stressful, you can hire professionals to do the job.  
When should I relocate a TV without a box?
You should be able to prevent your TV from slipping around with the use of bubble wrap as it sticks well to the tap. Use a moving blanket to wrap the TV as you might need two blankets based on your TV size. 
How do you haul a TV in a box?
Make use of a double-wall corrugated box since any item may get punctured or damaged whole moving. Seal the box's base using packing tape, then use Styrofoam peanuts or bubble wrap to line the bottom and cushion the TV. Make sure your TV is well covered. 
Do you lay down a LED TV to move?
The weight of larger LCD and LED TVs are only set to balance when positioning upright. This implies that laying your screen flat will reduce the middle's support, which can cause cracking or distortion on the boundaries if it remains that way for some time. 
Can I load 70' TV in my car?
A 70' TV will only fit in a box of 69.09' length x 41.5' width. That is about 6ft in length. There are only a few cars that can and cannot be used for such purpose.
Can I turn the flat-screen TV upside down?
Keep your LCD or Plasma TV upright all the time. Avoid laying it flat or on its sides. We suggest you use the original packing materials that come with the TV if you still have it as it can be the best option for moving your TV.   
Are there alternatives to TV boxes?
If you can't find the right TV box for your TV, then there are a few alternatives. You may want to go ahead and invest in some bubble wrap or stretch wrap so that you can wrap the entire TV up safely. Some people will prefer to just take the TV with them in their vehicle – just be sure that you wrap it well if you do.
No matter what you choose, just be sure that you do it in a way that helps you to get your TV to its destination without getting damaged or dropped.
How should I pack my TV in the box? 
Before you start the process of TV moving, you want to pack the box as best as you can. You want to use foam blocks or cloth in order to pack around the edges, holding the TV securely and ensuring that it isn't going to jerk around while in transit. Then, you want to be sure that both the bottom and top are taped or secured shut, so it doesn't slip out.
Can I Ship my TV instead? 
In some instances, you may want to go ahead and get your TV shipped to your new home instead. Make sure that you find a double-walled shipping box to put the TV into, and you pack it as we discussed above. Then, you can just label it as necessary, mark it as fragile, and send it off to wherever you are going to need for it to go.
If you are not ready to move your flat-screen TV on our own, then hiring a professional appliance mover who can do this task for you is the best option.