Home » Blog »
Tips For Furniture Moving Pads and Blankets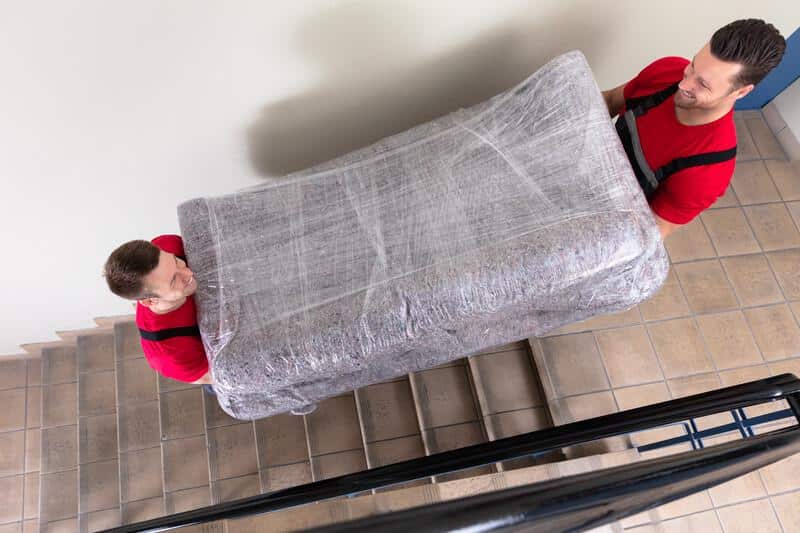 If you are anything like most people in the world, you probably have some furniture that you have acquired that may have some sentimental value, or might just be older and need some extra care.
If this is the case, you will naturally be a little nervous about moving this furniture around unprotected. You don't need to worry too much, however, because there are many cross state movers out there that are well-equipped to help you safely move your furniture from your old house to your new home.
Luckily for you and everyone else out there who is currently facing the prospect of moving all of their furniture, there exist all sorts of solutions to make sure your furniture is protected while it is being moved. Two of the most popular solutions are actually pretty simple: moving pads and blankets.
Are Furniture Pads Necessary For Moving?
You may be thinking "Do I really need to use furniture moving pads?". No one likes to add an extra step to the moving routine. The truth is, however, that adding furniture pads to the moving routine will be one of the best defenses you can give to your furniture during any move.
There are a whole lot of reasons you should consider incorporating furniture padding into your move, especially if you are planning to move everything yourself. If you are moving things by yourself (or with a buddy) by using a moving solution such as a U-Haul, furniture moving pads are what helps protect your furniture from damage.
Here are some great reasons to think about bringing furniture moving padding into your big move.
Padding will keep your furniture from moving around in the truck while moving
The most important thing that furniture moving pads and blankets can add to your move is to protect all of your valuable furniture while the moving truck is in transit. The furniture in the moving truck is definitely going to be prone to shifting and moving around, so make sure you add in some furniture padding. It will also act as another layer between the furniture and any boxes or other things that may be around it. 
It will protect the floors in your new home
Using furniture padding is a great way to move your furniture around inside when you get it to your new home. Large furniture can be difficult to carry, and dropping it on the floor could damage both the piece of furniture and the floor. With furniture padding, you can simply slide large pieces of furniture from one location to the next, as long as your flooring allows for it. 
Padding can also keep your furniture clean during the move
You don't want your furniture to accumulate a bunch of dust and other foreign objects while you move it, so consider wrapping it up with moving blankets to make sure it keeps that cleanliness. This will help ensure that your furniture pieces are as clean when they arrive in your new home as they were when they left your old one. 
Furniture pads can be a good way to protect the legs of your furniture
We all know just how breakable the legs of some pieces of furniture can be. During a big move, you could drop a piece of furniture on something hard, accidentally bang it against a wall, or damage it in some other way. This could result in damaging or completely breaking off the legs of your furniture.
Consider wrapping the legs of your furniture with furniture padding and blankets to ensure your furniture's legs don't break off during the move or while carrying it in or out of the truck.
There are a few other things you can consider doing while moving to help further protect your stuff. You should consider renting a dolly for smaller pieces of furniture or things that can stack on top of each other. You could even wrap your furniture in stretch wrap to make sure it doesn't fall down in the truck.
Safety Tips For Moving Furniture
There are a couple of things you will want to consider for keeping safe while moving furniture around. One thing you will want to do is make sure you use the buddy system. Using the buddy system and having someone around to help you will ensure you move furniture safely. You should never consider moving a large, heavy piece of furniture by yourself. You could end up hurting yourself or falling down.
You should also make sure your doors are open when moving stuff in, or have someone open the doors for you. You don't want to have to put down a piece of heavy furniture to open and hold the door by yourself. Always make sure you enlist some help when you are getting ready to move your furniture.
What Can I Use Instead of Moving Blankets? 
Not everyone has access to furniture padding and legitimate moving blankets. What can you do in a pinch if you need moving blankets and padding, but don't have access to any?
Luckily for you, there are all sorts of alternatives you can turn to when the time comes that you need furniture padding or moving blankets. Don't be disheartened, because any alternative is better than letting your furniture go bare. You can use these alternatives in the event that you don't have furniture padding or actual moving blankets so that you can make sure you keep your furniture nice and safe:
You can use cardboard as an alternative
Cardboard can be a great alternative to moving pads and blankets. If you have one or more cardboard boxes, just break them down and use them to cover your furniture. Depending on just how much you have to move, you may need more cardboard boxes to adequately protect everything.
It can be ridiculously easy to obtain cardboard boxes. You can always call your local supermarket and see if they have any empty boxes from freight trucks. Most of them will be happy for you to take these boxes off their hands. 
You can even use regular blankets and towels as an alternative
In a pinch, you could always use regular blankets and towels to use as an alternative to furniture pads and moving blankets. All you have to do is raid your closet or your bathroom to find them. If you choose this method, use the largest blankets and towels on the larger pieces of furniture to make sure they have adequate protection.
As you can see, there are several goods, cheap alternatives to using as moving padding when you really aren't able to purchase or rent legitimate moving padding and blankets. Not to worry, though, because these alternatives should be able to help keep your furniture safe when the move gets underway.
How Much Does it Cost to Rent Furniture Padding and Moving Blankets?
Not everyone can afford to go out purchase legitimate furniture padding and moving blankets, or they may not see a reason for purchasing them if they don't plan to move anytime soon. If you can't afford the professional stuff, or would rather just not have to purchase it, one option is always renting.
If you get in touch with a moving company to handle your move for you, the chances are high that they already will be using furniture padding and moving blankets when they are getting your furniture loaded up into the truck. Most moving companies take great pride in their work, and they want your furniture to be well protected just as much as you do because they want you to have a glowing experience and tell your friends, so that they can get more business.
If you're not hiring a moving company for your move, that means you'll have to handle all the little details yourself. If you are moving your stuff by yourself, you will want to make sure you have everything planned out, including whether or not you're going to be using furniture padding and moving blankets. If you decide that you want to use them to protect your furniture as best you can, renting the things you need is always an option.
One simple way to rent furniture padding and moving blankets is to check out U-Haul. Many U-Haul locations will rent out moving blankets, netting you a dozen of the blankets for around ten dollars.
One problem with renting furniture padding and moving blankets is just how few places actually rent them out. U-Haul seems to be one of the few places someone could reliably rent moving blankets and padding, as most places don't seem to rent them out.
What can you do if there is nowhere around you to rent moving blankets?
How Much Does it Cost to Purchase Furniture Padding and Moving Blankets?
Luckily, if you can't find somewhere to rent furniture padding and blankets for your move, you will be happy to know that purchasing a good amount won't set you back that much money. Having some on hand will grant you the peace of mind of knowing your furniture is well-protected during the move, and that feeling is worth all the money spent on purchasing the gear.
If you think you might have to go the purchasing route for your furniture padding and moving blankets, there are going to be several more options opened up for you. There is no set price for moving blankets and furniture padding, so you will want to keep that in mind.
Usually, a dozen smaller sized moving blankets might cost anywhere in the range of $95 to $50. Sometimes, you might be able to find them cheaper from some sources on sale. Another thing you will want to keep in mind is that the bigger the moving blanket is, the more padding it is going to have. A dozen of the heaviest, thickest moving blankets can be found anywhere in the price range of $190 to $102.
There are several sources you can find moving blankets, as well. If you can't find them in any brick-and-mortar stores near you, you can always look online to find them. There are plenty of sources online that will sell you moving blankets and ship them right to your door. If you purchase your moving blankets online, make sure you do it a few weeks ahead of your planned moving day. This is to make sure they get to your door in plenty of time before the move.
After all, you don't want to be waiting for your moving blankets and padding when moving day rolls around, so ordering your blankets and padding online a week or so ahead of time could be one of the best and cheapest ways to make sure your furniture stays safe during your move.
Keep an Eye on the Different Types of Moving Blankets
As with many other kinds of products on the market, there are actually several different types of moving blankets. You'll want to keep your eyes out for moving blankets that have been padded with a nice, strong outer fabric. Some types of moving blankets come with a single type of material that adds no extra padding, and thus, no extra protection.
Also, you will want to make sure you are using a larger, strong moving blanket if you are going to put it underneath a piece of furniture to easily slide across the floor. Some of the cheaper moving blankets that are made with only one kind of material, and containing no extra padding, aren't going to be able to withstand being slid across the floor with a big piece of furniture on top of it. Read reviews from people online and learn about the different types of moving blankets before you make a final buying decision.
Protect Your Furniture, and Move With Peace of Mind
Now, you are armed with all of the knowledge you need to get out there and find the right moving blankets and furniture padding to make sure your furniture stays safe and protected when the big day comes.
Now, all that's left for you is to load your furniture up and whisk it away to your new home. You certainly won't have to worry about something happening to it, knowing it is protected by high-quality moving blankets.