Packing your home for a big move can be quite a task. But, after you've scheduled your interstate moving companies so that they can give you a hand, you want to start exploring the packing process. Do you know how to find Home Depot Bubble Wrap that can meet your needs and help you to stay on top of tasks as they arise?
If you stick around and read our guide, our guide will walk you through basic information about bubble wrap, what you can do with it, and where you can easily buy it. Let's take a closer look at this great product and how it can be really helpful as you get ready for moving day.
What Can Bubble Wrap Help With and How Can You Use it Effectively?
Bubble wrap has a lot of great uses when it comes to your basic moving and packing needs. The fact is, bubble wrap does really well in a lot of contexts, and you'll find that it can really hold up to a lot of use and abuse during the process of moving items to your new place. Here are some packing tips for moving that involve bubble wrap in some context.
The main reason that people use bubble wrap is that it helps them to protect the fragile items that you're taking with you. You will want to be sure that you wrap it all completely and that there isn't any sort of give to it. You also want to make sure that anything in bubble wrap is going to be labeled properly.
Tip 1: Pack with the flat side out. The bubbles do a much better job of protecting your items if they are facing the item in question. On top of that, the flat side of the bubble wrap is much easier for you to write on. This makes it easier to label things and ensures that you are going to be able to figure out which fragile items are wrapped where. 
Tip 2: If you get heavy-duty bubble wrap, it's a great way to make sure that your TV and other electronics stay safe during the moving process. Plastic wrap often leaves strange smears and marks on your screen, and you may find it difficult to make those streaks go away once they are there. If you use bubble wrap, you won't have that issue at all.
Tip 3: In some cases, you may find that there's a box that is already kind of heavy, but there's still some empty space left inside of it. Bubble wrap is the perfect solution in those situations. You can just stick it in between items and around the inside of the box so that you don't have as much space left.
Tip 4: Sometimes, we have items that we don't necessarily consider to be fragile, but we don't want them to bump into other items that are in the same box. Use your bubble wrap in order to wrap those items, or to at least put another layer between items so that you don't need to be concerned about it.
There are a lot of packing tips and strategies that you can utilize with bubble wrap, and these are just a few of the tips that you can use in order to ensure that you've got everything in order. Try them for yourself and see how much easier it is to go ahead and get the job done.
Where Are the Best Places to Purchase Bubble Wrap?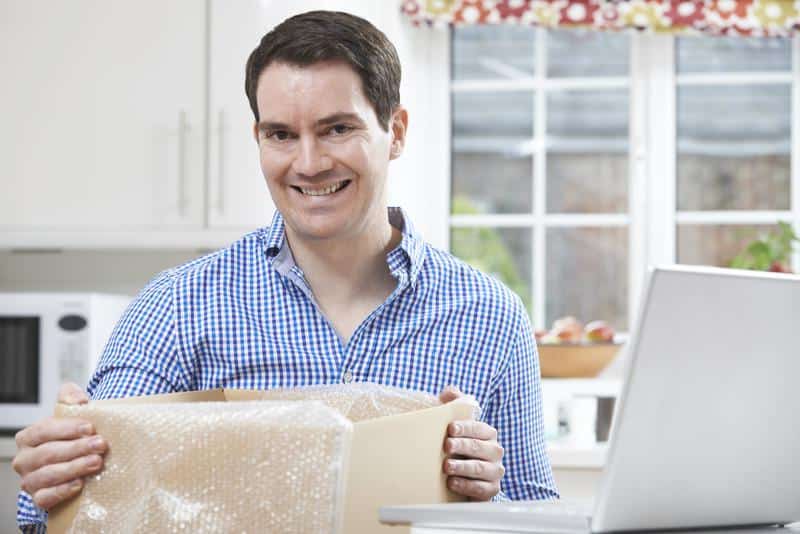 Bubble wrap can be found in a lot of different places, and local store prices may vary from those displayed. You want to be sure that you look around on the web and check out the product details close to what you want. In some cases, you can order the bubble wrap online so that it's delivered to your home. Other times, you may want to order it so that you can pick it up at the store.
Many hardware stores are going to have bubble wrap available for you to purchase. Home Depot Bubble Wrap is really popular because they sell it in large rolls and their prices are fairly reasonable.
If you only need a little bit of bubble wrap to take care of your moving process, you are typically able to get small amounts from your local post office, which usually keeps it in stock for shipping purposes.
If you decide to order online, then you want to go ahead and check out if they're stocked, but inventory levels are low. Every site is subject to not being completely accurate, especially if you're going somewhere that has a high volume of foot traffic and purchases. In many cases, you want to be sure that you know what the products shown are and that you're buying them.
1. Amazon
Being one of the largest online retailers in the universe, Amazon sells various bubble wraps and other relocation materials like boxes just at a click of a button. Whether you are searching for a particular size or a specialty bubble wraps or box to hold your expensive and fragile item, you will possibly find a box that matches your needs. Amazon has many options, surely, but it is also among the best places to find out how each box performs in reality. Each item contains numerous customer reviews, which can assist you to determine if you should click the buy button.   
2. Home Depot
When you log on to HomeDepot.com, you will have access to the mover's guide that assists you to choose the best packing materials and supplies you need. You also can find varieties of box sizes and supplies. Shoppers can choose whether to ship their moving boxes to their address or for free to their nearest Home Depot store. Therefore, those who need comprehensive information concerning products can enjoy getting moving boxes from Home Depot.
3. Lowe's
If you have to carry out any home repairs before your move, you need to buy bubble wraps as well as other essential packing boxes while in the store. During your visit to Lowe's website, you can customize your choices to determine what is available at the nearest stores or items that are in stock based on the product. Getting moving boxes from Lowe's is the best for people who desire different choices and might also need to execute a home improvement task.
4. Walmart
Since there are lots of Walmart stores across the country, it is so simple to find one closer to your home. The majority of these places are also always open, so if you exhaust your moving boxes or other supplies in the middle of packing, you don't have to wait till the next day before you get new supplies. When you log on to Walmart's website, you can also purchase your packing boxes online or find out what is in stock at your local store. People who need to get other essential materials will find it easy when buying packing boxes at Walmart.  
5. U-Haul
This is one of our leading choices on our list of best moving truck rental providers – and if you are getting ready to rent a moving truck from U-Haul for your self-move, you might also purchase your bubble wraps and other supplies there too. Similar to other companies on our list, U-Haul has huge choices of moving boxes and materials that you can buy online and in-store. Together with its choices of moving boxes, U-Haul also offers specialty kits such as disposable moisture absorbers and storage bags for getting items ready for long or temporary storage.
The Best Bubble Wraps for Moving and Storage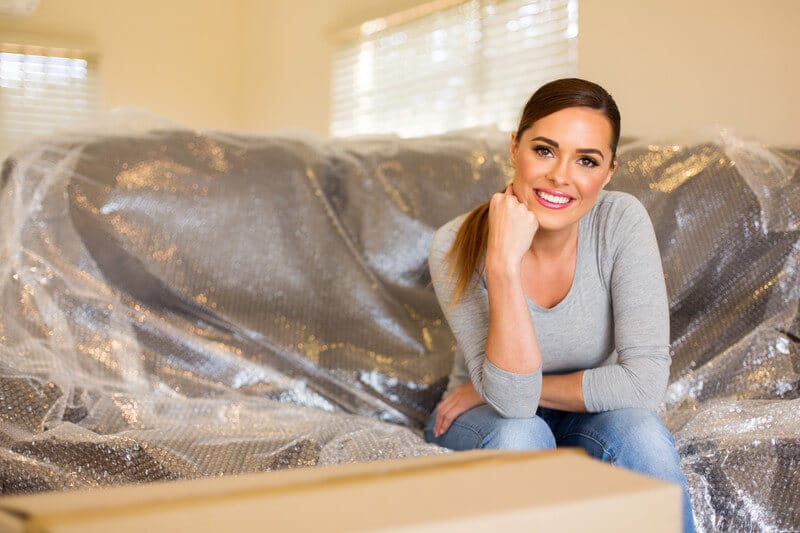 Having known where to get bubble wrap, it is essential to learn more about the best bubble wraps for moving and storage. You probably thought all bubble wraps were the same. I suppose you might be wrong.
Based on the items you are moving or storing, the duration, and the size as well as the level of protection required, there are varieties of options, as shown by this selection.
They are of different colors with great pre-cut perforations, and there may even be an antistatic coating on some of it as it will help protect your electronics and other delicate items.
Below are the best bubble wraps for moving and storage:
1. Duck Brand Anti-Static:
When relocating costly electronics, you will want them protected from all forms of breakage and electrical discharges. This particular product (the Duck Brand Anti-Static, which goes for about $17) comes in an additional wide roll, and its unique pink color gives you the chance to keep it away from the wrap used for fragile items like dishes and glass. 
Will not scratch fragile surfaces
Perfect for computer monitors
Perforated at each 12 inches
2. Scotch bubble pouches:
If you are relocating small but sensitive items such as heirlooms, electronics, or antique arts, gently place them in these Scotch Bubble Pouches (which goes for about $20) to offer reliable protection. You can use them in large mailers or as an extra buffer in a box.
Great water resistance
Ideal for framed photos
Designed to be re-sealable
3. Ecobox bio bubble:

If you are conscious of the environment, the number of waste generated when moving can increase the moving day stress. The EcoBox bio bubble that goes for about $25 can get rid of some of your worries, as it gives the same strength as traditional options, but breaks down on exposure to direct sunlight and water. 
Not good for long-term storage
Costs a bit more than standard
Large half-inch bubbles. 
4. Duck brand original:
There is a nylon air retention barrier on each roll of Duck Brand Original, which goes for about $220, and it reduces air loss, making it a perfect choice for long moves of items that are to be stored for a longer period of time. 
Easily conforms to shapes
Additional lightweight for mailing
Perforations can be difficult to find. 
5. Polyair Handi-Pack:
This type goes for about $20 and comes with its own dispenser, which allows for easy removal of the actual quantity needed for each task, and the cardboard box offers protection during the move; so that only a few bubbles get popped before you can even use it. 
A bit thinner than other alternatives
Can be recycled using plastic bags
Resistant to puncture
6. Jam paper padded mailers:

If your business often ships small, delicate items, then you can save a lot of time and stress of packing your items individually and rather buy many Jam Paper Padded Mailers, which goes for about $30. They are self-sealing envelopes that are perfectly worth their cost. 
Fun metallic colors
Available in various sizes
Reinforcement may be needed for closures
7. US Packshop350:
You have the option to tear the US Pack shop 350, which goes for about $19 into 12-inch squares, or you can make use of one of it for bulky items. You may choose to wrap your highly fragile items twice, but that is fine since it is not as pricey as many options. 
Bubble pop easily
A great choice for the entire house moves
Great filer inbox
8. Yens 125:
You can protect different types of items with a good, long strip of Yens 125, which goes for about $20, and is perfect for those large, oddly-shaped items. It adds cushioning to jostling and bumps that cannot be avoided on a moving day.
2-handy rolls for each order
Bubbles may be popped by very heavy items
Sections are hard to tear off
Benefits of Using Bubble Wraps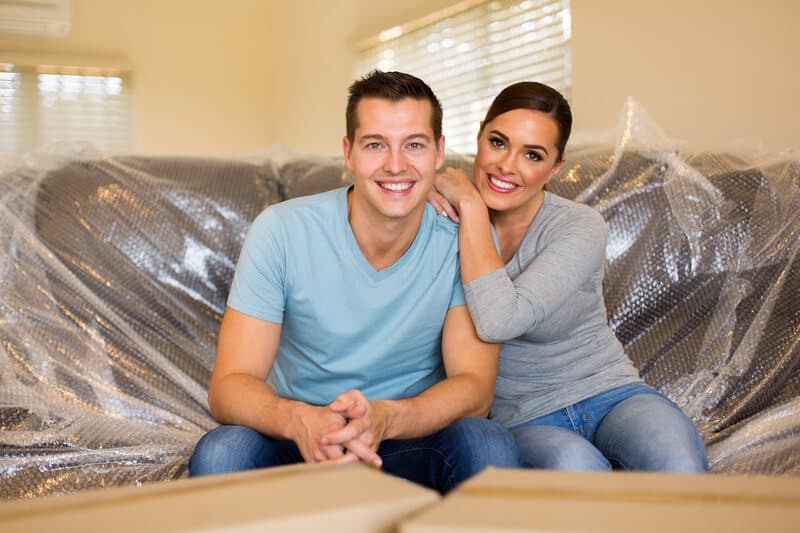 The major question here is – why do you use Bubble Wrap? At first, you need to know that bubble wrap is great. As a matter of fact, there are many advantages of using bubble wrap when packing up for a move, and it may get you to wonder why you should even consider any substitute for bubble wrap in the first instance.
We will answer you but first, let us discuss the reason behind the popular use of bubble wrap of all packing materials. 
1. Great protection:
Bubble wrap was first made as 3-dimensional plastic wallpaper, but it never migrated from being advised, so its manufacturer quickly recognizes its great potential as packing materials. The great protection bubble wrap offer is as a result of the tiny air-filled hemispheres (just air trapped in between 2 plastic sheets) that have great cushioning qualities against dangerous external forces like direct vibrations, hits, shocks, and so on. All your very delicate and sensitive belongings will be protected from dust, dirt, and moisture once they are wrapped up in those little air pockets. 
2. Ease of use:
Because bubble wrap is flexible and versatile, it is, therefore, very easy to use. No matter the sizes and shapes of the belongings you plan to protect, their surfaces will be covered by the greatest cushioning material and turn them into safe packages ready to resist any external forces that hit during a move. Generally, with enough bubble wrap, you can wrap up any item in your household, just name it. 
3. Lightweight:
Bubble wrap is very light and will not add to the objects' weight wrapped in it. And this is a great perk since professional moving companies consider your shipment's overall weight when giving you a moving price. 
4. Bio-degradable:
You should know that not all bubble wrap are eco-friendly. To reduce the negative impact you have on nature, try to use nicely used bubble wrap or buy recyclable ones such as Enviro-Bubble.
5. Fun: 
Everybody understands that even kids and adults enjoy popping bubble wrap. The process of busting the air bubbles helps in reducing stress as well.  
What are the Items to pack in Bubble Wrap?
Valuable, fragile, heavy, and items that are difficult to replace. If you are looking at something and you are not sure whether to wrap it in bubble wrap or not, we suggest you go with your instinct to wrap it. It would help if you considered using bubble wrap for the following:
Flat-screen TVs
Stemware and fine china
Glass tabletops and shelving
Fragile decorative items
Large picture frames & mirrors
Electronics and computers
Note that bubble wrap alone will not get the job done. Even after using 2 or 3 layers of air pockets, the items on this list will still require firm packing in cardboard cartons with adequate crumpled paper applied on all sides to prevent them from shifting and sliding while in transit to keep them safe from an external force. 
Bubble wrap price will generally vary based on the products you purchase and the store where you get them. You can easily bargain-basement prices online, but you will surely get everything you pay for. You can pay a few amounts of money for bubble wrapping if you like, but the quality products you want might not be given to you. You can get air bubble wrapping in varieties of options: 
A small roll of Enviro-bubble of size 15' by 16' costs about $5
A box of small Enviro-bubble of size 150 by 12 costs about $20
A bulk roll of Enviro-Bubble of size 100 by 24 costs about $25
A bulk roll of Enviro-Bubble of size 250 by 12 costs about $30
The cost of bubble bags (60 pcs) is $25.
Other Alternatives to Bubble Wraps for Moving and Storage
Below is the list of alternatives to bubble wrap that will help you save money when moving to another home: 
1. Packing paper:
This is a nice alternative for bubble wrap as it is soft and wraps firmly around the object, and offers nice protection against dust, scratches, and dirt. However, since wrapping paper is not as thick as bubble wrap, a lot of paper sheets will be needed at once to get the padding protection worth a single sheet of bubble wrap. Generally, packing paper is less expensive than bubble wrap. You can get 200 sheets of wrapping paper for just $10. 
2. Newspaper & magazines:
Old newspapers and magazines are relatively free, so you can make use of any quantity of paper you have in order to have adequate padding for your fragile items. However, there are restrictions here: you can only use newspapers and magazines to fill in empty spaces in boxes or used as second layers. Still, they cannot be used as the first layers because the ink can easily get to your fragile items and ruin them as they may be difficult to remove.
3. Old clothes:
These can be better alternatives to bubble wrap as many of them are very thick and can provide adequate protection for the road. Don't just throw away clothes that you no longer need but use them to fill space, pad, and wrap your fragile materials. Just check your household, and you will see a lot of clothing that can be used as a substitute for expensive bubble wrap at no additional cost for you.
4. Bedsheets:
Avoid using new bedsheets to protect your delicate belongings when moving as they may get ruined during the process. Rather, make your old bed covers your protective materials to avoid additional cost. 
5. Towels:
The majority of bath towels are very thick so that they can be used as an alternative for bubble wrap in your home. Regardless of where you make use of your towels, whether as a cushion for breakable items in a box or to wrap fragile items as the first layer, you will still achieve your aim of adding padding and wrapping to protect your stuff. Note that unlike bubble wrap, towels are kind of heavy and will add to the overall weight of a box. 
6. Blankets:
Just like hand towels, household blankets offer great protection for fragile items, but they will increase the total weight. If you already own blue-colored furniture blankets from one of your old moves, that is great. Else, you can use any regular blankets found in your household as an alternative to bubble wrap.
7. Socks:
You may choose to believe this or not, you can use thick socks to protect glasses, usually stemware glasses. Be sure that the socks are clean in order to save yourself from spending too much time on post-move cleaning of that glassware. 
We are not against your choice to buy bubble wrap. The truth is that you can only get the best possible protection for your delicate, fragile, and sensitive belongings through the use of air-filled plastic materials. If you have the money to buy all the required bubble wrap for your move, then do not hesitate to buy and use it as it will worth it.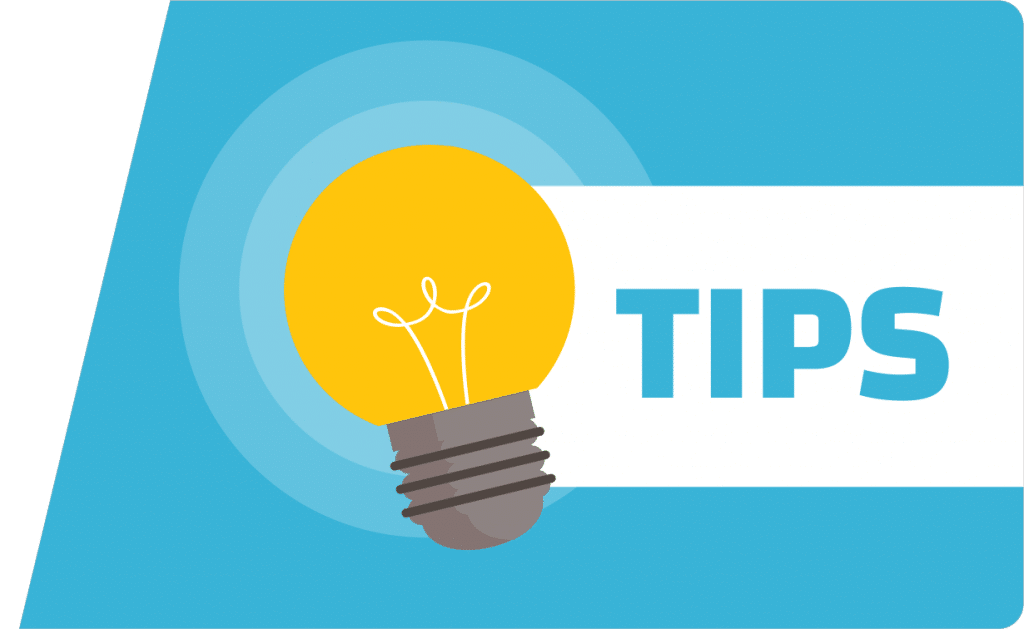 Frequently Asked Questions
How do I know how much bubble wrap I need? 
Sometimes, you can ask your state to state moving company store about what they recommend for the amount of bubble wrap that you're looking for. The amount you need is subject to certain terms, of course – if you have a whole array of fragile items, then you are going to need to get more than if you just have a few that need to be protected during the move.
Are there alternatives to bubble wrap? 
When you're hiring professional long distance movers, you want to list some questions for them, and this is one question you may want to ask. They may be able to look at the items that you're looking to protect and give you other options, like moving blankets, newspapers, and other soft items that can help to hold them in place and protect them from breaking during transit.
Can I reuse bubble wrap? 
Typically, yes. If you're careful with the bubble wrap when you use it and you haven't crushed too many of the bubbles on it and there are no tears, you're going to find that it's quite simple to go ahead and reuse the bubble wrap without any issues.
Where can I purchase the least expensive bubble wrap?
You can get it from U-Haul as it is the cheapest local place with no need to order mail. You can also use starboxes.com. Their prices pass Amazon's by $2. You can also check Wallamo Packaging to get this cheapest bubble.
What moving supplies do I need and can I get bubble wrap from Home Depot?
The moving supplies needed for your move will be determined by the size of your move. There are bubble wrap rolls, packing foam, packing paper, moving blankets, packing tape, plastic strapping, dispensers, strapping tools, and stretch wrap available at Home Depot. 
Apart from bubble wrap, which other moving supplies I can get from U-Haul?
You can get common packing supplies at U-Haul moving and storage at affordable prices, including Enviro-Bubble, gift boxes, forearm forklifts, duct tape, shipping supplies, and padlocks utility carts, moving blankets, moving straps, box cutters, and more.  
Why do people use bubble wrap for packing?
Bubble wrap is made of transparent plastic material which is used for packing delicate items. Cushioning is applied for delicate items through the reasonably spaced, protruding air-filled bubbles. Bubble wrap is owned by Sealed Air Corporation. 
Is bubble wrap truly active?
Bubble wrap simply works by adding to the window's isolative value, making it more effective in keeping the heat outside in summer and preventing loss of heat in winter. A double-glazed effect can be noticed by the still layer of air that resides in the bubbles as noted by Ms. Edwards. 
Look around for packing supplies that meet your needs and make it fairly simple for you to take care of any sorts of issues or concerns that may come up in the meantime. More often than not, you will be able to find some solutions and know that you've got the right packing materials ready to go.