There are a lot of details to handle when you are moving from state to state. Unless your home is located by a state border, you must understand that moving long-distance from one state to another is one of the most difficult types of moving you can embark on, right after the logistic barriers of moving from one coast to another.
That is why researching the best state to state movers for your moving needs is so much important.
The major parts you need to focus on include the range of services of the company, its years of moving experience, as well as available resources.
To make the work easier for you, we've spent a lot of time researching more than 20 interstate moving companies so you don't have to. Find out who makes it to the list of this year's best state-to-state moving companies.
Top 3 Recommended State-to-State Movers By Our Experts
Compare Best State to State Moving Companies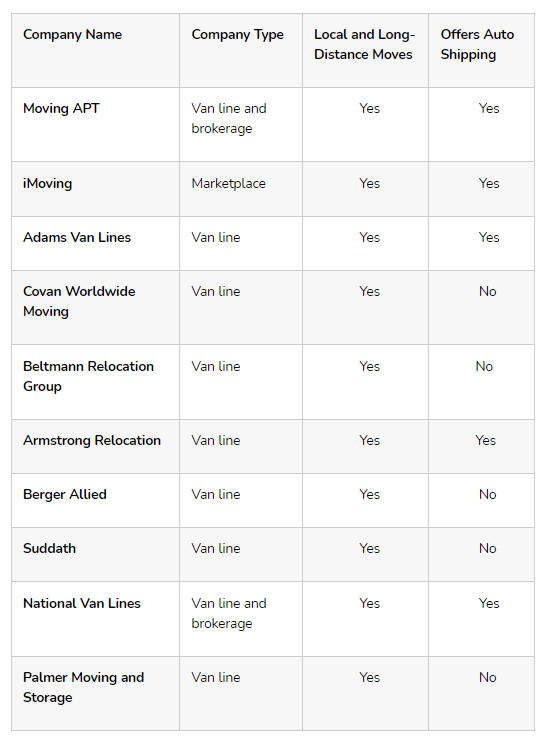 | | | | |
| --- | --- | --- | --- |
| Company Name | Company Type | Local and Long-Distance Moves | Offers Auto Shipping |
| Moving APT | Van line and brokerage |              Yes |            Yes |
| iMoving | Marketplace |              Yes |            Yes |
| Adams Van Lines | Van line |              Yes |            Yes |
| Covan Worldwide Moving | Van line |              Yes |            No |
| Beltmann Relocation Group | Van line |              Yes |           No |
| Armstrong Relocation | Van line |              Yes |           Yes |
| Berger Allied | Van line |              Yes |            No |
| Suddath | Van line |              Yes |            No |
| National Van Lines | Van line and brokerage |              Yes |            Yes |
| Palmer Moving and Storage | Van line |              Yes |            No |
Get Free Quotes From top-rated State to State Movers in The United States
Whether your state-to-state moving needs are small or large; our movers offer a lot of packing and moving services that you can select from to customize your moving solution.
They offer storage services with long-distance moving services that include custom crating, full-packing service or specialty move for fragile, large, or highly delicate items, or DIY packing in which we only provide the packing materials.
Below are the 10 best state-to-state movers in the United States that you may want to consider for this important move.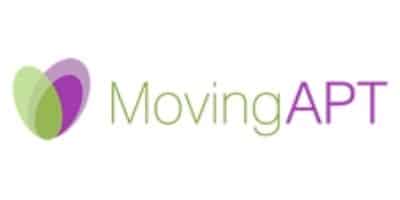 Moving APT is your very best if you are planning to move from one state to another soon. It gives you access to an array of state-to-state moving companies across the United States. Whether it is a residential or commercial interstate move, Moving APT believes you need a company that speaks your language and committed to your smooth relocation.
It is an American-owned and licensed company that has served thousands of interstate moves over a decade. Moving APT is equipped with experienced moving teams to handle any size of the state to state move, regardless of the distance involved. It prides itself and its moving experts to offer you access to the top-class movers that are servicing your locality.
Moving APT only uses reputable, licensed, and insured moving teams to move your stuff safely, quickly, and securely across the state. If you want trusted moving companies in the US at the best prices, Moving APT is the right place to go.
Why we recommend Moving APT
Moving APT is the most reliable of all the movers listed on our list that we can boldly recommend. The company is fully insured, licensed, and bonded to perform a great job and reasonably affordable while keeping its credibility.
If you are searching for competitive moving quotes, your best shot in the moving industry is Moving APT. You can get the most effective moving quotes that satisfy each customer's moving budget from Moving APT without cutting back on its quality.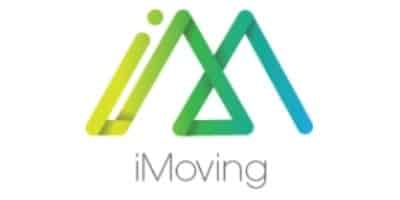 iMoving is one of the best moving platforms founded to solve the hassles faced by consumers such as poor service delivery, sudden price increases, late show-ups from movers, additional charges, damage or loss of belongings, and other moving scams experienced by many people on moving day. 
iMoving creates a platform that offers transparency and trust between movers and consumers for smooth moving transactions.
If you are looking for a platform to plan your move and streamline the process, iMoving is you very best for either local or long distance move. iMoving allows moving companies and other services in the moving industry to list their services on the platform, while consumers can opt for the one that fit their budget.
Consumers who are ready to move their homes only need to enter their move details, review and compare different quotes, choose a mover, and book online at the same point.
You can find reliable movers with quality service in your area through iMoving. The movers on the website were handpicked through a thorough screening process by checking to make sure they have the needed national certifications, insurance, experience, and bond to perform cross-country relocation services.
The company considers old customers' reviews and ratings of each company before they are recommended to customers. You will have the opportunity to make a comparison of different reputable movers to choose the best match for your need.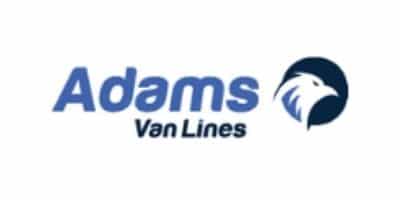 State-to-state moves are categorized as long-distance and treated the same way. However, Adams Van Lines customizes every move and tailor their services to the customer's needs.
Not all moves are the same. They believe there is a purpose for your moving to another state; hence, their state-to-state moving teams work with you to help you achieve your goals by ensuring a stress-free moving experience.
All the mandatory documentation and legal compliances required to cross to another state will be completed in time.
Adams Van Lines completes every move within an agreed timeline while ensuring the safety of your goods during transit. With their excellent customer service support, it makes the state-to-state move easier for clients by offering a single point of contact for all your relocation needs.
Adams Van Lines is one of the best in the moving industry when it comes to moving to another state.
Why we recommend Adam Van Lines
This company is a leading professional mover that offers moving helps to lots of companies operating in different states in the country.
If you need an experienced and affordable moving company to move you on a long-distance, this company will be so helpful for this purpose.
Adam Van Lines knows that professional technique is required for long-distance moves because they are often stressful and need a lot of proper documentation and legal compliance before the service can be delivered. They will perform your packing, loading, unloading, transportation, as well as storing your belongings.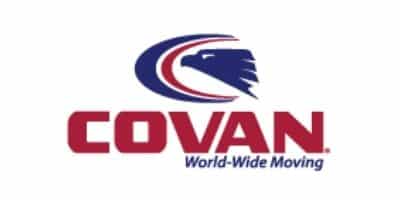 4. Covan Worldwide Moving
Covan Worldwide Moving was founded in 1914 by J.M Coleman and was started with just four dray wagons, eight horses. Today, they have over 50 offices located in 17 different states with over 400 agents spread across the world.
Covan is family-owned and operates over 200 interstate units with 600 units strategically dedicated to short and local haul activity. 
Covan Worldwide Moving offers a wide range of moving services such as government and military relocation, household moving, commercial, international, long-distance moving services, and corporate moving among others.
Their many years of being in the moving industry say a lot about their reliability and expertise.
Why we recommend Covan Worldwide Moving
This company offers a lot of moving services like military and government moves, residential moving, business, international, corporate, and long-distance moving services.
They have more than 50 locations in 17 states, with more than 400 agents located all around the globe. They control more than 200 state-to-state units with 600 units specially committed to short and local moves.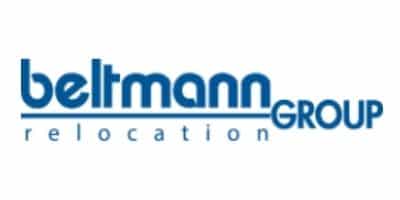 5. Beltmann Relocation Group
Beltmann Relocation Group was founded in 1923 by Albert Beltmann and is one of the most experienced and reputed state to state movers in the moving industry has since grown to have 11 branches across different states in the United States.
Beltmann Relocation Group describes themselves as "The Experienced Mover that for all Life's Transitions" an appellation that they have lived up to, considering their all-inclusive range of moving services they offer. 
They have a team of professional cross-state movers that will help with local, long-distance, international, office, corporate, and industrial moving needs, and they also provide storage facilities.
Why we recommend Beltmann Relocation Group
Beltmann Relocation Group offers customers a quick online moving estimate. Although an online moving estimate will not be the actual assumption of the amount Beltmann will charge for your move, it will give you an insightful idea of what your expenses might be.
With the use of a moving calculator on Beltmann's website, customers can get a complete idea of how much they will spend on their move. This is a unique twist to obtaining a moving estimate from a moving company.
Armstrong Relocation has been operating in the moving industry since 1922 delivering excellent moving services to their clients over the years. They moving services include local, long distance, corporate, international moving, and storage facilities among others. 
Their experienced state to state movers are up to the task as they will help in handling all logistics involved in your relocation from start to finish and deliver nothing but high-quality services and satisfaction.
Why we recommend Armstrong Relocation
A lot of people use Armstrong despite their higher rates because of its years of experience, the varieties of services, good reputation, as well as quality of services offered by the company. However, Armstrong' prices are so competitive, unlike its competitions that offer long-distance moves.
Of course, many factors will dictate your actual moving prices like distance, size, as well as the date of your move. To have a great idea into the amount your move will cost you with this company, make sure you supply your actual inventory when you are receiving quote.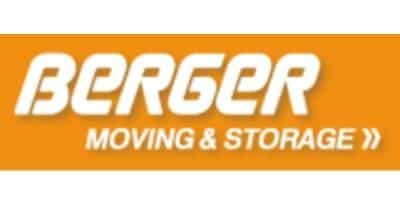 Berger Allied is an agent of Allied Van Lines founded in 1910 and is located in Minneapolis, Minnesota, in the United States.
It is one of the foremost moving companies state to state in terms of their longevity in the industry; they offer a wide range of moving services specializing in the storage and transportation of household goods, industrial and office equipment, and product distribution among others. 
They offer moving solutions in the areas of local moving, corporate moving, residential moving, commercial moving, international moving, long-distance moving services, and service locations among others.
Why we recommend Berger Allied
This is one of the eldest interstate moving companies when we talk about years of experience in the moving industry.
The company offers varieties of moving services that major in the storage and moving of household belongings, office and industrial equipment, as well as product distribution.
This company partners with the best moving agents all over the United States and the world at large, even with its professional and top-notch service deliveries.
Berger Allied has all the licenses required to perform any move. No matter your move's distance, the company assures a smooth moving process by removing the moving stress from your neck.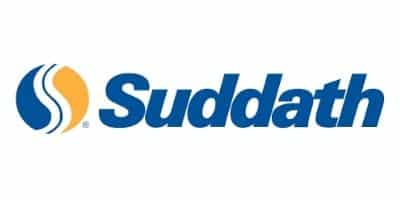 Suddath is a family-owned company that began operation in 1912 and is located in Jacksonville, Florida in the United States.
They started with a cart and two mules and have since grown into a well-known global brand helping businesses and homes to seamlessly relocate from one state to another.
Today, they are one of the trusted nationwide moving companies with over 2,150 employees spread over 30 locations in the United State and over 150 partnerships across the globe including Shangai and London. 
They offer long distance, local, commercial, international, and corporate moving services among others. Suddath is a reliable and trustworthy national moving company with pedigree-based on their years of valuable experience operating in the moving industry.
This is one of the most reliable moving companies across the nation with more than 2,150 workers located across 30 locations in the country and more than 150 partnerships internationally, which includes Shangai and London. Suddath is owned by a family and start its operations in 1912, located in Jacksonville, Florida.
The company is a trustworthy national mover with reputations based on their years of a great experience.
National Van Lines has been in operation for over 85 years providing full-service packing, moving, and storage services for both their commercial and residential clients.
Their out of state movers comprises of a team of individuals who is experienced and capable of helping with all stages of the moving process, whether it is a local move, an interstate move, cross country moving, corporate move, and international, they are up to the task.
Why we recommend National Van Lines
Aside from the moving services, you can also get parking and storage-in-transit services from National Van Lines. The company's online moving estimate is the best and is always closer to your actual moving cost.
If you have an upcoming move, consider National Van Lines as your best option. No matter your move's distance, the company assures a smooth moving process by removing the stress off your shoulder.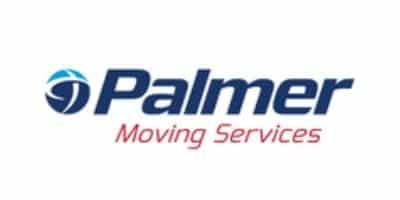 10. Palmer Moving and Storage
Palmer Moving and Storage is a family-owned company that has been in operation since 1910 offering time-tested and trusted solutions to all relocating needs.
Palmer Moving and Storage is an Atlas Van Lines agent with over 10,000 successful moves completed each year. 
They are based in Detroit, MI providing full moving services to individuals, businesses, and corporations over the years.
Their services include providing local moving, long-distance moving services, residential moving, office moving corporate relocation, and custom moving solutions among others.
Why we recommend Palmer Moving and Storage
Medium-sized moving trucks are required for interstate moves of large families and businesses, and that is where this company comes helpful.
Customers can get a nice idea for their moving costs by using the ballpark estimate obtained from the company's website. This means of obtaining a moving estimate from this company is so unique and special.
The Following Table Displays The Best State to State Moving Companies In The USA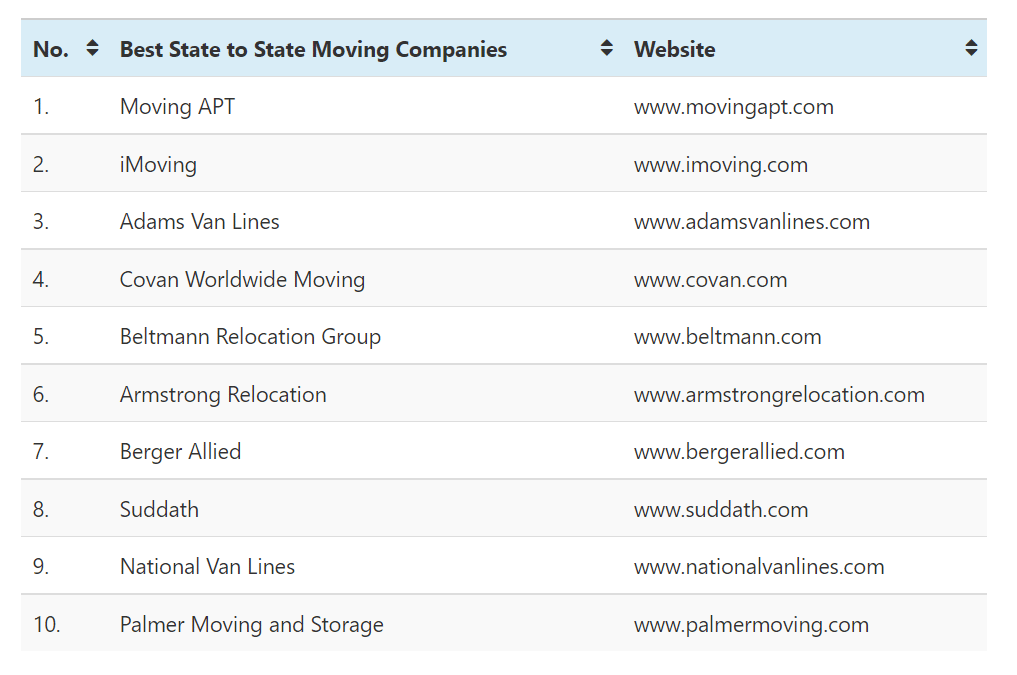 | No. | Best State to State Moving Companies | Website |
| --- | --- | --- |
| 1. | Moving APT | www.movingapt.com |
| 2. | iMoving | www.imoving.com |
| 3. | Adams Van Lines | www.adamsvanlines.com |
| 4. | Covan Worldwide Moving | www.covan.com |
| 5. | Beltmann Relocation Group | www.beltmann.com |
| 6. | Armstrong Relocation | www.armstrongrelocation.com |
| 7. | Berger Allied | www.bergerallied.com |
| 8. | Suddath | www.suddath.com |
| 9. | National Van Lines | www.nationalvanlines.com |
| 10. | Palmer Moving and Storage | www.palmermoving.com |
How Much Does it Cost to Move State to State?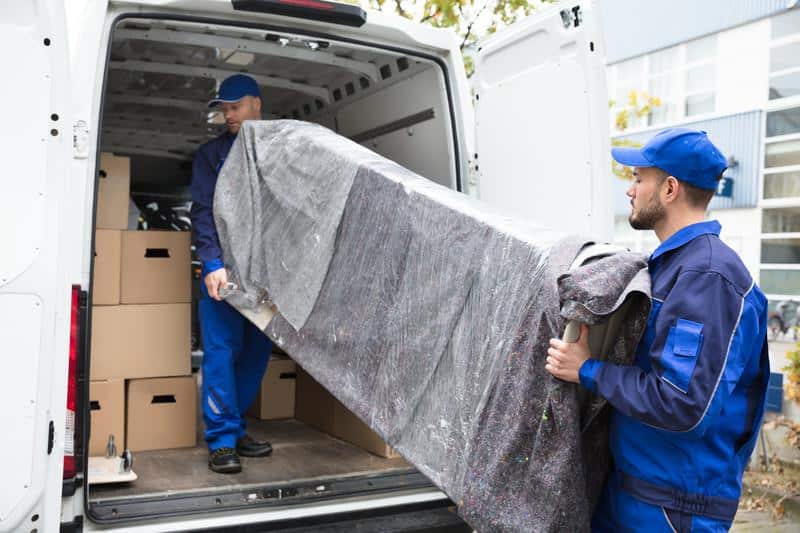 Professional movers charge based on many different factors. On average, the cost of a state-to-state move is between $2,000 and $5,000. You can expect to pay between $80 and $100 per hour as local moving labor costs.
International moves can cost between $1,000 and $10,000 or more. Also with moving distance, price estimates depend on many factors, such as:           
The weight of your shipments
The size of your house or apartment
The amount of money you tip your movers
The amount you pay your moving companies is not the only cost you will need to work on. Full-service moving companies provide boxes and packing supplies, but with labor-only movers, they don't.
Remember to add those costs if you are performing your packing. These supplies can be expensive, so we recommend you plan a moving budget before time and finding out the supplies you can obtain for free from friends, family, or businesses that may be willing to let you walk away with their recycled boxes.
We also recommend that you gather quotes from at least 3 moving companies to ensure you know you are receiving a reasonable rate, just as it was mentioned above.
Read How Much Do Movers Cost To Move?
Interstate Moving Services
Whether you are moving out of state or across the country, our long-distance movers can help haul your shipments to your new home easily and effectively. Professional moving services are not limited to the following:
Packing: Full-service movers pack your entire household and provide the necessary materials needed to move your shipments safely and securely. This includes taking care of any large, bulky items like furniture; that may require disassembly to simplify the move.
Labor and transport: Full-service movers load and transport your packed shipments to your destination.
Unpacking: Full-service movers perform unloading and reassembly of furniture. They also can unpack your shipments and remove all packing materials before they leave.
Storage services: If your home is not available yet at the time of your move, or if you need short-term storage as part of your relocation, we offer temporary and long-term storage options.
Calculate Your State to State Moving Cost
The 7 Tips To Hire State to State Movers
Finding a moving company doesn't have to be a daunting task. Stick to the following seven (7) steps to locate the best movers for your need:
1. Obtain several estimates:
With all the things to do for a move, it is easy to select the first mover that looks good to you. However, it is important to conduct research on businesses first and contact a few (2 or 3) moving companies to make sure you are being provided the best deal.
Acquiring a moving quote provides you a better look at what the company charges for your relocation, but sometimes changes are made to estimated quotes. Some companies offer price-match or include extras to get your job, so it is better to obtain multiple quotes.
2. Perform a walk-through:
To obtain an accurate insight of how much moving companies cost, get many moving companies to perform a walk-through of your current home. Moving companies might charge a bit extra for bulky furniture, delicate items, or extra labor. The walk-through also provides you a better chance to determine whether you are comfortable with the company.
3. Get references:
Reputable movers provide references when requested by customers. These references may be accrediting agencies, old customers, or insurance agents. Checking references is so much important in ensuring a company is reliable, has an excellent track record, and offers great customer service.
4. Confirm credentials and certifications:
If you are working with a long-distance or freight movers, confirm with the FMCSA to figure out if the company is registered with the United States Department of Transportation. Confirm the DOT number of your moving company when its workers arrive for your move and always keep the number with you in case there is a need to file a complaint in the future.
You can also find out if your moving company is registered with the ProMover program of the American Moving & Storage Association. This organization performs background checks on the United States moving companies and makes sure they are up to its standards.
5. Read reviews:
It is important to know where other customers stand about the company you are about to hire and the types of complaints that are popularly made against the company. A moving company might look perfect on paper, but former clients can share what working with the mover is like.
6. Know the warning signals:
If the moving company doesn't have an address, hasn't been into the business for a longer period, or has many business names, this can be a sign of a moving scam or fraud. A company that doesn't have reviews, reputation, or references is also suspect and might be operated by a dishonest person.
7. Only pay for one delivery:
A reputable moving company doesn't request payment until they complete the move. Some companies may ask for a deposit (usually 20% or less), but you should avoid prepaying the actual cost of a move. Pay your deposit using a credit card, in case the need to dispute the transaction arises; you can easily get your money back.
If you are hoping to find a thorough checklist that will cover every step of your move, then we've got just what you need. With our step-by-step moving checklist, you will be able to hire a reputable moving company, unpack your last moving box in your new residence, and all the tasks in between.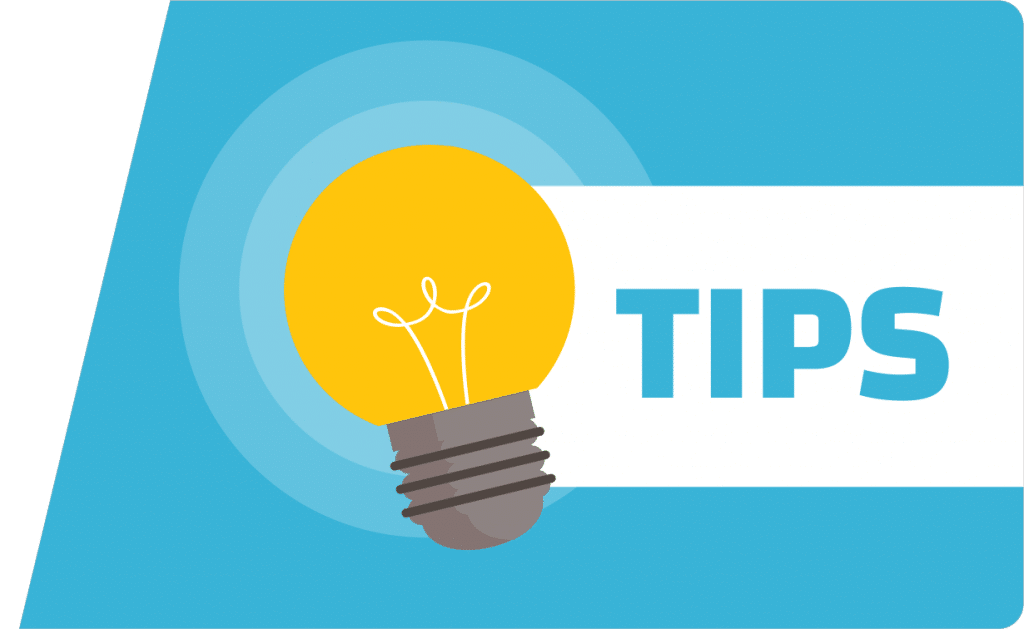 How to Plan and Get Ready for an State to State Move
1. Get a moving calendar ready:
How you arrange your pre-move is important for the result of your moving journey, so we recommend that you make the most of it. Create and fill in your calendar with every necessary task you can come up with, then ensure you customize them about your needs and set priorities for them based on the number of days you have for your moving day.
2. Plan a moving budget:
Can you guess what is stated on the first page of your moving calendar? Yeah, create a relocation budget. Having a workable interstate moving budget to use will make sure you can monitor how you spend your money during each stage of your long-distance move.
Usually, the interstate moving company costs will be the biggest expense in your budget, but you should remember to add all other as well as a hidden expense during an interstate move, such as extra services (packing, unpacking, furniture disassembly and reassembly, short-term storage, and so on), and additional charges and fee (long carry a charge, additional stops fee, flight charge, large items handling fees, and so on).
3. Locate a reliable interstate moving company:
What way is the best to relocate out of state? As revealed by practice, an interstate DIY move will unlikely be the most cost-effective option because of the huge distance and the many hidden costs related to DIY moves. Therefore, your best bet of locating the affordable way to move to another state is to locate reputable movers that move you from one state to another. Try the tips above.
4. Inventory your household for the interstate move:
One of the most vital things to understand during an interstate move is that the price of your out-of-state move will be determined by the distance you are moving to your new home as well as the weight of your household belongings. And since you have no control over the distance being a major factor your only option to reduce your moving cost is to reduce the number of your belongings to a minimum.
Inventory your entire household possessions to figure out the current status and amount of your belongings. According to moving experts, they agree that if you haven't made use of an item over 12 months, then you can easily let go of it. Save your money by transporting only items that you will need and use soon rather than later.
5. Commence packing appropriately:
While getting ready to move to another state, you should remember the most stressful and time-consuming task when performing a residential move. Yes, packing for an out-of-state move is never an easy task but before you even begin to place your items in boxes, you will need to certainly buy quality packing materials for the task ahead of you.
Commence the packing job as soon as possible;
First, pack up your storage area and proceed to rooms you use every day;
Pack and protect your large and heavy belongings first and then proceed to pack your smaller belongings;
Ensure you pack a survival kit for your interstate move to survive on the final days in your old home or the first weeks in your new state home;
Pack your highly-priced items separately and avoid leaving them to your interstate moving company.
6. Change address and cancel subscriptions:
Our interstate moving checklist continues with different pre-move chores that will ensure a smooth and safe transition from your current home to your destination home. While making plans to move to another state, create a mental note that you will have another address immediately after the Moving Day ends, so be ready and make official changes in advance.
Visit your local postal office to complete a change of address form or get it done online to save your time. The consequence of changing your address is that you will have to complete 2 other instant tasks immediately.
7. Disconnect and reconnect household utilities:
While some tasks can be postponed until you get to your new home or apartment, such as searching for a health care provider, securing your new home, registering your vehicle, and so on, others like disconnecting the vital utilities in your former home and re-connecting them in your new home should be performed preferably some days before your moving day. Contact your local service providers like gas, electricity, power, water, and schedule for their prompt disconnection, and consequently their reconnection so that you can have access to them in your new home.
Frequently Asked Questions Aboy State to State Moving
What is the media cost of moving out of state?
The average cost of relocating out of state is around $5,500. The American Moving & Storage Association mentioned that this average is given based on a moving distance of 1,200 miles and a shipment weight of 7,000 pounds.
What is the most affordable way to move state to state?
Some of the cheapest interstate moving methods include POD (the use of a moving container), hiring cheap rental moving trucks, rent a small tow trailer, find a cheap moving company, ship your furniture, and travel on a bus.
What is the cost to move furniture out of state?
Moving your furniture to a new state will cost around $4,300 as stated by the American Moving & Storage Association.
Is it difficult to move to another state?
Moving out of state is stressful. You can pick from one of the best interstate moving companies from the list above to make this transitioning as smooth as possible.
Is it a good idea to move state of state?
It is based on several factors like your career choice, political views, children's educations, and so on. If the interstate move is to start a better life, then it is certainly a good idea.
Is hiring a professional mover a worthwhile option for the cost of an out-of-state move?
Packing, transporting, and driving a moving truck yourself may seem cost-effective to you. But so many things can go wrong during a DIY move. Some end up being as just costly as hiring a professional mover, and you sure don't have the same amount of financial coverage for your shipments. You also have to consider the wasted time and effort that you spend on the move too.
Moving can be a stressful process that nobody really looks forward to. It doesn't always have to be that way, though, because a quality moving company can really help you make the process a lot simpler.  All the state to state movers here is guaranteed to deliver quality and efficient state to state moving without any hassle. Do your findings and decide on which one best suit your unique needs.