The stage is set for your highly-prepared move out of state; you have hired one of the best long distance moving companies and your move has been scheduled. Moving appliances is one of the tasks ahead you will want you, mover, to tackle.
Moving appliances involves a lot of work, but it's worth the time and stress or cost. It is essential to follow the appropriate steps to protect your valuables as you are now relocating to your dream home.
Appliances may be some of the most valuable items you own. Moving to a new home with your appliances has a lot of benefits. First, you won't be spending on new appliances or wait for the company for delivery and installation.
The moment you move into your new home, you can start laundry immediately, store perishable foods, and much more. However, there are many challenges presented by moving large appliances, and we will discuss them here.
This article analyses what state-to-state movers will and will not do with your appliances and some of your responsibilities to shoulder while moving your appliances. Ask yourself these questions.
Is It Necessary That I Hire Appliance Movers?
Appliance movers have been professionally and specially trained and equipped to relocate washing machines, dishwashers, refrigerators, and drying machines.
Each appliance has small, mechanized features that require moving with special care as they easily get damaged if wrongly handled.
Moving long distances with these appliances exposes them to a higher risk of getting damaged, so if you are moving from one state to another, it would be risky to ship your appliances with movers that have no experience.
You can sustain a serious injury by trying to relocate heavy appliances by yourself. It may cause damage to your appliances, or you end up damaging your walls and floors while moving.
The best shot you have at safe moving is transporting your appliances to a new home with a licensed appliance mover. Luckily, there is some state to state movers that also experienced in moving any type of appliances. The question is – how do they achieve this?
How Appliances Movers Works?
Moving appliances involves two parts which are: hook-ups and moving. Technicians can unhook your gas-based appliances like a range or water lines such as a fridge or ice maker at your current home, or re-hook the entire appliances at your new home.
Also, a separate crew will be required to handle moving out or installing the items if you so wish. These professional state to state movers possess the skills and relevant equipment necessary to properly get the job done.
The movers will arrive at the agreed time with dollies, sliders, and furniture straps. They will use well-padded blankets to wrap the appliances to avoid damaging knobs and fragile surfaces.
These experienced moving companies understand how to safely load your appliances onto the moving truck and haul them to your destination home.
However, on your part, there are things required of you and this is to prepare your appliances ready for the move.
Tips For Getting Your Appliances Ready For Your Move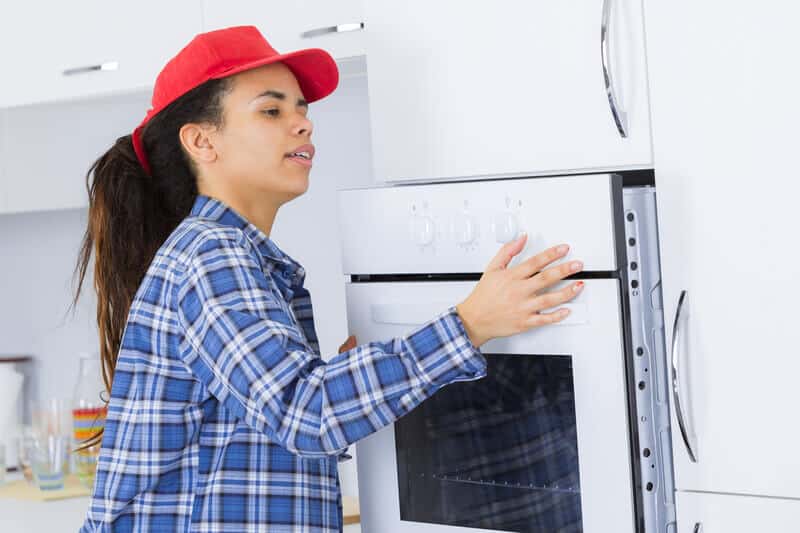 The planning phase of your move must include proper preparation for moving your major appliances and other home improvements.
Special precautions may be needed based on the type of item. You will be able to prepare your appliances with great care with these tips.
Your hired movers will face all the heavy work, which includes moving your appliances from your old home into the moving truck and then into your new home.
However, you must plan and prepare your household appliances as well as other home furnishings.
Below are the tips for getting them ready for the movers to move:  
Take Measurements:
You have to take the appliance measurements and every major path you will be taking the appliance through. You might discover that your appliance won't fit through a narrow entry door or hallway.
You may need to make use of the sliding patio doors or other alternative paths in your household to fit your item's size. Also, if you plan to buy a new washing machine or refrigerator, ensure there is enough space where you plan to position it before you bring out the old appliance.
You will be saving yourself a lot of headaches through the moving process when you take proper measurements and develop a nice plan.   
Empty appliances & lock doors:
Preparing the appliances to be moved is another party of getting ready. If you are moving a huge refrigerator, for instance, just bring out all the contents in it and keep in a portable freezer, and then secure the doors in place using shrink wrap or packing tape.
You definitely want to avoid a situation where the appliance's doors fly open while trying to move it around corners. Regardless of the type of appliance you are moving, make sure the contents are removed and the lids, doors, and shelves secured to prevent them from flying open while you are moving. 
Clean the floors:
You should endeavor to clean the floors before moving your appliances as untidy surfaces will contain more friction when moving. You can easily slide across a cleaner and neat surface as you are moving the large items to its new position.
There will also be fewer or no scratches when you remove dirt from hardwood and tile. You may accidentally drag dirt across the floor or the large appliance and, based on the type of surface, could leave invisible marks on the floor.  
Tips To Prepare Refrigerator Ready For A Move
To get your refrigerator ready for moving, follow these: 
Disconnect the appliance at least 24-hours before the mover's arrival.
If you own an ice maker, disconnect the electricity and water. Be sure to switch the water valve off before you disconnect and drain the whole water in the lines.
If you must pull out the refrigerator, leave it out for cleaning.
Ensure all food from the freezer and refrigerator are removed and the interior and exterior are properly cleaned.
If you own a freezer, try to position a towel inside it overnight to soak up any remaining water when it thaws. 
Tips To Prepare Washing Machine And Dryer For A Move
You only need to give your washer and dryer a nice clean if it is disconnected and reconnected by your movers. Your movers may not want to assume liability for disconnection and reconnection, and it is ok; most of them don't.
In this case, you may have to do it yourself or hire a professional to give you a helping hand. We always recommend a professional, especially if your home or washer and dryer is older.
Tips To Prepare Sub-zero Freezer Ready For A Move
Disconnect your freezer at least a day before your move. You need to remove all the food in it before you disconnect, else, there will be no place for the food, and you will have to dispose of them. During the thaw, be sure to have a towel placed inside to soak up any liquid.
Tips To Prepare Barbeques for a Move
State to state movers will relocate barbeques but will not touch propane. This is because of the highly flammable and combustible propane nature that can explode while in a moving truck.
This has occurred several times, leading to significant injuries and deaths. DIY movers should detach propane from the barbeque and consider moving it separately, give it away as a gift to someone, or back to where you fill it up.
It is also important to clean up your barbeque rigorously before you move it.
Tips To Prepare Coffee Makers and Toaster Ovens For A Move
You must clean these items thoroughly, especially if they are being sent into storage. Use packing paper to wrap small appliances for protection and have them places one by one into small moving boxes or in a group in medium-sized boxes if properly wrapped and packed.
They should be packed firmly with no movement inside the boxes while on the move. You can surround the items using newspapers.
Will movers relocate my appliances?
Yes, movers will relocate your appliances, whether washing machines, refrigerators, and dryers. However, many moving companies will not disconnect or reconnect these items because they are avoiding being liable. Be sure to ask your moving company in advance as there are differences in each of their operations. 
What is the cost of relocating appliances?
You will need to hire a minimum of two men for the appliance move. The overall duration will vary based on the distance the appliance will be moved, but you can estimate at least 2 hours.
The total would be a minimum of $220 when you calculate it at approximately $110 per hour, excluding tax and other additional fees.
The rate certainly varies based on your specific situations. You can just fill out our quote form online, and you will get a call from a company representative.  
How long should I wait after moving a refrigerator before I can turn It ON?
Moving refrigerators can be a tricky task. The components inside it are so sensitive and could cause great problems when wrongly moved. The way your refrigerator is moved will decide your waiting duration before you can turn it on. 
Moving to a new home involves a lot of stress and details to note. Hiring a professional state to state movers to handle your appliance moves such as washer and dryer, refrigerator, and dishwasher will make everything easier for you.