Tipping can be referred to as an amount given to movers outside the regular amount charged for their services just to show appreciation for a job well done.
Most times you may want to tip a mover that did a great job despite the complexity of the moving task, some factors such as the size of the move, the number of over-sized items, the number of stairs, elevator, and how long the move took maybe me of the contributing factors to how complex the assignment may be.
Aa general law to tipping mover is that, the harder the move, the bigger the tip provided the movers do a good job. Tipping a mover is just an act of appreciation to show you are happy with the job done.
Whenever you are happy with the level of professionalism and quality of the services rendered, let the workers know by giving a tip to each of the movers involved to say thank you.
An interesting part is that most of these movers know that if they do well, they stand the chance of being tipped, so they put in extra effort to impress their clients.
While some companies allow their movers to be tipped, it would not be out of place to find out if your nationwide moving company has a tipping policy so that you don't get the movers into any form of trouble. If they have one, then you have to keep to their tipping policies so that you don't flout tipping etiquette.
Moving companies can transport your household belongings in different ways. Regardless of where you are relocating to, there are certain things you need to understand with your moving company.
Aside from the official moving plan, you will draft one with your movers. The level of concentration and care a moving company provides in a specific situation is actually up to them.
Therefore, tipping your movers might be a great idea based on some good reasons. These include:
It's often worth it: When you tip someone, they tend to keep you happy and satisfied. That means why we often tip our waiters. However, aside from that, trust is also a factor. There are numerous ways in which movers can turn your international move into an ineffective and expensive endeavor. And tipping movers a few amounts of dollars can make then more reliable.
Movers are often workers that love being appreciated for their job. And they will show you an appreciation for knowing exactly how to reward your homeworker. Spending a little amount of money in tipping your movers can make sure that they will do their best on your move.  
It is a cultural norm: Americans have taken tipping to be a part of their culture for centuries. Whether moving service or getting served a few drinks at a bar, no matter the kind of services you are being offered. Tipping is so much generalized that you may be considered rude if you didn't tip.
However, you may decide not to tip when it is your turn, though you will be seen as rude and not a person of principle. If you are not convinced that you should tip, then maintain your decision, but you shouldn't expect to be praised for it. If you are quick to tip your waiter, why should tipping your movers so difficult? 
Why take the risk? Even if you see no reason for it, why should you take the risk? There are ways in which every industry punishes bad customers even without the customer's knowledge, and the moving industry is not excluded.
You should be smart enough to know that pissing off your mover will be a bad thing to the end. There is no way you will know who you are dealing with and their reaction if you refuse to tip your movers.
There are many people with bad experiences with tipping, and will even dislike you for such. 
How Much is Good Enough to Tip Movers?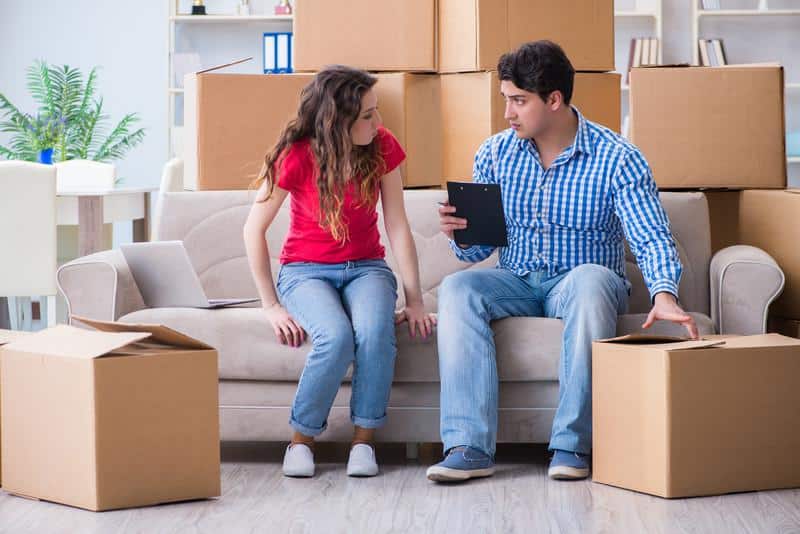 The question here is how much is ideal enough to tip each mover involved to say thank you for a job well done? A good way to go about answering this question is to consider tipping the movers between 5 to 10 percent of the total moving bill and divide that amount by the number of movers involved, that way you will be fair enough to all movers involved.
For example, if you are moving the contents of a five-bedroom house across a long distance and the total cost for the move is $3,500 and you decide to give a tip of 5%. 5% of $3,500 will give $175 dollars if you have 5 movers who did the job, you will divide $175 by 5, then you will have to give each mover $35.
This is a simple rule of thumb to decide how much to tip movers and it is dependent on you, whether you will be cheerful enough to doll out 5% or more, so the amount to tip is actually a personal thing that may be dependent on a couple of factors.
Make sure the tips you are giving out are in cash and in cases where you engaged more than one moving company, you have to tip the movers separately and accordingly.
Another way to evaluate how much you tip your movers is to consider if the job is done took a whole day or half a day. For half-day, you can give a tip of $10 per mover and $20 per mover for a moving assignment that took the whole day. Another way to go about how much to tip movers is to appreciate the movers based on the number of hours they worked. You can decide to give $4 to $5 per hour, per mover or you can give more depending on how they impress you.
Even moves that are within short distances and may require two to four hours are not exempted from you tipping the movers. You can still give a tip between 5% to 10% of the total amount charged by the moving company.
Factors to Consider When Tipping Movers
There are a couple of factors that may play out to determine if you will tip or how much to tip just to show some level of appreciation. We will be looking at some of these factors that may determine when and how much to tip.
Quality of Service: The quality of service is one of the major reasons that may spur you on to give a tip and here are some questions to answer to decide if you got served well. Were they timely? Were your items handled with care? If your answer to these questions is a Yes, then definitely you have got a quality service rendered and you may decide to tip.
The complexity of the move: Things you have to consider may include; How big were the hole belongings to be moved? How far was the move? How many stairs had to be covered? All this can be a factor in deciding that your movers deserve a tip.
If you didn't pay for the packing services and some other services but your movers were able to do all these additional tasks not captured in the quote, then you can also give a tip to show appreciation for their time and efforts.
Was there so much distance between the truck and your front door? If the distance is much you can decide to appreciate their effort to get items through the distance to your front door with a tip.
Did the movers help in disassembling and reassembling a bunch of furniture for you? If they did, then you may want to tip them to show appreciation for their time and efforts.
Outside tipping your movers with cash, you can also decide to show some appreciation through other means like giving them slight refreshments in the form of drinks, bottled water and snacks, or buy them lunch among other means.
Make sure that whenever you are tipping movers with cash, you hand over the cash to each mover so that nobody will be shortchanged and that way everyone will be happy and appreciate your kind gesture.
What Amount to Tip Long-Distance Movers?
You will be paying an average of $4,000 as the cost of your long-distance moving service. Tipping your long-distance movers a certain percentage of your overall moving cost could cost you a great fortune.
Not many homeowners have the financial strength to tip 15 to 20% of a bill that costs $4,000. We suggest you adopt the tipping method used for other movers for long-distance movers, which is basically between $4 and $5 per hour, per mover, or $40 per day if the move lasts for a whole day.
What Amount to Tip Local Movers?
The same rule applied to tipping local movers as long distance movers. Prepare to tip about $40 daily per move if you enjoy the service of the movers. You can also tip them $4 per hour.
It is possible you have more resources that could accommodate even better tips than we recommend. You can tip them as it pleases you. Note that a generous tip is one that exceeds $7 per hour and will be greatly appreciated by your moving crew.
Is Tipping your Movers a Requirement?
Tipping movers is not a requirement, but rather a custom. It is just a way to appreciate your movers for the job well-done. You don't need to tip your movers if you are not satisfied with their lateness, attitude to work, or disrespectful act. Movers are expected to do the following to get a nice tip:
Arrive on time.
Handle your items with care.
Work safely and efficiently to relocate your goods.
Act professionally.
Work hard.
If they are able to do these things, then they deserve to be tipped. We suggest you still consider tipping your movers even if there are accidents, but they take responsibility for mistakes and perhaps damage. Above that, avoid tipping your movers or reduce their tip if they do any of the following:
Arrive very late without prior explanations
Damage goods in the move and don't inform you.
Got you annoyed with poor or unprofessional service.
Give no explanation on why they take longer on the job
Don't apologize for rendering poor service or damage your item
Other Ways to appreciate your Movers
Tipping your movers is not the only way to appreciate them. You may not have the cash, but there are other ways to thank them. Below are a few of our great suggestions: 
Provide snacks: Your movers can spend a whole day moving an entire house, and this means they will surely need to eat and drink something. Offer your movers bagels and coffee in the morning, or sandwiches later in the day. You can also ask them what they will like to eat. They may not want to eat pizza over and over again.
Keep them hydrated: Make sure you have bottled water in place for your movers as your glasses are probably being packed. You can offer them cold lemonade to keep them refreshed on a hot day. 
Be kind and gracious: Appreciate your movers for their time and efforts. Let them know you appreciate their efforts, and even if you don't have the power to tip them as recommended, a little cash will go a long way. 
Get ready a means to freshen up: Prepare a bathroom for them and ensure there are enough liquid soap and disposable paper towels for their use.
Write a review: Lastly, you can schedule ten minutes of your time to do your movers a huge favor by sharing the success story of your partnership with the rest of the world by leaving them a moving review. Leave a review on the quality of their services if you've truly enjoyed and satisfied with their moving services as professional movers for your move from the start to completion. You may also go a step further by requesting the name of those movers that stand out all through the move and have their name mentioned in the review you write for the company. They will very much appreciate this.
Payment Methods for Tipping your Movers
Tipping by cash is the natural way to appreciate movers in the past. Nowadays, going around with cash is no more popular practice.
So, would you be willing to visit the bank and grab some cash to tip your movers? In fairness, the best way to tip is still by cash. Although you may feel you've paid enough to the moving company for your move, the huge part of that didn't get to the movers.
Cash payment can be shared among the moving team so everyone can instantly pocket their share. However, there are some instances when a cash payment is not considerable. The following option might save you if you forgot to visit the ATM.   
Some large movers can accommodate your tip in the bill. If this is allowed, you can just pay the tip alongside your moving payment using the same card.
You can also tip movers using check if you wish to record the payment. In this case, you may have to pay the foreman and ask him to share it among the moving team.
We strongly recommend you tip mover individually if you can. This allows each mover to appreciate you instead of only the foreman.
It also gives you the assurance that the tip gets to the right person. Also, you can tip a worker that performed outstandingly than others accordingly.
As said earlier, tipping is considered a culture in America. However, it has no obligation attached to it. Although there are reasonable factors as to why you should tip your movers, there are also bad ones. Even countries like Japan and Taiwan see tipping as being rude and are even against it.
These are some of the reason some people think it is not important: 
Someone may be insulted by it: How is it possible to insult someone just because you tip them? Simple, the implications are the difference. When you tip someone, you simply show that they offered you satisfying services. However, some people see tipping the other way.
You can insult someone when you tip them according to Asian cultures. You are simply saying they are underpaid by their superior. Therefore, you are saying the boss does not appreciate his employees, and that is an insult. Or that the employees don't realize his actual worth.  
You are making it difficult to change the culture:I t takes time and patience to effect cultural change. If you are against the tipping culture in the United States, you need to do your part to turn it over. However, if you claim not to like tipping, but still go ahead and tip your movers, there will be nothing to change.
Actions are effective than words, and to make a difference, you must maintain your ground. After all, you've arrived at a price conclusion with your movers for their services.
If there is a need to pay more money, they should first talk to their boss, not to you. You can build up a strong case that tipping isn't helpful.
If after everything, you deem it necessary to tip your movers, there is the right way actually to do it. Below are some useful tips to guide you through it to avoid ugly situations:
Make it personal: The main purpose of tipping is to show that you appreciate your movers. When giving a tip, you must give each mover their share separately. If many movers worked on your job, and they are shifting, finding the time to tip each of them directly might take some time. You should give a tip to their boss and ask him to share the tip in that situation.
Make sure you consult the movers' superior, as there are companies that frown against tipping and can even cause arguments between employees.
It would help if you found out tips in the company's history. Be sure to show appreciation to your movers for the hard work. A little is better than nothing.   
Don't do pass yourself: Everything has the right price, including tipping. Based on your move's duration and complications, different amounts of money are right for the tip. But the tip is often between $10 and $30. If you noticed a mover helped with the move but was absent at the completion of the move, find a way to contact him with his share.
Always be free to ask if your movers have a preferred way to accept a tip, whether a food or some beers. In some cases, movers are happier to accept a kind gesture as a tip rather than cash.  
There is no must tipping movers: You are not under any obligation or pressure to tip your movers. The decision to do it is entirely up to you. It is just to show you appreciate and are satisfied with their services. However, if you are not happy with the service provided, you should not tip your movers. Some companies are so bad. That is why you need to conduct your research before hiring a company. 
Choosing the Best Moving Companies
Create a list of acceptable companies
Go through their reviews
Get recommendations from someone you know
Check for a license of the moving business
Check for their years of being in the moving business. 
Consider the services they offer to compare the prices
You can only find a good moving company with tip-worthy movers with the above tips. If you really enjoyed their service and totally satisfied, you can go ahead and tip them even more than you had planned.
Do you tip movers once or twice? 
It all depends on the situation. More often than not, you're going to have the same moving team for your entire move, which means that you only really need to tip them once for everything that they've done for you. If you have two teams or more involved (one for loading, one for unloading), then you may need to go ahead and give them twice.
Is tip ever included in what you pay? 
You typically will not have the tip included in what you're paying directly to the moving company. Most moving companies will let you know exactly what practices they utilize regarding tips; in some cases, the company may disclose what they pay their movers, and how they do bonuses.
Sometimes, you can choose to put the tip on your credit card as well, but you can't always guarantee that your individual movers will get what you want them to. More often, it's best to have cash on hand that you give directly to them.
Does tipping look different between local and long-distance moves? 
You typically want to tip more if you're looking at a long-distance move, and you want to be sure that everyone involved in your move gets a little bit of the pie. You may need to talk to your moving company to figure out how that happens. Local moves are pretty standard, though – you'll typically pay per person, per hour, based on how well they did.
Is it compulsory to tip movers?
Although tipping is not an obligation, however, it is a better way of appreciating your movers. Most movers work without expecting a tip, but when they do receive it, they appreciate it. You may feel no need to tip your movers because you've already paid a huge amount for the move to the company, but only a few people work hard as movers in the company. A tip generally shows that you appreciate the additional effort they put on your move. You should note that there are generally many riding on the job done by your movers than a waitress' or barbers. 
When is the right time to tip my movers?
Your movers just like any other service provider want to render quality service and be appreciated for it. Carefully observe how they handle your goods and their interaction with you during the entire process. Generally, it is nice to tip them if you are satisfied with their job. You may decide to tip your movers if they do these extra-ordinary jobs:  
Handle delicate or antique items carefully
Move large, bulky furniture items on multiple flights of stairs
Move quickly
Are so friendly to you and your family member(s)
Help with the assembly and arrangement of your furniture. 
What method is the best to tip movers?
Promising your movers to tip them after the move will encourage them to put their best abilities on your moving job. Alongside your verbal assurance, you could give each mover a $10 bill at the start of the move as an additional incentive. However, if you find this a bit uncomfortable, focus on the general tipping method, which is to tip them after the moving job is completed. Avoid giving an overall tip to the foreman or driver.
Each mover will show their appreciation to you directly when you hand them the tip individually. Also, some foremen or drivers may not be trustworthy as they may pocket the entire tip for themselves. Once you are satisfied with the moving service rendered by your moving crew, appreciate them by handling the tip to each worker and say "Thank you".   
Why should tipping after moving long distances be reasonable?
Moving is a kind of event that occurs one time in one's lifetime, unlike visiting an amusement park, visiting the salon every weekend, or dining at your preferred restaurants. You may not need the service of a moving company until after a few years, even as a military member or someone that works a travel-demanding job.
You may wonder why you should tip what you may never experience again. The answer to that is just to appreciate them. Just as you know, moving is one of the most fearful and stressful endeavors in one's life. 
Moving can get you overwhelmed by packing up your entire home into the moving truck and not meeting up with the schedule. You eliminate the stress of moving when you hire a professional state to state moving company that has expert movers at their disposal. You can only appreciate them for the stress-free move you enjoy by tipping each member of your professional moving crew for packing and relocating your household goods effectively and efficiently.
Tipping your movers is a great way to tell them that you appreciate their work and how much they've done to make your move simpler for you and your family. Figuring out the tip ahead of time, and being flexible about possibly giving them more for an excellent job can give them a self-esteem boost and encourage them to continue offering top-notch services.