It is no secret that in many parts of the United States, it is getting downright expensive to live. Unless you have the perfect job and the right setup, you may find it difficult to make it in some of these bigger cities and more expensive states, with many people struggling to make it paycheck to paycheck.
Living on a shoestring like that is no fun, and doesn't leave you any room to budget or save money for the future. Unfortunately, the best choice for most people in these situations to find a cheaper place to live, and in many cases, that means finding a cheaper state to live in.
If this is a scenario you're facing, you're not alone. Every single year, more and more people are getting in touch with long distance movers and leaving the more expensive states in droves to find cheaper accommodations. How are they finding these cheaper places to live, however?
Top 5 Low Cost of Living Cities Recommended By Pricing Van Lines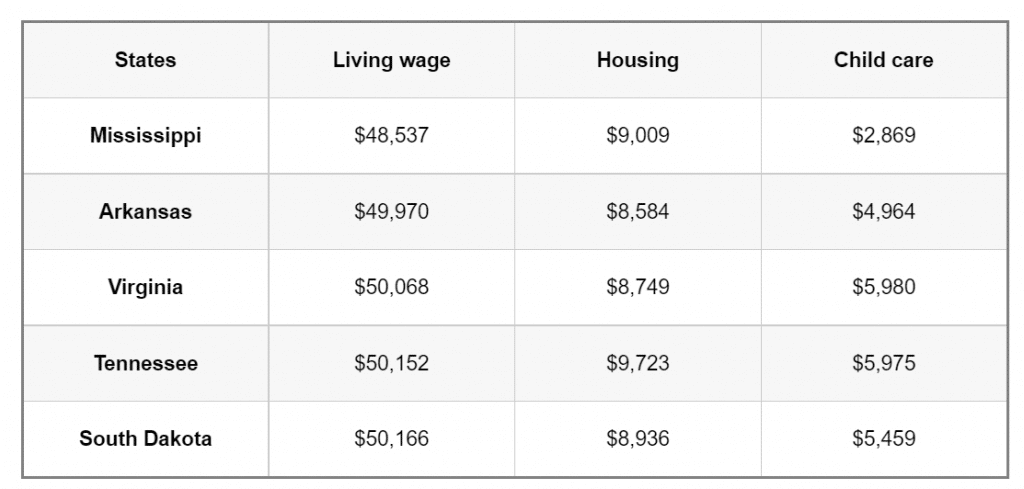 Here are some things you should be looking for when researching the state you'd like to move to, as well as some of the overall cheapest states to live in the country.
Look at the Cost of Living
If you currently reside in a place like San Francisco or New York City, then you're already probably well acquainted with high costs of living. In many of these bigger cities, the cost of living can cost thousands more per month than it does in other states.
When you are thinking of your overall cost of living, consider your housing costs (rent or mortgage), as well as your cost of fuel and groceries, and other bills you pay every month. All of these things go into determining your monthly living expenses.
If you're planning a move, research what all of these expenses look like in any city or state you think about moving to. You want to be able to compare the cost of living in this potential area to some of the available jobs and make sure you will be able to afford to live in this new area.
You should also be thinking about available jobs in any place you consider moving to. In many cities across the country where the cost of living is high, people are finding that there just aren't enough well-paying jobs to go around. Many folks take what they can get and still find that they aren't making enough money to meet all of their needs.
If you're considering moving to a less expensive state, take a look at some of the available jobs in the state you're considering moving to. Do you think you will be able to take on any of these jobs, and if so, does it look like this job will pay enough to cover your living expenses?
If you have found a place that looks like you will be able to afford it, as well as found potential jobs that line up with your previous experience, then you might have found a great place to think about moving to.
What Are the Least Expensive States in the Country to Call Home?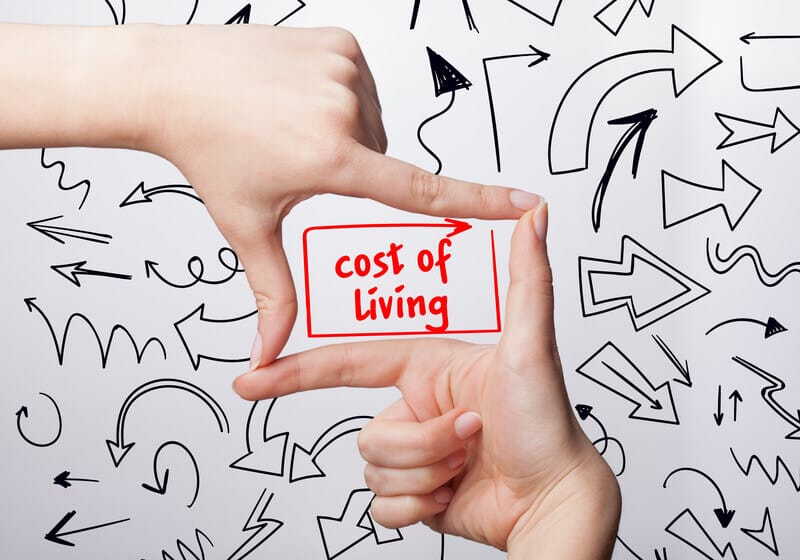 You'll find several of the least expensive states in the country to live in may actually be some of the most desirable places in the country to live in, for some people. 
Many of the least expensive states in the country are located in the southern parts of the United States, where you'll be able to experience all four seasons, enjoy some time in nature, and experience the famous "Southern hospitality."
If any of that sounds good to you, then you might like pondering the idea of moving to one of these locations, which are each one of the cheapest states in the country to live in.
For comparison's sake, let's take a look at the five cheapest states in the country to live in currently, and you can always expand your search after you've gotten a good idea of how much money you could potentially be saving each month.
1. Mississippi 
Right now, the cheapest state to call home in the United States is the Magnolia State of Mississippi. When it comes to things like groceries and other personal necessities, you will find they are just as inexpensive as the other cheap states on this list.
The cost of groceries in Mississippi isn't the most impressive part, though. The average cost of rent in the state is right around $795 per month, which also includes renting to own.
Many other services are cheaper in Mississippi than any other state, as well. Things like childcare, healthcare, and more are noticeably cheaper in the Magnolia State.
In fact, currently, the cheapest town to call home in Mississippi is the town of Aberdeen.
2. Arkansas 
If you love nature, then you might relish the thought of moving to one of the next most inexpensive states in the country to live in. Arkansas, also known by its nickname "The Natural State," you'll find grocery and fuel costs are about right on par with what they are in Mississippi, with an average rent or mortgage cost of about $708 per month.
Plenty of natural areas to put down roots, cheap housing and cheaper necessities, if you're thinking about moving to Arkansas, then you'll find that the Natural State will have plenty to offer you besides just how affordable it is.
3. West Virginia
West Virginia is the third cheapest state to call home in the nation, and the low cost of living alone is worth considering a move to the state. It used to be famous for its myriad of coal jobs, but those have pretty much disappeared into the ether.
That doesn't mean there aren't other kinds of jobs available in West Virginia, however, and many people moving here will be pleased when they see the monthly price tag for rent.
For rent or mortgage expenses in the state of West Virginia, you can expect to pay about $690 a month for rent expenses in the state. You'll also be pleased to see that other monthly expenses, such as groceries and fuel, are relatively on par with the other states on this list when it comes to how inexpensive they are compared to the rest of the country.
4. Tennessee 
Tennessee is one of the other cheapest states in the country to live, so long as you aren't planning on living in the city of Nashville (the "Country Music Capital of the World"). Taxes, groceries, fuel, healthcare, and the cost of housing (on average, $810 per month) are happily low in Tennessee, giving the people who plan to move there plenty of opportunities with their budgets.
The one thing to remember about Tennessee is that while it is indeed one of the cheapest places in the country to live, it is also more on the dangerous side than some of the other states. Memphis in particular is one of the places to be careful in, as it is rated one of the most dangerous of all the bigger cities in the United States.
5. South Dakota 
South Dakota is the fifth most inexpensive state in the country to live in, with most families in the state living comfortably on around $4000 per month. In South Dakota, the average housing cost is about $1300 a month for rent or mortgage.
One of the things that people enjoy most about living in South Dakota isn't the low cost of living, however. It's the fact that South Dakota has the lowest taxes out of any other state in the country, and why is that? The fun fact here is that people in South Dakota don't pay any income taxes.
What will you do with all that extra money you save from not paying income taxes? You'll have plenty of possibilities to get creative with!
6. Alabama
This state sits in the 6th position on the list of the cheapest states in 2020. The only reason this state is not at the top on our list is its relatively high taxes and medical care for the south. The cost of living here in Alabama is around $50,000 or around $25/hour.
And if each partner works, then both of you only need to earn maximum wage jobs to live a good life in Dixie. Aside from the fact that taxes and health care costs are higher than the national average, Alabama would certainly be on our top 5 list.
7. Kentucky
This is our next cheapest location and is a bit close by. Actually, we will spend more talking about the south for this journey. Housing costs in Kentucky are the third least expensive in the country, sitting behind Arkansas and West Virginia.
The state is more costly for food than all other states on our list, and for some reason, Kentucky's child care costs are a bit higher and are at $523/month. Life goes slowly in Kentucky, so if you like cheap and entire Iota rolling hills, then this is your location.
You should consider renting a trailer and secure a job at Ramsey's. This, to me, sounds like a great life. Also, the dating scene is challenging in Kentucky.
8. Ohio
Housing costs here in Ohio are the 8th lowest in the country, where you can become a homeowner in Dayton for about $787/month.
Comparatively, you will need about $22,000 annually to be a renter or homeowner in Hawaii, which is our most expensive state to live in. Renter will need about $1,800/month to have somewhere to live in. This is a huge difference.
A typical American family needs around $28.50/hour or $55,000/year to live comfortably. That amount is for the entire household. The housing cost per month for an average American is around $11,300/year or $950/month. Certainly, you probably enjoy living in Ohio.
You can ask any of Ohio residents; the city has some of the lowest medical care cost in the states. Only that food and other items are expensive here, unlike their cost in the Deep South.
9. South Carolina
Get ready, we are moving to South Carolina. This state has a very high cost of living. However, things can be done here since child care and foods are cheap. Housing costs in South Carolina are the 16th cheapest in the country.
As a matter of fact, housing costs are the most expensive for any other state on our list. One of the reasons for that is because the great coastline increases the numbers.
The best coastline in the country can be found in South Carolina. Another part of the state is, however, not really stimulating. The average home in South Carolina sells for around $250,000. Not too cheap.
Now consider living in a place like Egypt, where you only pay $27,000 for a house, or in Antarctica where housing is free. Half of your money is spent on housing in Hong Kong. About 49% of your income goes to housing in China and Taiwan.
10. Indiana
The living wage in Indiana is around $52,000/year. That implies that you can live a comfortable life here if you make such an amount of money annually as a household. Certainly, you will continue working till you are 70 and may not even own a boat, but your living will be comfortable enough.
Also, housing cost in Indiana per year costs about $9,600. That implies that your mortgage or rent payments will be around $800 per month. We feel this amount is not too expensive.
Comparatively, living in California, which is our most expensive state to live, will require you to make about $68,000 annually to live a comfortable life. And note this, that amount is never enough.
You can only rent a bedroom in the tenderloin district in a rough neighborhood when you try to live in San Francisco on $68,000 each year.
The wage to live in San Francisco is $89,000. That is just to live without going through stress. That is the most costly place to live in the United States.
How to determine the Cheapest States in the United States?
To find out the cost of living, the Council for Community and Economic Research considers the costs of goods and services in 6 categories – housing, utilities, transportation, grocery items, miscellaneous necessities, and health care.
The Council also factors in purchasing power. In summary, the number of items and services someone can buy the average income in a certain state. 
Moving to a state with a lower cost of living will enable you to live comfortably on a very decent income. It would help if you remembered that the cost of living could increase or decrease at any time, regardless of the state's current cost of living.
This is because of several factors. The states listed above have severally been pronounced as having low costs of living in some categories considered by the Council.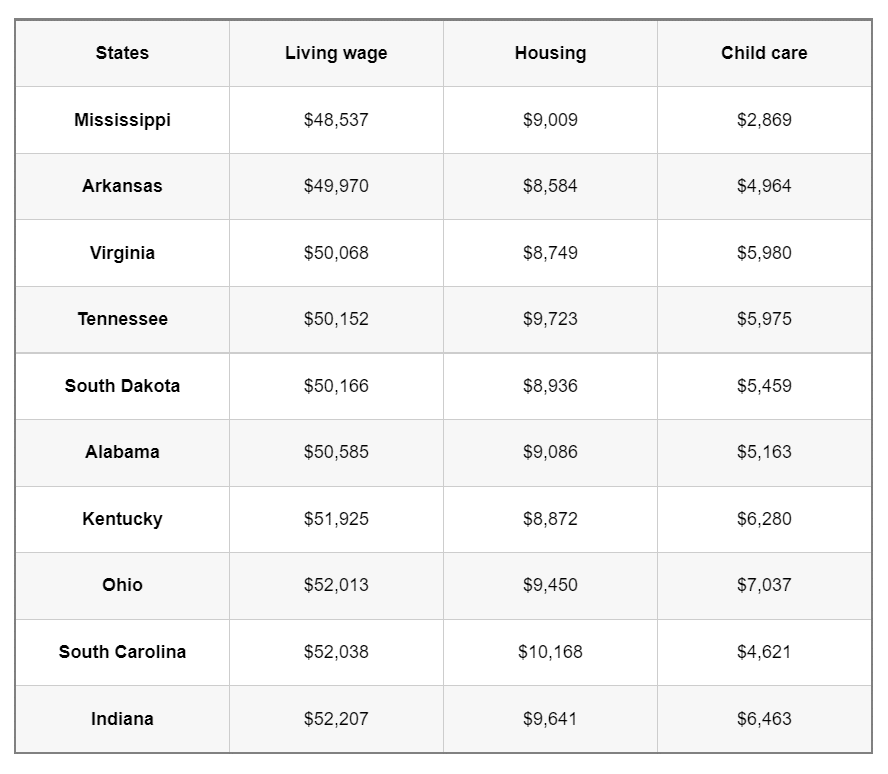 What is the Cost to Rent by Region?
When we break these figures into the region, we discovered that rental markets in the country's coastal cities are very expensive.
This may also show income data; incomes can be higher towards the coast, especially in cities like San Francisco, New York City, and Los Angeles. The Northeast and West are kind of expensive, while the South and Midwest further fair options.
Most costly regions to rent
State to State's Total Income Percentage spent on Rent
Comparatively, the Northeast and West are expensive at $1,408 and $1,393, respectively, while the South and Midwest for me reasonable options at $1,206 and $1,042, respectively.
However, you cannot get the whole picture from these data points. It is not just the rental cost but also the overall percentage income.
Although the cost of living in the Southern and Midwestern states is lower yet, residents there also don't make much money and tend to spend more of their incomes on rent.
This data is also considered by the percentage of income spent by residents of different states on rent. Understand that these values represent the percentage of pre-tax income.
Frequently Asked Questions 
Now that you know the five most least expensive states in the country to call home, you might have a few questions. Here are some frequent questions and their answers, so make sure you look to see if your question already has an answer:
Which state has the overall lowest cost of living?
That would be the number one cheapest state to live in across the whole nation: Mississippi. People who are currently residing in Mississippi not only enjoy being the most affordable when it comes to the overall cost of living, but they also have some of the cheapest housing and other necessities in the whole country, as well. 
What city has the highest cost of living in the country?
When it comes to the most expensive city to live in the United States, the answer is easily New York City. NYC is not only one of the most expensive cities in the country, but in the world, as the cost of living in Manhattan alone is unbelievably 154% higher than the average of the rest of the nation. 
What state has the best weather year-round?
If you're looking for consistent, warmer weather, you're probably going to be looking for a tropical climate. Keep in mind, however, that tropical states can sometimes be more expensive to live in, so you should do your research before making a final decision. With that in mind, the best year round weather will probably be found in California, Florida, Hawaii, Georgia, and Texas.
Should I Move to a Cheaper State?
If you are having a hard time in a more expensive state and don't have anyone to help you out, then moving to a cheaper state may be one of your best options. You'll find that some of these less expensive states have ample job opportunities, plenty of inexpensive housing to choose from, and you'll enjoy some of the lowest cost of living in the country.
If any of this sounds good to you, then you should consider saving as much of your hard-earned money as possible by planning a move to one of these more inexpensive states today.
Which state pays people to move there?
You will be paid by Vermont, Alaska, and six other places in the United States to live there.
Does Alaska pay you in 2020 to live there?
Alaska has since 1976 paid its residents to live there through its Permanent Fund Dividend. Qualifying remote worker expenses up to $10,000 annually will be paid by Alaska's Remote Worker Grant Program for about 2 years. And the program will reach those who work for employers in the state in 2020.
Which state is the best to retire in?
As reported in a new study by Bankrate, the best state to retire in includes the Cornhusker State, Iowa, Missouri, South Dakota, and Florida. However, Maryland sits at the bottom position in our ranking. Visiting places like Alaska and New York might be the best for retirees rather than to live there.
Which state experience the most inflow of Californians?
Most Californians move to Texas, and it has about 86,164 Californians as of 2018. This is followed by Arizona (68,516), Washington (55,467), Nevada (50,707) and Oregon (43,058). In all, California experiences the most move-outs among other states, and that increases by 4% in a year.
How long must you live in Alaska before you can be paid?
Before you qualify for the dividend, you must have lived in Alaska for a year, no criminal record, and be present in the state for a minimum of 190 days in a calendar year. This financial benefit can help lift your burden of the higher cost of living paid by most Alaska people.
Is it worth it to live in a costly city?
The higher average income of a certain state may contribute to its high cost of living. This case is not popular, and you should consider checking it. However, higher rates usually mean higher home prices as well as rental costs. Also included in the package deal are several networking opportunities as well as a strong job market.
Which state is rapidly growing the most in the US?
The fastest-growing state in the country is Nevada. The State's population between 2017 and 2018 grows with 2.1% from 2,972,405 to 3,034,392. Many new residents moved from California, Texas, Arizona, and other states from the western region.
There are always many options when looking for states with low cost of living. You can choose any of these states and get limitless opportunities. Certainly, the cost of living is a major factor to consider when looking for where to settle down. So be sure to research states carefully before you start your moving process.