Are you relocating to another part of town? Or moving to another part of the country? Are you storing your items temporarily? You sure need boxes to move.
However, selecting the ideal ones and getting sufficient quantity for your move can be tough. With a lot of options available in stores and online, how do you figure out your starting point?
Even though moving boxes are an integral part of most moves, it is amazing how they are the last thing to come into the mind of homeowners who are packing up their belongings. This is highly unfortunate because the use of the perfect types of moving boxes can make huge difference to your move, making the whole process easier, efficient, and streamlined.
Do you need the best tips on buying, using, and packing your moving boxes? See our guide on moving boxes, such as certain projects, challenges, and resources that may help your unique situation.
Various Types of Moving Boxes
As you might have discovered, the boxes available for relocation and storage are highly complicated than your initial thought. Selecting the wrong box for your moving project can lead to damaged items, wasted resources, and altered travel. However, many factors may affect your choices.
Below is a helpful guide that will make the information for selecting and using moving boxes easier:
1. Wardrobe Boxes
For many who have a large number of clothing, and even the ones with a highly modest closet, these boxes can do magic. Since you can hang your clothes in the box, you won't be disturbed about having wrinkled clothes on the trip down to your new home.
This option is also great at time-saving because it will enable you to just transfer the hangers from the wardrobe box to the closet at your new home, without getting worried about rehanging your whole wardrobe.
One other plus is that these types of boxes are built to contain the considerable weight-hanged clothes. Anyone who is planning a serious move will want to buy wardrobe boxes.
Check Top 10 Places to Buy Wardrobe Boxes.
2. Dish Packs
Getting to your new home and finding out that your plates are broken is the very worst scenario to imagine. Dish packs enable the separation of dishes and other fragile items so that they will still be in great condition as you move.
When you are planning to ensure your kitchenware is in good shape, using a dish pack to package your valuable items is the only solution. Since kitchen items are fragile, allow enough time to pack your dishes when you are relocating.
Even though you may not have enough time, you must do this job perfectly and pack up all your things before moving. If possible, make a checklist to ensure you leave nothing important behind.
During your move, you can easily get stressed and make tasks, such as packing dishes unimportant than they are. Create enough time to plan, leaving yourself time to properly pack fragile items. This may surprise you, but one of your barriers in space.
As you pack your entire belongings in a tightly secure manner, you lower the possibilities that they will shift around during the move, leading to damage to your precious items. In this case, your best ally will be bubble wrap.
3. Small Moving Boxes
These are usually used for books that you may even hear your movers calling them book boxes. You will surely want to transport smaller but heavier items in small moving boxes. Together with your books, you may transport small electrical appliances, records, canned items, and other small belongings of reasonable weight in these boxes.
4. Medium Moving Boxes
These boxes often measure around 3 cubic feet, and they will work as your workhorse boxes to contain all your items except the kitchen sink. And about the kitchen, they tend to be perfect at moving kitchen products.
From your pots and pans to your blenders or other objects, you can fit them in medium-sized boxes as they are versatile. As it is with all moving boxes, you will need to keep an eye on the weight and ensure that each box is correctly labeled with its contents, providing you a benefit when you are set to unpack those items.
5. Larger Moving Boxes
These are perfect for hauling larger, lighter items. It is, however, good to ensure that objects are getting lighter as the size of the boxes is becoming larger. Since large boxes can be costly and people usually overestimate the amount they will need, you likely want to check your home and determine the number of large boxes you will need for your move. Always remember the weight.
However, even though your professional out of state moving company will come with tools to help, make sure that the weight of the box is moderate. Any mover will let you know that packing larger boxes with heavy contents can usually cause hazards and even break.
6. Mattress Boxes
Lately, more people concentrate more time and effort on buying the correct mattress to make sure they get good rest. Purchasing a mattress box has become highly famous and movers usually offer different sizes.
7. Art Crates
If you are the type who devotes a lot of time and effort to buying beautiful pieces of art, you will surely want to spend on purchasing the proper kinds of shipping materials to move artwork. Whether it is a painting or a sculpture, you should indicate them as fragile pieces to your movers in advance.
A lot of customers forget to communicate the importance of certain items to them. Just will all parts of the moving process, you will discover that full communication is the best way to make sure that your entire needs are met.
8. Plastic Bins
There are numerous reasons why you may want to go for plastic bins and not cardboard. Some people just like the appearance and feel of plastic bin rentals, which makes everything convenient. However, one limitation is that packing oddly-shaped items into plastic bins can be tough, and it may be expensive to buy plastic boxes.
Those who are storing some of their belongings in a storage unit, they can use these types of bins to get a great solution for long-term storage.
Even though your storage facility may be insured against accidents, you surely don't want items that hold sentimental value to you to get damaged if something terrible should happen in the building. Packing valuable belongings in air-tight plastic bins instead of cardboard boxes will add protection for your items from the elements.              
Determining How Many Boxes to Buy 
As you might know, there are varieties of sizes and functionality for each moving box. The average home of single-family normally uses 100 to 150 boxes per move. If you are confused about where to begin and want to start small, below is our recommendation so that you can set your move into motion.
Before you request moving supplies, use this chart to estimate your needs: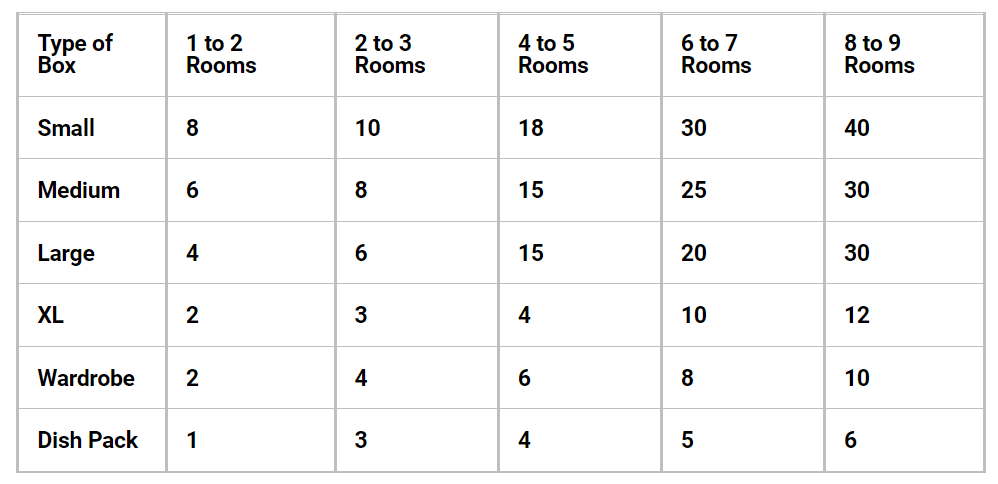 Note: if you have more than average items to pack in your home, you may want to go for the next column to be sure you have enough.
Places to Get Moving Boxes
There are so many places to get moving boxes without spending any money.
Liquor stores: One of the great places to look for sturdy boxes. However, these boxes will most times not have lids and are completely small. Liquor stores generally receive order deliveries many times in a week, so you will certainly find boxes there.
Craigslist & Freecycle: These are community-based websites that most times will have someone ready to give away used boxes. You can either check the "Free section" on Craigslist or post a "Wanted Listing" there. Searching Freecycle will require you to sign up for your nearest online Freecycle group and either check the listings or post a wanted listing.
Office building complexes: You can just check the nearest office building to you. Offices often receive deliveries, and they don't often need the boxes after unpacking them. Talk to the person at the front desk, and they should be able to provide you any assistance.
Local grocery stores: These stores often receive several weekly deliveries. Speak with your nearest grocer to find out what days they receive their shipments and you could get multiple free, sturdy boxes.
Facebook Community Groups: There are always many people in local Facebook neighborhood groups selling, buying, and giving away. You can browse through existing posts to determine if someone is giving free boxes away or put an ISO post there.
Bookstores: Boxes used in bookstores must be highly sturdy to accommodate the weight of books being transported in them. If you need some strong moving boxes to pack your heavy goods in, this could be your best bet. Contact the manager at your nearest bookstores, and they may be able to provide you their free boxes.
Bars and restaurants: Boxes used to ship French fries, liquor, canned goods and more are often sturdy and string – perfect for moving your household goods to your new home. Speak with the manager, and they will be glad to allow you to take possession of those boxes.
A person that recently moved: If there are families or friends who just moved, this may be the tie to ask about any leftover boxes they may have. Asking your closest people is the best way to gather free boxes. Besides, they will feel the need to help you out.
Recycling centers: A lot of people that often recycle will mostly move their used moving boxes to their nearest recycling center. Contact the attendant, and have them help you check in the cardboard bin.
If they don't have any free boxes, many places sell moving boxes:
Your moving company
Walmart, Lowes, or Home Depot
UPS Store
Pricing Van Lines knows how to meet customers' needs and also how to simplify your move as seamlessly as possible. We've been in the full-service moving, packing, and storage services for many years and we are one of the leading moving companies to get top-notch moving experience.
If you need more help selecting the boxes you need for your move, drop a comment below and we'll be glad to help.