There are lots of great reasons people move to Miami Beach. For example, people in the hospitality industry get various jobs here at Faena Hotel, the Acqualina Resort & Spa, the Birdside Banquet Hall, and so on. 
Each person in the real estate industry may enjoy buying in neighborhoods like Beverly Terrace, Edgewater, or Bayshore. Regardless of the reason for your move, our moving list of the best moving companies in Miami Beach can assist in making your moving easier.
When you are getting ready for a Miami Beach move, finding the perfect moving company for your move is important. The best movers haul your belongings quickly and professionally, relieving you of the concern of theft, scams, or damage to your goods. The list here contains our recommendations for the best Miami Beach movers as researched by our team.
Finding a reliable and experienced mover in Miami Beach, which has the perfect equipment, is one other type of task. Miami Beach moving companies are legally required to be registered with the FMCSA if they offer long distance moving.
We also looked into movers that offer the best quality service, positive reputation, relevant equipment, excellent reviews, cost-effectiveness, as well as other moving qualities.
Top 10 Trusted Moving Companies in Miami Beach
We consider the parameters above to get Miami Beach moving companies. You don't have to stress much since the companies on this list are trustworthy and experienced in the field. Find a list of reputable movers in Miami Beach below:
If you are looking to have a professional yet inexpensive moving company, then you should consider Miami Movers. They rose quickly to be recognized as a standard moving company in just five years.
They uphold the highest standards in moving and have all their customers smiling. With over 200 positive reviews on Yelp, you can only be sure to expect quality from them. All your properties are safe with them, and they help move your property fast.
You can visit their website today to get a free quote and estimate on your moving needs. Since they are primarily in Miami, they make all their moves effectively within this state.
Another example of a very credible moving company, Miami Beach is the Dixie Movers. They have all it takes to make your experience a satisfactory one.
They consider themselves rated as number one in Miami and that is because of the quality of service they provide at the best rates.
The competition is high, but Dixie makes sure they gain your attention by providing only quality services. They also use a flat hourly billing rate to charge you; this is good because no matter the task is done within the hour, and you get to pay a flat rate without paying extra for any other special activity like disassembling and the rest.
3. ETG Moving and Delivery
The ETG movers are one of the well-known and trusted Miami Beach Movers as they promise you quality and offer it to you.
They also make sure that from the process of packing and boxing to the process of loading unto the trucks and the final process of moving your properties to your new home, everything must be done decently and in order.
The ETG movers take pride in helping no matter the size of the property involved. They also offer services like commercial moving as well as delivery services, so they are not limited to moving your stuff alone.
If you want a quality assured, then you should go with them.
Just as the name implies, this moving company in Miami Beach was established by some retired marines and has put in a lot of effort to make the company standardized.
With the skills gotten from the marine, this company put their customer first and understand what it means to serve.
Even though it started with support from just family and friends, it has now grown into something bigger for the whole world to benefit, they call themselves "the world's finest moving company" and are seeming to get there very soon.
You can take a quick spin to their website and request a free quote depending on your moving needs.
Speaking of countries that want an interpersonal relationship with their customers, you can look to Fuentes for that.
At Fuentes, they treat all their customers like a lifelong partner because they want to connect more than the job and prove that they care.
When you work with them what you get is carefulness and professionalism as they will treat all your items carefully so that there will be no break or damage to your items in any way.
They also make sure they train all their staff to be courteous to satisfy you and make you feel safe. You can check their website and request a free quote today to get started.
6. Local N Long Distance Movers
Local N Long distance movers are also popular in Miami because of the degree of customer satisfaction they have worked to get.
It is a family business, and like every other family business, they want continuity and trust, and that's why they commit themselves to make sure all their customers never have a complaint unattended to.
Not only do they move properties and items within Miami Beach alone, but they also extend outside the state, this means that those who are looking to move from Miami to any other state can have a chance at moving with them.
You can check out their website to get a free quote today and start your moving process.
PowerLoaders is also one of the top-rated moving companies in Miami Beach. They have been able to make a name for themselves through the qualitative services they provide with regard to moving within Miami.
They take pride in taking every clients' needs seriously and taking special care of their items and properties. Their drive is always to exceed your imagination in the services they tender; if you ask for a quarter-mile, they might go 2 miles for you.
They also have a team of highly trained staff that attend to your needs as you make demands. Apart from moving within Miami alone, they also extend their reach to other states. Their services are excellent and worth the try.
The DFW moving company is all about moving and are also one of the best movers in Miami Beach. They have a 24 hours, 7 days a week policy that you can count on any time of the day.
With DFW all your moving needs are met accurately, and you don't have to worry about damage or faults, they have a special team that looks into that and helps you protect the fragile items a little more than the rest.
They offer services with regards to residential moving, commercial or business moving, their packaging services are also very excellent. As much as they offer trucks for their services, if your needs do not require a truck, they also have a labor only service you can rely on to get the job done.
DFW moving company is really in for serious business.
9. M&M Moving and Storage
M&M has a long track record of excellence and have earned their respect as a reputable moving company Miami Beach. The first service many customers like about them is their insurance policy that covers any damaged or broken items.
They have a system for calculating such and promise their clients a wonderful experience. Apart from moving from place to place within Miami, they also move outside of Miami, so those who want to move from Miami to another state and vice versa can employ their services.
They have a remarkable sense of customer satisfaction and will stop at nothing to get it expressed.
10. Albert's Relocation Services
Last but not least on the list of top moving companies in Miami Beach is Albert's. Although they are based out of Hollywood, Florida, they provide their services locally to all of South Florida from Hallandale, Hallandale Beach, Miramar, Aventura, Coral Gables, Miami, Miami Beach, Sunny Isles, Pembroke Pines, Sunrise, West Palm Beach and other places.
They make sure their services are provided throughout the entirety of Florida. They have an excellent customer response team and attend especially to each of their customers. They are also licensed and insured so you can rest assured about the safety of your items.
They also offer services with regards to specialty moving and offer a flat rate to help customers cut down on moving costs.
Now that you already have all the information you need with regards to credible moving companies in Miami Beach you can give them a try and see for yourself how effective these companies are.
They all offer first-hand services that many other companies might not offer. With the said and done, we have some useful tips you can use when trying to get cross country movers in Miami.
The Cost of Living in Miami Beach
Your housing cost (renter or purchased) will be the major part that you may need to get ready for price inflation. Based on the neighborhood in Miami Beach you select, a condo can cost around $250,000 to $1million, with prices expensive in places like North Beach.
The cost, on average, is $341k which is 94% above the U.S. average. Rent is about $1,150 on average, although again, you will pay more to get closer to the white sand beaches and nightlife in much demand areas with prices a bit cheaper if you have to walk a little.
Miami Beach is doing great per capita: $43,243 is higher than the national average, and the rate of unemployment is low at 3.9%.
If you are buying groceries and cooking at home, you will find out that not much adjustment is made to your food bills when you move to Miami. Grocery prices are just a bit more than the U.S average, so you can eat well without spending a fortune. A pound of potatoes costs $3.39, and a gallon of milk costs $2.71.
Eating and drinking out will possibly cost you more. Prepare to spend a minimum of $10 for breakfast towards the beach, and get dinner at $20 at least.
Overall, costs of utility are below the U.S average. Possibly that is partly because of the climate as living in Miami Beach means you won't need heat, and a lot of people forgo the AC as the ocean breeze is a perfect substitute.
Residents of Miami Beach can prepare to pay $166/month on the average in electricity unlike the national average of $170/month, and phone lines are reasonable cheaper on the country scale too.
Best Neighborhoods in Miami Beach
Miami Beach is a long island located in the Atlantic Ocean, at the east of downtown Miami. Popular for its white sandy beaches as well as unending nightlife, Miami Beach is a great place to visit and reside. But, before you start packing your belongings and contact a real estate agent, be familiar with these Miami Beach neighborhoods, including options for getting around.
Below are some of the best of Miami Beach neighborhoods:
1. North Beach: 
This neighborhood is located in the widely-known area of Miami Beach. While not as popular as its southern counterpart, North Beach is seen as a great community to live in due to its closeness to South Beach, Bal Harbour, as well as other similar locations where fine dining, shopping, and nightlife alternatives are plenty.
This community has numerous numbers of highly common enclaves that include the Isles of Normandy, La Gorce, and Biscayne Point.
North Beach is the ideal choice for golf lovers since it is home to La Gorce Country Club and Normandy Shores Golf Course. There are lots of celebrities residing in this neighborhood too, with many of them living in highly private and calm areas of La Gorce.
2. South of Fifth (SoFi):
Firstly, the majority of neighborhoods on the island have uniquely abbreviated names, so begin to get familiar there. SoFi is South of Fifth Avenue on the most tip southern island and stretches on a seven-block area. It is the most expensive neighborhood in Miami Beach, with many newly-built condos as well as walking access to South Beach. This is why it has been rated a much safer part of Miami Beach and is a good destination for the multitude that want to enjoy the beach and nightlife.
Costs of the condo is from $500k – $1 million, and you will pay around $3,000 per month for rent, but with the luxury offered by most places, you will get your money's worth if you are moving to Miami.
3. Bal Harbour: 
This is the neighborhood to reside in Miami Beach if you want to escape tourist congestion as well as the MTV Spring Break party mood. Located at Miami Beach Island's northern tip, Bal Harbour offers a calm and luxurious livable community. However, similar to other parts of Miami Beach, this cut of paradise is costly. Most of the beachfront condo complexes charge between $2,500 and $4,000 per month as rent.
Meet and interact with your neighbors at the community-run, free fitness activities on the beach, or mix with the Bal Harbour's locals at the neighborhood's shop complex. This great outdoor mall encompasses designer-brand retail stores, bars, restaurants, coffee shops, koi ponds, and luxury boutiques.
4. Surfside: 
If you love to stay away from nightclubs and the party atmosphere for small beach bungalows as well as undeveloped beaches, consider Surfside. There is a sense of community in this part of Miami Beach, with just a few thousand people living on this island. It is no far place to the beach in Surfside, so the locals love this area and you can get affordable home prices here, with the cost of a bungalow-style home starting from $300k to $500k and rent on the cheaper side at $1,200 per month.
The homes are small in size so be prepared, and make arrangements for storage services as you move to avoid making the new home feel too cluttered. You only need a few towels, a surfboard, a swimsuit, and your essential stuff here.   
5. Golden Beach:
This is another town that is found between the Intracoastal Waterways and the Atlantic Ocean. Taken as one of the safest neighborhoods in the Miami-Dade County, Golden Beach is located north of Sunny Isles Beach. This neighborhood is home to many celebrities, like Bill Gates and Eric Clapton. The homes here are luxurious and expensive, and safety is assured in this enclave. The police force here is much sizable that traffic issues are easily solved here.
Moving With Your Family to Miami Beach
There are people with the wrong idea about Miami. As we mentioned earlier, there are many parties and the nightlife is unending. However, Miami Beach is also a paradise to move in with family. It has great playgrounds, out-of-school activities, and schools. Children can train and try to discover varieties of sports.
So, Miami has everything needed to raise a family. Neighborhoods are not the same, and you should make it your job to find the highly suitable one for your family.
Getting Around Miami Beach
If you've chosen to leave the stress of combating traffic and looking for parking, there are still many ways to get around Miami Beach. The locals enjoy biking from one location to another in Miami Beach, especially in the boardwalk area in Mid Beach. Biking is usually faster than sitting in a traffic jam; just make sure you lock up your bike immediately you reach your destination.
The SoBe Local shuttle bus in South Beach is operated every 15 minutes on Collins Avenue and costs just $0.25 per ride. If you choose to travel around in your car, make sure you obtain your resident in Miami Beach parking permit and get discounted parking fees at different parking facilities.
As you shop for your new home in Miami Beach, don't forget the attributes of these Miami Beach neighborhoods, and be prepared to be envied by your family and friends. You will soon be a resident of Miami Beach, – one of the highly fashionable and most sought-after cities in the world.
Packing and Moving to Miami Beach
When you are relocating to Miami Beach, and you begin to pack, remember that you need another type of clothes aside from shorts, crop tops, and swimsuits. Even if you are moving there for vacation, this is necessary. Go with some warmer clothes, because Miami is popular for its sandy beaches as well as warm days, thunderstorms and rainy days are often experienced regularly in Miami. Regarding packing, getting help from a professional is not bad.
How to Locate the Best Movers in Miami Beach​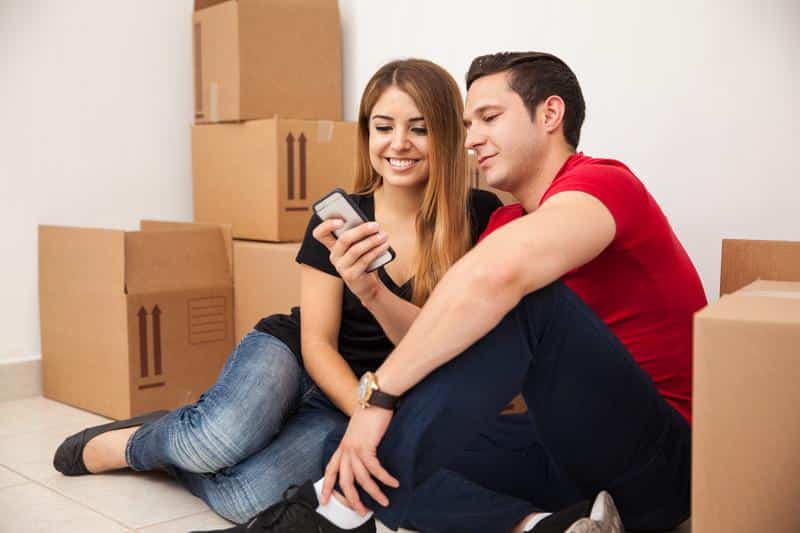 Please find below some very useful tips that can help you in searching for the best cross-country moving company Miami.
Word of mouth search
This type of method works most of the times because you get to ask a couple of people around what services they have tried and from which company, after getting information from different people you can gather this information and work with it.
This method proves to be very efficient because people will be honest with you when trying to help out and will tell you which services are great and which companies are terrible.
Make a few calls
If you want to be sure and not depend solely on the words of mouth alone,  you can pick up your phone and call the list of moving companies you know already. Having a direct call will save you the stress of walking about and carrying out a survey.
Apart from also calling the companies, you can also call your family, friends, and acquaintances so that you can have the same information you would have had if you carried out a word-of-mouth survey.
Search the internet for the companies you know
This is another method that you can adopt in trying to get the cross country moving companies in Miami,  all you need to do is to go to the websites of the companies you know and read on their page if they offer cross country services.
This will help you broaden your knowledge about the company and also have a comprehensive understanding of all the services a particular company offer. You can use our list and visit the websites individually.
Search websites that list Miami Cross Movers
You can also run a search online for the websites that offer a listing of Miami Cross country moving companies.
This shouldn't be too hard for you, go to your computer or your mobile device, run a search engine search on 'best cross country moving companies in Miami Beach' and use the information to help yourself choose the most suitable company. Websites that offer articles like this help cut down on excessive search processes.
You can check our page and see the listing we have made about the top cross country moving companies in Miami.
Ask for recommendations and search review websites
The next thing you might want to do is to ask for recommendations from other moving companies if you call a company and they tell you they don't offer cross-country services, ask them to recommend a credible company for you.
Even after you have gotten recommendations,  you still need to search for reviews online so that you can be sure that they are credible. Search more than one review website look for trends inconsistency.
After you are satisfied with your findings, you can proceed with hiring the company of your choice.
All the information in this article is geared towards providing you with the knowledge to make the right decisions. We hope you will find it very useful in avoiding common mistakes every average American makes when they are moving for the first time.
You can avoid errors and have a smooth moving experience guaranteed from the beginning until the last box is unpacked.
Frequently Asked Questions About Miami Beach Movers
Is living in Miami Beach a good thing?
Popular for its white sandy beaches and unending nightlife, Miami Beach is a great place to visit and live. But, before packing your goods and contact a Realtor, be familiar with the Miami neighborhoods and transit options discussed above.
What salary do I need to reside in Miami Beach comfortably?
Just like Miami, with a $3,500 salary, you can meet and cover these expenses and any extra costs as they come, such as auto toiletries, repairs, toiletries, and health insurance co-payments. This implies that an annual income of about $43,000 if needed to live moderate live in an average 1-bedroom rental in Miami.
Can one live without a personal car in Miami?
It is easy to live in Miami Beach without a car, just like Miami. The MIC will link all means of transportation, such as MIA People Mover, Amtrak, Metrorail, Greyhound, Tri-rail, taxi cabs, tour buses, and car rental. There is also a variety of bike paths that connects to many of these stations.
Is living in Miami Beach too costly?
Housing expenses in Miami Beach are 117% above the U.S average and the utility prices are just 1% below the country average. Transportation costs, such as bus fares and gas prices are 12% more than the United States average.
Why is it better to leave in Miami Beach than Miami?    
You first need to know that there is a huge difference between living in Miami Beach and Miami. If you need pointers on moving there, you importantly need to choose which you are looking into and why, or you could end up living on an island you didn't plan for, or end up in the middle of a bustling city when you were expecting beachfront views.
Coming Home to a Whole New View
What's the most exciting part of a move? For many people, it is the feeling of newness that brings so much excitement with it. While you might be nervous moving to a new place, meeting so many new people, and dealing with all of the anxiety these can bring with them, moving to a new place can still bring an element of excitement with it, coming home to a brand new place every night, and hopefully loving your new home.