Are you moving to a new state with lesser belongings? If yes, finding a moving company can be difficult. Sometimes, some customers may have small items to move to their new destination, and those ready to handle it will charge you a premium. Fortunately, there is a solution, and we have it.
While some moving companies would decline requests for small moves, Pricing Van Lines develops a cost-effective way out, and we did just that.
If you live in a 1-bedroom or less, we can relocate your belongings to another state at an affordable cost and in a friendly time frame. The cost for a small interstate move will vary depending on what you own, but we have a better solution.
What is the Cost of a Small Interstate Move?
The median cost of an interstate move, 1-bedroom or studio apartment, is around $1,200 – $2,000. The service you requested, the size of the move, and the moving company you choose will be the crucial factors in moving costs. Most people moving smaller shipments assume it to be more convenient than a highly significant move. However, small interstate moves need more planning as well as prepping for a cheaper cost.
Most interstate moving companies don't offer small relocation options, and those that have a minimum cost make it harder. Fortunately, we developed a solution and have a friendly cost for a small interstate move.
See what you can expect to pay for a small interstate move below.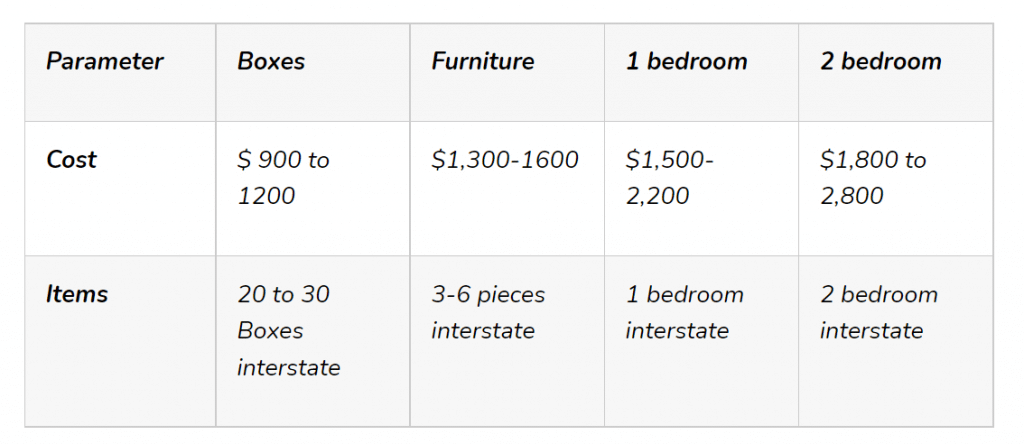 | | | | | |
| --- | --- | --- | --- | --- |
| Parameter | Boxes | Furniture | 1 bedroom | 2 bedroom |
| Cost | $ 900 to 1200 | $1,300-1600 | $1,500-2,200 | $1,800 to 2,800 |
| Items | 20 to 30 Boxes interstate | 3-6 pieces interstate | 1 bedroom  interstate | 2 bedroom interstate |
Why are Small Moves not the same as Large Moves?
Small moves require a consolidated moving truck. There will be another shipment in the same moving truck as yours. Moving companies will wait until the content of the truck is sufficient enough to justify the trip. However, we have a very different solution. We send our local agents to pick up and pack your small move.
Our movers then schedule the delivery with one of our truck drivers. It is not just highly cost-effective, but it is also highly effective as regards items arriving safely. The cost for a small interstate move will depend on the number of crates you used.
How long will a Small Move take to Complete?
A small interstate move can take an average of eight to twelve days. However, if your destination is a nearby state, it will be faster. Most movers that offer consolidated service can last for around 21 days for delivery. The moving solution we prepare for smaller moves is faster due to the way we haul your household belongings. Instead of holding on till the consolidated moving truck is filled, we can transport it right away. The cost for a small interstate move will also be cheaper than a regular move.
Transportation times for small moves can change because of many factors. The time of year, as well as the size of your relocation, can impact the way your move takes. You can hope for longer transit times during the height of the moving season.
| | |
| --- | --- |
| Distance | Time Frame |
| 200 to 400 miles | 5 to 7 days |
| 500 to 700 miles | 7 to 9 days |
| 800 to 1000 miles | 10 to 13 days |
| 1100 to 1300 miles | 14 to 16 days |
| 1500 to 2000 miles | 15 to 17 days |
| Over 2500 miles | 15 to 17 days |
Is Insurance included in Small Interstate Moves?
Insurance is available and offered by moving companies as an option. If you decide not to purchase insurance, you would receive released value protection of $0.60 per pound per article. A moving company can't be held accountable for full value replacement if you fail to get insurance. If you have renters or homeowners' insurance, you may want to find out if they cover your relocation. The cost for a small interstate move depends on your move's size.
The valuation is determined using the weight of your move, but you can always purchase extra insurance. Insurance is highly recommended for all interstate moves.  
Should I pack myself or have my Movers pack my Moving Boxes?
Obtain an estimate for packing and DIY packing. Consider the price difference and decide if you find it worthy. There are lots of advantages to the two options. Your time and budget will be the factors that determine. The benefits and drawbacks of DIY-packing for a move differ. DIY packing will save you money. You also can monitor each moving box and how you pack them. In general, how your belongings arrive at your destination will be your responsibility and some people like that.
The advantage of having your things packed by professionals is that you won't have to do a thing. The movers will pack all your clothes, dishes, and so on. Movers are trained on the ways to pack in a way to prevent damages. You will also have access to better insurance options. The disadvantages of a small interstate move are minimal, so you should go for it.
FAQ about Cost of a Small Interstate Move
Is moving out of state expensive?
The American and Storage Association stated the average cost of moving long-distance to be $4,300, depending on 7.400 as the median weight and 1,225 miles as the median distance. This median also takes required moving services like supplies and packing help into consideration
Can $5000 sufficiently cover my move?
Typically, you want to save money as much as you can before you move. At least, you will want to gather 3-months' rent and expenses, while a highly reasonable safety window is 6 months. Based on where you reside, that 3-month safety window could be around $3,200 – $5,000 and above.
What should you not haul interstate?
The first on the list of things you should not move to another state are bulky goods. Logically, books and DVDs consume much packing space. In addition, bulky electronic items such as desktop/laptop computers that are not in use or DVD players consume much space.
Can you relocate with little money?
You cannot do anything without income, and many, if not all landlords as well as management companies want to see proof of your income and are ready to rule out on your own, then you will surely need to get a place that works well with your budget.
Are You Set To Relocate Your Small Belongings To Another State?
Moving from one point to another has never been easy, no matter the size or the distance involved. With this article, we hope that you can figure out the cost for a small interstate move and help you get ready for your upcoming small interstate move.