Appliances are, often, the most difficult things for you to move from place to place. Whether you're moving your entire home with the help of top-end moving companies, or you just need to move your new washer from its current location to your home, you want to be certain that you do it correctly.
How can you be sure that you find the right cross state movers to move your appliances to where they need to go? Here are some suggestions that you can utilize while you're searching for the best options possible.
Talk to Family and Friends to Get Suggestions
Family and friends are always going to be your best resource when it comes to figuring out which company is going to be best for you and your moving needs. Is there an appliance mover that a friend of family member highly recommends? What is their customer service like and how good are their prices?
Ask around using social media or just talk to people who you know have gotten appliances or other large items moved from one place to another. The more people that you ask, the more likely that you're going to find a good solution that makes sense for you and how you'd like to accomplish your goals.
Get Your Estimates in Person, and Written Down
Once you choose what companies that you're going to talk to, you want to make some appointments so that you can work out estimates. Now, some companies will try to give you an estimate over the phone, but unless you're just moving a washing machine to an apartment down the hall (or something simple like that), insist that you see them in person.
An in-person estimate helps to keep the company in question as honest as possible. Not only that, but it also helps you to have time to ask questions and to make sure that you have a full understanding of what it is that may be involved with moving your appliances. The more that you know and understand, the less likely it is that you'll overpay.
You also want to be sure that you get a written copy of the estimate in your hands, as well. Why? Because most states have some sort of law associated with written estimates. If the estimate is written down, it's easier for you to prove what the estimate was. It also makes it simpler for you to argue in a legal case if the appliance moving company doesn't keep up their end of the contract.
Ask About Potential Additional Fees
There may be a number of additional fees associated with moving your appliances, much like if you've moved furniture or other large items in the past. Since these items often require specialized service and tools, the movers may have some different types of protocol in place when it comes to additional fees and such.
Typically, you can talk through additional fees during the process of getting your estimates sorted out. But, there may be some incidental fees that arise because of things that happen on the day your appliances get moved. Knowing what that fee schedule looks like and whether or not it may apply to you can go a long way while you're sorting out your budget and ensuring that you have the money that you may need in order to make those determinations.
Lastly, it's time to talk about insurance and references. Do they have people that you can talk to about the work they've done? Are they fully licensed and insured by the same companies that license and insure furniture movers? What sorts of bonding and other liability insurances and safeguards do they have in place?
If they're able to answer these questions and you can get the right information from them, then you're likely good to go. They may even have their licenses and other such information available via their website or hanging up in plain sight at their business location. If they seem to be avoidant or they don't have proper answers for those questions, then you may want to consider looking elsewhere to move your appliances.
See what you can find and learn as much as you can about the process. There are likely a lot of companies that move heavy items as a part of their general services.
So, whether you're just moving your washing machine and dryer or you need to move your entire home, you want to find great professionals that can take care of the job without damaging your property or having other issues with it.
General Tips for getting Large Appliances ready for a Move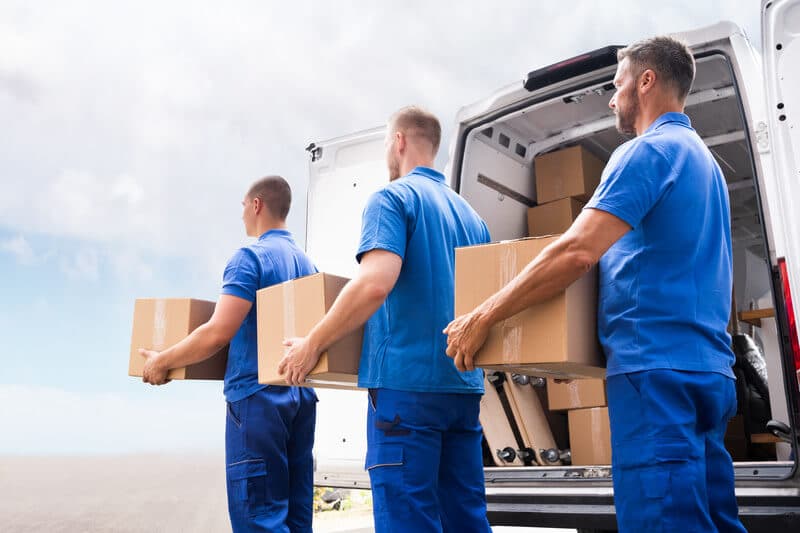 Feeling overwhelmed and confused about how you can prepare your large appliances for a move is a normal thing. We strongly hope that the tips discussed below will help you take care of your large home appliances. 
Disconnect all appliances before the arrival of your movers: Many movers will not handle hard-wired appliances or any object connected to gas, like dryers and stoves. We advise that you hire professionals before your exact moving day to have all your items disconnected safely. The best thing you can do is to allow electrical professionals to take care of your appliances as your movers are not certified technicians. Do not forget to remove any loose item inside any of your appliances. 
Properly defrost your refrigerator: For at least a day before your moving day, be sure to unplug your refrigerator. This will enable your refrigerator to adjust well and prevent leaks on your move, especially the freezer, which you have to defrost. Also, remember to cut off the water line and ensure it is totally drained. Immediately you have disconnected everything, you need to clean and dry the entire shelves to prevent the growth of mold and mildew. It would help if you also cleaned the drip tray, and it can be found at the bottom of the fridge. 
Make sure your washer and dryer are cared for appropriately: As you get your washer and dryer ready for the move, you need to figure out the parts given to you during the first purchase. If you no longer have the parts used to hold the drums, try and contact the manufacturer to request a replacement kit. These parts may not be available with your moving company, and you need to find out whether you still have them or not before your moving day to avoid extra stress and delay. 
Clean and unplug your stove: Clean both the interior and exterior of your stove. Remove the racks and keep it properly secure. Remember to turn off the gas before you disconnect the stove if you are using a gas stove. If you are not sure, contact your gas provider to get help with this task. You really don't need much servicing for electrical stoves, but immediately you arrive at your new home, you must check your power supply to be sure there are no issues with current electrical requirements. 
Secure all cords neatly: After unplugging all your appliances, you will discover that there are many cords on the floor, and they can easily be tangled. Keep the plugs of each unit to the back using packing tape for safety purposes. Make sure the cords don't dangle or hang loosely, as someone could trip because of this, or get the appliance damaged if ripped out accidentally. Ensure all cords, knobs, doors, and other extra parts are well-taped and secured to prevent any damages.  
A Helpful Guide to Moving Appliances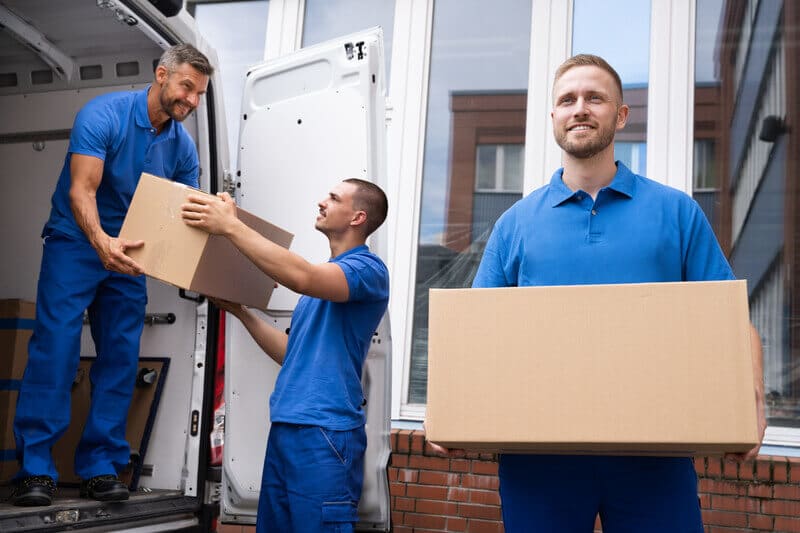 There are specific tips for each appliance in your home, aside from cleaning and drying. Below is a quick look into moving with common home appliances. 
Dishwasher
Disconnect and drain the hoses.
Ensure drying by leaving the dishwasher door open for some days before your move.
Use towels and packing paper to wrap dry hoses and keep them in the dishwasher to keep them safe all through the move. 
Washing Machine
Similar to your dishwasher;
Disconnect and drain the hoses.
Use a towel to wrap the metal connector ends of the hoses and keep them in the washer.
Follow the manufacturer's instructions to secure the tub and prevent damage
Buy a washer kit with guidelines on how to keep the tub secure by tightening it down using screws if you lost the manufacturer's guidelines. 
Your moving company may be able to get you a third-party company for these tasks.
When you get to your destination, have a qualified professional install your washing machine. 
Clothes Dryer
Make sure the lint screen is cleaned.
Before you plug in your electric dryer at your new home, be sure the power supply is appropriate for the appliance. 
Hire a knowledgeable technician to disconnect your gas dryer (if you have) and close the gas line. Do not rely on your moving crew for this service as they are not qualified to do it professionally. 
Stove
It is important to be clean. Leaving grease on a stovetop will attract dirt and dust and causes spot on any item that comes close to it. 
Take apart components that can be removed and gently pack them in a box.
Hire a knowledgeable technician to disconnect your gas dryer (if you have) and close the gas line. Do not rely on your moving crew for this service as they are not qualified for it. 
As you reach your destination with your gas range, you need to contact a qualified gas installer to inspect your gas supply, connect it, seal any noticeable openings, light pilot, and take care of any other fixes. 
Refrigerator and Freezer
Dispose of all perishable foods.
Remove the power cord to properly wash and dry all removable components.
Leave the parts, as well as the inside of the refrigerator and freezer to properly dry.
Grab a secure container and use it to hold all loose parts, bins, and shelves.
Remove dust from the condenser or compressor using a vacuum machine.
Clear out and clean the evaporator pan and leave it to dry.
Turn off the water to your cold water dispenser or automatic ice maker and turn off the water line.
Leave no water in the reservoir.
When you get to your new home, bring a professional to reconnect your water dispenser and ice maker to the waterline.
You may need additional equipment like a shut-off valve, copper tubing, and fittings at your new home.
Microwave Oven
Remove and wrap the glass tray and pack it into a separate well-padded box. 
Pack the microwave in a well-cushioned box.
If you own a large microwave, ask your professional mover if they can pad-wrap it on a moving day. 
Avoid placing cardboard in the door opening as it can force the door while on the move.
Avoid blocking the exhaust vent during the installation of the microwave at your new home. 
Frequently Asked Questions 
How do I prepare my appliances for moving? 
If you're getting ready to move appliances, be sure that they're fully cleaned out and unplugged before you move. If you're dealing with something like a fridge, you want to defrost it a few days ahead of time and then make sure that you wipe it out. Ovens should be fully cleaned, and small appliances should be disassembled and packed up. Nothing loose should be in any appliance, either.
Do I need to hire a separate appliance mover if I'm hiring a moving company for everything else?
Not necessarily. If you have professional movers coming to get your boxes of items, you can usually pay an extra fee so that they can move your appliances as well. This fee often called "white glove service" or "heavy item services," can save you a lot of time and ensure that your items get to where they're going without hiring multiple pros to do it.
Should I purchase extra insurance for moving appliances? 
It depends! Some moving services will have some sort of insurance sorted out ahead of time. Others will make you pay a little extra. In some instances, your homeowners' insurance will cover your property as you move, too. You just want to do some research and be sure that you're going to be covered, no matter what.
How do you relocate an appliance?
Gently coil the power cable and tape it to the back of the appliance for safety's sake. Use moving blankets to wrap your refrigerator's body and keep them in place using moving straps or rope. Load the large appliance on a dolly and secure it appropriately to the moving wheeled helper. 
Can you haul a refrigerator with food inside?
You need to make sure nothing is in the fridge that could roll around, spilling, or breaking something inside the fridge as you move it. Since you are only relocating the refrigerator to another part of the home, you will soon resume using it, you can just set your food items on the counter until you are done. 
What next if you plug in a fridge after the move?
The oil in the fridge's compressor may have moved out of it during the move, and that is why you should leave it off after transporting it as this makes sure the oil settles back in the right place. Running the compressor while the oil is not enough, could cause the piston to seize. 
Can you haul a log burner during a move?
If you are looking to move to another house soon, you may be wondering if you can move your favorite wood-burning stove with you. Well, the answer is yes. You can move with your burner to your new home, but you need to be aware of the few conditions that will support your decision. 
Can you load your refrigerator beside your oven?
Your refrigerator could be forced into working harder to get the needed internal temperature when you place it next to your oven. Make sure there is enough insulation to reduce the transfer of heat from the oven to the fridge if you must place them next to each other.
How do you move a refrigerator inside a pickup truck?
It would help if you used a dolly to load your refrigerator in a truck and then position it upright flush towards the cab wall in the bed. Ratchet straps will then be required to anchor and tie the fridge down safely before transit.  
Regardless of how difficult the idea of moving large appliances may feel to you, you are not alone. After obtaining a moving quote and submit a reservation with your mover, we suggest you speak with your move coordinator, who can show you the right path when you need help based on the specific appliance. Enjoy your appliance move!