Are you getting ready to move to the city of Orlando? Whether you are relocating for a new employment opportunity or to reside in a state with temperate and friendly weather, Orlando is the ideal destination to begin a new life for you and your family.
The city is popularly known for its great attractions, beautiful scenery, plentiful job opportunities, and a casual and relaxed atmosphere. There are several fun things to do in the city of Orlando that doesn't have to do with parks.
Based on the area, you will rarely even feel like you are in the most visited part of the country. If you have will complete information at hand, you may even be able to reside in a place that can help you stay away from some of that insane Orlando traffic. Plus, discover why a lot of people move to Orlando every year.
This moving guide provides several tips that have been worked on by local experts to help prospective people considering a move to Orlando. Let's begin!
7 Things to Know Before Moving to Orlando
The total cost of living in Orlando is lesser than the national average. But if you are hunting for a house in the area, understand that the average home value is $278,563, which is a bit more than the national average. The average rent in Orlando is $1,138 per month (which is also a bit more than the national average of $1,023 per month). The average household income in Orlando is $51,820, which is less than the national average of $61,937.
However, per capita income is the same in Orlando, at $33.569 compared to a national average of $33,831.
When you shop at the grocery store in Orlando, you can prepare to pay $1.59 for a half-gallon of milk, $3.22 for a loaf of bread, and $1.60 for a carton of eggs. To obtain a real look at the cost of living in the place, see how Orlando compares to cities of similar size, and a larger city like NYC.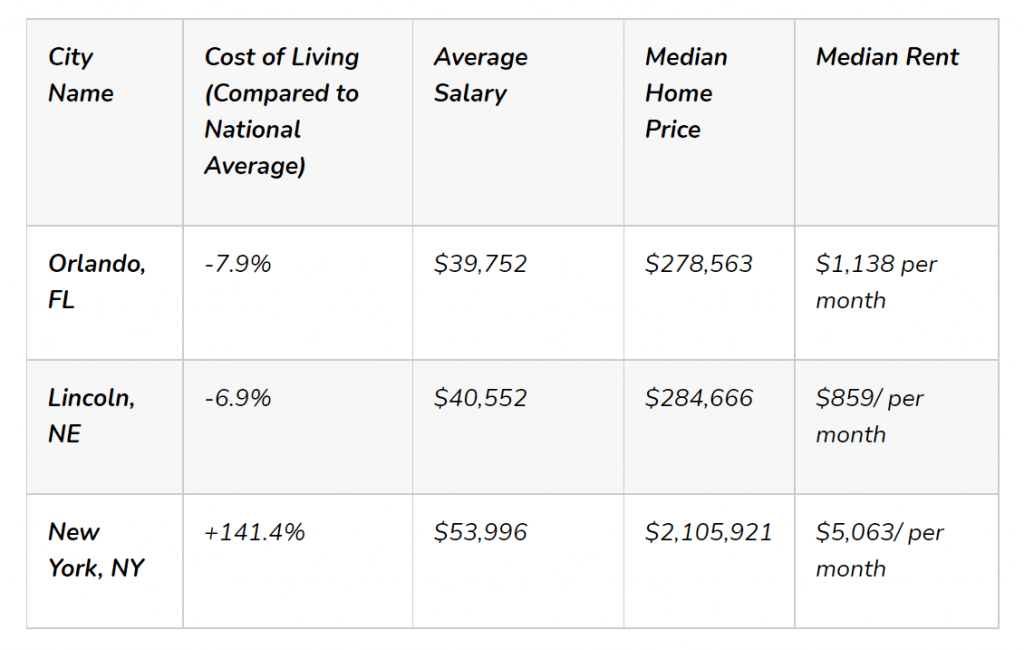 | | | | | |
| --- | --- | --- | --- | --- |
| City Name | Cost of Living (Compared to National Average) | Average Salary | Median Home Price | Median Rent |
| Orlando, FL | -7.9% | $39,752 | $278,563 | $1,138 per month |
| Lincoln, NE | -6.9% | $40,552 | $284,666 | $859/ per month |
| New York, NY | +141.4% | $53,996 | $2,105,921 | $5,063/ per month |
2. Orlando Weather Patterns
Orlando will experience fairly temperate and consistent temperatures all through the year. The lowest temperatures will be experienced in January, with median lows dangling at 49 and highs staying around 71 degrees. The spring month experiences the first huge jump in temperature, with lows declining to the mid-50s and highs into the upper 80s. The month that experiences the hottest weather in Orlando is August, with lows in the lesser 70s and highs getting to the mid-90s. 
The job market in the city of Orlando is as plentiful and diverse as its population, and most people living there, regardless of their field, don't last long without having a job. With most attractions and resorts like Disney World Resort and facilities like the Kennedy Center, there are usually job vacancies available. Even though some jobs are paying lower amounts, a minimum of 88% of the population earns higher than the national average.
With the cost of living almost around the country's average, lots of residents can cover their needs with their choice of job. There are many famous industries in Orlando, such as farming, which implies numerous openings in the agricultural markets. Many Fortune 500 companies are also located in the town, including Tupperware and Darden Restaurants, which employ most parts of the city's residents.
Other nonservice industries, like Siemens, Duke Energy, and Orange County Public Schools also provide better employment opportunities for job seekers moving to Orlando. Also, the city won the record hiring highest numbers over a few years ago, which indicates that many businesses are making effort to employ high-skilled workers from a few numbers.
This creates employment opportunities for those ready to move to Orlando to find a good job. As regards job growth, Central Florida ranked 7th in the country, majorly because of the record-breaking number it posted in the hospitality industry.
A recent employment outlook survey revealed that:
52% of companies said they will hire above the previous years
88% of companies have current job vacancies
35% of the companies will hire 50 or more workers during the year
The leading industries in Central Florida are hospitality, technology, health care, construction, and education.
Orlando has almost all the chain restaurant you can think of, a good thing if you love endless salad, soup, and breadsticks – but hey, you are in Florida which implies more fresh seafood for you. And the city is improving with chef-motivated restaurants, like Prato, Seito Sushi, Urban40, SOCO, and more. The East End Market is indeed a cool culinary center located in a converted church, where brewers, coffee roasters, bakers, and butchers sell their products near local farmers offering fresh produce.
The most diverse collection of restaurants of Orlando are located in The Mills 50 District, which is also where the city's largest Vietnamese population is located and therefore the best, most real Vietnamese cuisine. Even though Orlando doesn't have personal cuisine, an actual staple is gator tails, which you have to try at some point. 
Who says there is no culture in Florida? Lock Haven Park is filled with cultural attractions, such as the Orlando Museum of Art (recognized as one of the best museums in the South), the Orlando Shakespeare Theater, the Orlando Science Center, the Orlando Repertory Theatre, and Mennello Museum of American Art.
With 3 theaters, an outdoor complex and an entertainment location, the Dr. Phillips Center for the Performing Arts made its appearance downtown in November 2014.
Also, there is the Symphony (The Orlando Philharmonic Orchestra) as well as a ballet company simply referred to as The Company. 
6. Transportation around Orlando
For your move to Orlando, plan to drive your car here! The median commute time is just 29 minutes, but that can go up significantly if you depend on the city's public transportation system, which is not dense. You can consider Lynx buses, together with the limited SunRail train, but neither is a better solution for commuting. Rideshare apps like Lyft and Uber are in abundance, though the sprawling nature implies that they can be costly.
A simple trip across the town with Uber from Universal Orlando in the southwest to the University of Central Florida in the northeast is around $40 one way, with no increase pricing. There are different bicycle rental companies all over the city mentioned on Yelp, also. Orlando is so wide that biking may only be sensible if you are going to one part of town.
7. Best Schools in Orlando
There are lots of top-rated schools in and around the city of Orlando. One of the top-rated school districts since Seminole County Public Schools, which has more than 60,000 students enrolled and claims a student-teacher ratio of 14:1. More than 60$ students are proficient in Math and reading, and the school district got an A+ rating as regards safety and diversity.
Another top-rated school district of Orlando is the Orange County Public Schools, which serves around 200,000 students and its student-teacher ratio is 16:1. Over 50% of students in the district are math and reading proficient and the school got a total score of B-.
Other well-rated elementary schools in Orlando include:    
Hillcrest Elementary.
Phillips Elementary.
Deerwood Elementary.
Arbor Ridge Elementary.
Well-rated middle and high schools in Orlando include:
Orlando Science Middle School.
William R Boone High School.
Freedom High School.
Timber Creek High School.
What are the Fastest-Growing Neighborhoods of Orlando?
Suburban Life
The best suburbs of Orlando offer a great mix of country and lake living, with enough distance from the action as far as you wish. If you enjoy suburban life so much during your move to Orlando, see the following neighborhoods:
Winter Park:
This is where the historic Rollins College is located and is popular for its great Park Avenue, many lakes, and food scene. Living in this place will give you an escape, but within driving distance of the attractions. Its residents are just above 30,000 and its average home values are projected to be more than $400,000 by 2021; you will love living in this close community where you will enjoy great restaurants, festivals, and access to everything the city has to offer.
Hunter's Creek:
This beautiful suburb is found in Orange County and its population is just over 20,000. With an average home price of more than $240,000, you will be paying above the national average to bubbly
Oviedo:
This neighborhood is located in east Seminole County and is a suburb for nicely-founded families in search of a close community feel. The average income is $78,000, and the community ensures they continue to invest in the city via different developmental projects.
Heathrow/ Lake Mary:
If you are looking for a very small-town vibe (truly small), search no further than Heathrow/ Lake Mary. Its population is just around 6,000 and 17,000 respectively. These two neighborhoods gave the great public and private schools and different yearly festivals and events. With an average home price of more than $370,000, the privacy you dream of will surely become a reality here, but at a higher cost.
Lake Nona:
One of the newest towns in the Greater Orlando, Lake Nona is an amazing, family-friendly neighborhood with new and latest homes. In Lake Nona, there is the Medical City, including the new national campus of USTA with 100 well-lit courts, plus two championship courts. Health and fitness are also perks of this neighborhood with cycling studios, barre fitness centers, gyms, and pilates classes coming together with the trendy Boxi Park, which offers food vendors and live music.
For the sake of going around an Orlando that is highly attractive than parks and chain hotels, we will mention some neighborhoods.
Below are three more of the highly historic neighborhoods in Orlando to choose from: 
Thornton Park:
You will go back in time as you walk through this park. There are many 1920s bungalows on the bricked-lined streets and covered with grown oak trees. Thornton Park also has different prime restaurants and upscale shopping boutiques. This neighborhood can be costly but is perfect for professionals and within walking distance to downtown.
Lake Eola Heights:
Located few blocks away from Lake Eola Park, this downtown area is filled with historic homes that concentrate on quality restoration. There is often something going on here, from the multiple cultural festivals of the neighborhood to its weekly Sunday farmer's market. Proximity to Downtown Orlando, those residing in the South Eola District can easily access local restaurants, bars, concerts, and a huge library that offers free events and workshops.
College Park:
Even with its name, College Park goes beyond frat parties and more on being a family-focused neighborhood. The neighborhood got its name after its street that famous University names like Yale and Harvard. College Park can be found northwest of downtown and it is packed with lots of historic homes and brick-lined streets, together with many award-winning restaurants offering the city living feel with a small-town charm.
Moving to Orlando can be a great experience. The place is famous for its great opportunities, different and beautiful neighborhoods, plentiful sunshine, and cultural diversity. When getting ready for your move to the city, there are just a few things you should know and some things to prepare for when your move is completed. These we have discussed in this post.
When you are ready to move, you will need a professional moving company to help you scale through the entire moving process. At Pricing Van Lines, we work with the best Orlando movers for smooth and quality service delivery.