Home »
Top Rated Moving Companies in Fort Lauderdale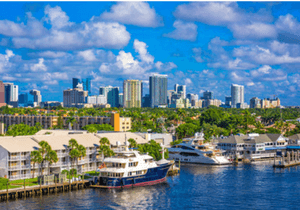 For some reasons, some known to us, and some unplanned by us, there is always that need for us to move from place to place at certain points in our lives. No matter how small the movement might be or how short the distance, or even the destination, all that matters is a perfect finish of the job. Sometimes it might be work-related terms, or maybe trying to move out of your parent's house. You might also be looking to move out of your home after hearing news of an intruder coming to take your life (as seen in the action movies, just kidding) but whatever the case might be, at Pricing Van Lines, we offer you the swiftest and most reliable moving service you can ever think of. We make sure we treat all of your requests with the urgency you attach to them and also make sure that you move out as a happy person.
Apart from Pricing Van Lines, which offer the best services with regards to moving and relocation, there are also a few other companies that provide very satisfying services with regards to moving. We have compiled a list of 10 very reliable moving companies in all of Fort Lauderdale that you can find easily and make your quotes available too.
The Best Moving Companies in Fort Lauderdale:
Eight years and counting, Top Notch Movers have been waxing stronger and stronger with quality delivery and a high level of customer satisfaction. They are based in Fort Lauderdale and all of South Florida. They have got all the experience and knowledge necessary to make your move an elegant one. No matter the bulk of the items you need to move or the distance you need to go? You can trust on Top Notch Movers to help you move all your properties across. They have seasoned professionals that understand what moving is all about and understand the fundamentals of moving. They also believe that they can never be overbooked, no matter the number of orders they have or the amount of work they have to do, they always make sure they give you the most satisfying date.
If you are looking for a moving company with a lot of years of experience and friendly staffs, then you would do the right thing by hiring Forward Van Lines. They believe in forming a stable relationship with their clients; they take it a little higher from just working and getting it over with, to make sure they take care of all your items with utmost care. Moving can be a very daunting process, but Forward Van Lines have all it takes to relieve you from this stress. As earlier stated, they help you from the very moment you place a call with their company. They lead you on from the planning process, to providing you with a quote, to arranging your pick-up and even delivery dates and time of delivery, all as you would want it, Isn't that amazing? Nothing beats a team always on standby to help you with your moving needs. The team at forwarding Van are well experienced enough to make sure every detail is attended to. Forward Van offers services you can trust; their motto is "Let the forward family move your family forward."
3. Relax We Got It Moving and Delivery Services
As funny as the name might seem, they do precisely what their name implies. With this moving company, you have got absolutely nothing to worry about because they know just how to handle all of your moving needs. They have a lot of positive reviews on Yelp and other websites which means they have gained the trust of many customers. Their workers are also known to be professionals at what they do and offer only the best service available in Florida. They equally have a fair and competitive price; they believe that every customer should not face further inconvenience when they are trying to move because of some overpriced service. As their name implies, when you hire them, you have to "relax" because they will get your stuff moving safe and sound.
This is yet another epitome of a quality moving Service Company. They were established in 2013 and since then have been thriving in the industry. Cody is the name of the Owner of the business, and he believes in customer satisfaction above everything else. They also specialize in local moving and delivering your precious items all around Florida and South Florida. They are one of the companies that truly care and make the whole moving process less troublesome.
5. Solomon and Sons Relocation Services
For those of you in South Florida., businesses and individuals alike, Solomon's Moving company have come to turn your moving nightmares into the happy event. They offer you superior services with regards to moving and delivering locally. Another thing you should know is that they operate locally and make sure every client never goes home with a frown. For those who need a bit of proof in certifying that they are one of the best in Florida, you can check out their list of awards which proves that they are doing their best for everyone who needs their services in Florida. Apart from merely working locally, they have stationed staffs that specialize in long-distance moving services.
Admittedly, there are tons of moving companies that are existent in Florida, and it might come to you as a tough choice in selecting the most suitable one. If you are looking to have great value for your money and a job well done, then you can give Aragon a try. Apart from being a dedicated moving company, they are also a family business company which makes it easier for them to understand how to treat all customers. They have reliable, and honest movers that will help them move the process a little faster. With the aid of new technology, the Aragon Moving System has brought a new method of preserving and keeping safe your household items.
7. Albert's Relocation Services
When this company started, they had a goal in mind which was to redefine the way moving companies deliver their satisfaction, and up until this time, they have not relented in accomplishing their goal with every customer that hires them. This moving company is located in Florida and help move stuff around the state. They come out clean with affordable prices and an explicit declaration of what they will do for you if you hire them. They never include any hidden costs in your quotation, but they make the process as seamless as possible.
They are placed right in Fort Lauderdale and also extend their moving services to surrounding areas. They are experts on this job and make it very easy to have all your properties and items moved across South Florida and Fort Lauderdale. All Roads Express also make sure they can move your things from within Fort Lauderdale to other specific places. Just as you need to know, when you contact them, they will provide you with a free quote which gives you an idea of what you will need to prepare for. They are also insured, what this means is that your property is secure with them, they are also very serious-minded and will not take their job for granted. They are fast and reliable, with professionals that you can trust to do a perfect job.
Every other regular moving company you know might offer you full services from trucks to workers. Haulin is a little different from the regular moving company. All you need to do is to provide them with the truck, and they work their magic. Haulin is a company with a group of vibrant young men who have gathered a lot of working experience over the years and have directed this energy into moving your stuff for you. The best thing about them is that not only will you experience great satisfaction, but you also get to cut down on some costs, and you have absolutely no form of hidden charges to worry about. What they do best is moving, and they make sure you walk home happy as they provide affordable solutions to moving.
10. Affordable Moving Services
The name speaks for itself. If you are looking to have quality delivered to you at a very affordable rate, then the Affordable Moving Company would be your best bet. The company is a family owned business, and one thing familiar with family businesses is continuity, they make sure they do everything in their power to make sure you have no reason to complain before, during, and after a job is done for you. They offer quite a handful of services with regards to moving and delivering, services such as packing/boxing and unboxing/unpacking, relocation, disassembling items, residential moves, business moves, and other things. They have over ten years of experience which means they know just how to handle your items, no matter how bulky they are.
The following table displays the best moving companies in Fort Lauderdale
| No. | Best Moving Companies in Fort Lauderdale |
| --- | --- |
| 1. | Top Notch Movers |
| 2. | Forward Van Lines |
| 3. | Relax We Got It Moving and Delivery Services |
| 4. | Let Cody Do It |
| 5. | Solomon and Sons Relocation Services |
| 6. | Aragon Moving Systems |
| 7. | Albert's Relocation Services |
| 8. | All Roads Express |
| 9. | Haulin Assets Moving |
| 10. | Affordable Moving Services |
Thing You Need To Know When You Looking For Moving Companies in Fort Lauderdale
Fort Lauderdale is a beautiful place, just like any other place and offers you a lot of greatness but the issue is that with the way things are structured, you will need to have a full understanding of how to go about the process.
If you are still in doubt of whether or not it's time for you to move because it seems like a very daunting process, you will need to take a big bold step and act sensibly in making sure you don't work stupid. We have heard many regretful stories from people who made the wrong choices in picking random movers, a few guys with their truck and all. We have gathered some useful information you might want to use when looking for moving companies in Fort Lauderdale.
1. Experience
Experience is another primary yardstick for some. They like to peer into your experience level to know whether or not they should work with you. As much as it is not wrong to look for a company with a handful of experience, it is also not entirely a useful yardstick to be used in trying to determine whether to use the services of a company. There are credible staffs at even newer companies that have better methods at trying to reach customer satisfaction. However, if you need a basis of assessment for a company, you can still check out their experience level to make sure they know what they are doing.
2. Quotes
For moving companies particularly in Fort Lauderdale, FL, you should be able to be given a free quote once you make a phone call with them. You need to understand that once you can be given a quote on the moment you explain your situation, it shows a level of transparency in the company, they also make sure they have no extra hidden charges in those quotes they give.
3. Feedback from Previous Customers
This usually works for a lot of people; you need to gather a lot of background knowledge about the company you intend to use. Moving is a serious business; you also need to attach the same level of seriousness in choosing the right company. There are hundreds of moving companies on the internet, and you have to be careful in making the right choice as to who is your best fit. You can surf the web for reviews on the company you want to select and feed your anxiety with enough courage to go ahead and hire them if the results turn positive.
4. Licensed Movers
There are random, regular companies who don't have a clue to what professional moving is all about, the authorized companies, however, have a better understanding of what it means to be a moving company. You might want to add a license as part of your search criteria when next you seek a moving company. You should also know that permits can be withdrawn if the standards are not met, so look out for licensed movers to have a bit of assurance that you are choosing the right company.