Mistakes That Can Cost You a Fortune While Moving
Have you been planning for a relocation lately? If yes, then pull up your socks and get ready for some serious action.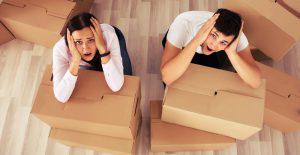 Relocation can prove to be a really daunting task if not taken care properly. Smooth relocation requires a lot of planning and the right execution of the same. It is recommended to start at least 5 to 6 weeks before the actual relocation to avoid last minute chaos. However, even after a lot of planning, we ought to commit a few mistakes that can cost us a lot.
So for all such people who are planning to relocate in recent times, there are few mistakes that you must avoid while moving:
Not hiring a certified and professional moving company:
Relocation is not only stressful but it also involves a lot of physical strength. Undoubtedly your friends and relatives will help you with moving but only by providing contact with the moving company. Everyone knows how physically daunting this task can prove to be. If you want to avoid any damages or injuries then it is recommended to hire professional help. Saving money by not hiring a moving company can cost you more than that by paying later for the damages and injuries.
Opting for the one with lower quotes:
Often we take quotes from more than one vendor and end up hiring the one with lowest quotes but one with the lowest quote may not provide you best of the services. Such low budget movers are neither professionals nor certified, you can depend on them in context with the safety and security of your belongings.
Opting peak season or hours to relocate:
While planning to relocate, take care of the time slot you are opting for. Never go for peak hours or peak season to relocate. It is that time when the prices are really high and can actually burn holes in the pocket.
Choosing the one with no insurance:
Never go for a company that does not provide insurance for the moving goods. Moving involves a lot of risks from trips and falls to severe injuries and damages. Insurance protects you from the risk of such mishappenings.
Not keeping survival kit for yourself:
If you are going for a long distance movement, then not keeping a survival kit for yourself can be a real blunder. Always ensure to keep food items, medical kit, and all other important documents along with you while traveling. Apart from this never leave things like jewelry, cash or other precious items in the moving vehicle.
Not marking the boxes:
If you are doing all the packing and moving, then make sure to mark the boxes accordingly. Not marking the same can lead to the damage of some of the delicate and fragile items as you may not be able to identify them while loading and transporting.
Now that you know about the mistakes that can cost you fortunes while moving, we hope that you will avoid doing the same. A little precaution can help you in making the process of packing and moving really smooth.