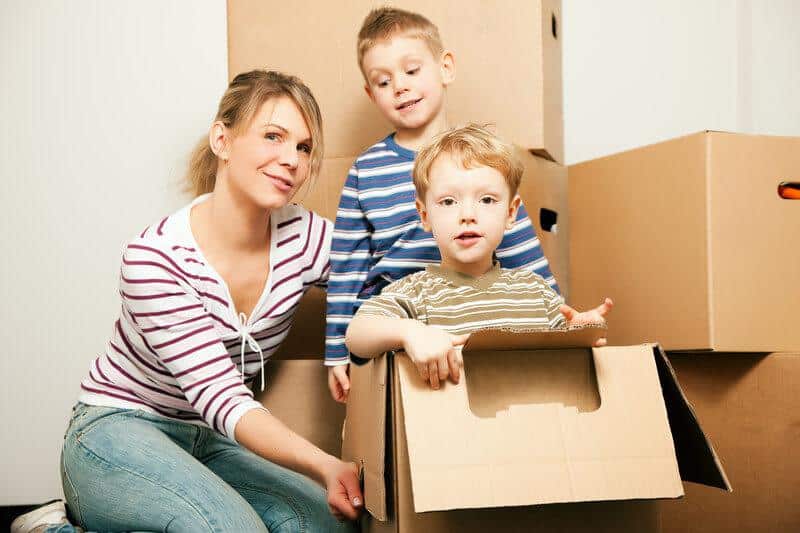 You have finally organized everything for your move, and you scheduled a mover that you can trust and work with well. But, if this is your first time working with national moving companies for a move, you may be curious about exactly what they have to offer you.
A big question you may have is whether or not they have boxes available for you to purchase or use for free. Do these companies do this? Let's take a look at this question, alongside of other important questions related to finding the right packing supplies for your purposes.
Do Movers Provide Boxes? 
It all depends on the company! There are some national moving companies out there who have made the deliberate choice to go ahead and provide all-inclusive moving packages for their customers. While these may end up costing a little more up-front, you will find that it works quite well if you want everything ready to go.
How Can You Get the Right Packing Supplies?
There are a lot of different ways in which you can get the packing supplies that you need in order to get results. If your moving company doesn't offer boxes as part of your moving plan, then you may want to ask them if they sell packing kits. These can be really helpful and ensure that you have the tools necessary in order to be able to accomplish your goals.
You can also look around your local community for boxes. In some cases, you may end up finding some friends or family members who have moved recently, and they still have some of the supplies that they had for their move. This can save you a bit of cash over time, and make it easier for you to sort out details.
Another consideration is where you rent your truck from. If you need to rent a truck for your move, the truck company may allow you to rent or buy boxes from them as a part of the services that they offer. And, as we previously mentioned, your movers may also sell them or include them as part of the moving package that you decide to get from them.
What Sorts of Boxes Are Best for Packing?
Sturdiness is one of the most important factors to consider when it comes to working out what it is that you want from a box. It should be something that holds up under a lot of pressure and that is going to be large enough to hold a variety of items of all sizes. So, which options are the ones that you should keep your eyes peeled for?
If you're moving books of any sort, your best bet is to go ahead and get some of those boxes that hold office paper. They are decently sized, so they fit a few books, but they don't fit so many that it's dangerous to lift the box. On top of that, they have handles, so it makes it easier to lift everything. All you need to do is stack the books, put the lid on, and tape the lid down securely.
Liquor boxes are a great option when you want to be certain that you're able to hold a number of fragile items. They're just as sturdy as the office paper boxes, and they typically have dividers with them, allowing you to sort out your items without worry as to whether or not those items will stay safe during transit.
Moving boxes, like you, can get from moving companies, are often heavy-duty and quite large. They are built to hold pretty much anything, and they are really easy to construct and break down when it's time for you to do so.
What Other Containers Can, And Should, I Use for Packing? 
Boxes are most people's first go-to when it comes to sorting out exactly what it is that they want to use. But, boxes are not the only thing that you want to consider here. In many cases, if you have empty containers of any sort, you can use them to pack up certain items in your home.
Some of the most popular options include suitcases, Tupperware bins, large bins, garbage cans, and various other things you may have in your home. Reusable bags, with their modern popularity, are also pretty handy options if you want to store some stuff away or take it with you on your move.
Frequently Asked Questions
What is a packing kit? 
A packing kit is a solid option for many people who may be looking for everything that they need for a move, all in one package. These kits will have tape, boxes of multiple sizes, labels, and everything else that you may require in order to stay ahead of packing. They're based on how many bedrooms your home has, so it's important to be accurate based on how much stuff you have, too.
How can I be more environmentally friendly with the packing "fluff" in my boxes? 
If you don't want to use peanuts or bubble wrap, you can actually use some of the soft items in your home to pack around your fragile items. Socks are great for glasses and mugs. Shirts can fit in boxes with knick-knacks, so you end up saving space and money.
How long will it take me to pack? 
It depends on how much you have. The earlier that you start packing, the better off that you'll be, because you won't be frantically packing up the day before you move to your new place. Most of the time, you'll end up getting it done within a 2-3 week period of time, unless you have a large home.
Getting Your Supplies Ready 
Now that you know how you can get boxes and other moving supplies, it's time for you to start preparing whatever it is that you need to accomplish. Search for the best options and get everything that you need in order to start the process of packing and getting ready for your move.