Checklist For Moving on Your First Apartment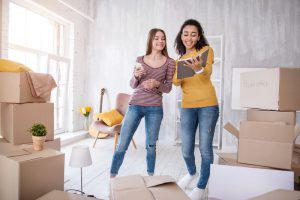 There are lots of things that are very exciting, but nothing holds a candle to moving to your new apartment for the very first time. There is always an outburst of emotions with this type of feeling, and it also signifies taking the great big leap into something entirely new and unusual for you. The case might be that you have lived with your parents for a long time or you might have been staying with your friends, or you might even have been with other relatives, whatever the case might be, it's always fascinating to move to your apartment.
If you are reading this right now, it means you have gotten a new apartment and would need to be guided on some of the essentials that you will need to know and have. We understand that you most probably haven't gone this way before and you could use some directions that would not make you seem like a total novice. We hope that you will be able to find this piece of information highly resourceful in helping you move to your new apartment. Below are some of the things you should consider, or as we call it, "the checklist for moving on your first apartment."
What to do before you move into your new apartment
Before we go into the details of the things you would need for your home, we would first be looking at some of the things you need to consider right before you move into your new apartment alone or with your family. Here we go.
First thing's first, you must take a detailed and comprehensive survey and look at your home to know the things you will be needing. If you do not know the home very well, it might take time for you to adjust and you might make some silly mistakes at first, but you should know the apartment you are dealing with, your kind of lifestyle and the things you will be needing.
You will need to go round the house and see the locks that were used; you will also need to change all the locks in your home. You never can tell who used the home before you and who has the keys. To this end, you should make sure you change the locks so that you are assured of your safety.
The next big step for you will be to sanitize and disinfect the home. It might seem as though nothing is wrong with the house and as though everything is in good condition, but trust me, you cannot see germs with your eyes. You might need to hire professionals to help with the fumigation process to kill off any germs and residual vector lurking in the environment.
Next thing for you will be to try as much as possible to change your address on all your documents to this new address, so you do not keep getting emails in the former address. You should know that this is important, and it is also one of the smallest things that your mind can skip, so try as much as possible always to bear this in mind.
After you have set all those things in place, you can try measuring the rooms and knowing which room would be best for what. It is important so that when you finally decide to move, you know how to direct the workers on where to go and how to go about the entire unloading process.
THE CHECKLIST FOR YOUR FIRST APARTMENT
The nature of this apartment is what should inspire you to get all the things that are will be mentioned in this article, if not all, then you can get as much as is required, what your budget can afford or what you need essentially in your apartment. The essentials vary from people to people, and also from the type of family you have. If you are leaving alone, then you might not be needing much, but if you are leaving with a large family, then you should consider getting what your family needs for a start. With this said, we are going to be providing you with the most basic checklist for the family, what you can get and upscale if you happen to be more, and it will be according to categories, so here goes.
Living room
We are starting with the living room because this is more or less the first place your guests would love to be in your home. So here is a list of items necessary for the living room.
Toss pads
Racks
Picture casings and snares
Futon
Lights
Craftsmanship artworks, photos, publications, and so on.
A lounge chair or sectional
Window hangings/Blinds
Television (and stand or apparatuses to hang it)
Foot Mat
Drapery or blinds
An end table or footrest
Lighting (lights or standing light)
Region carpet
Television and TV stand
Bookshelves
Television (and stand or apparatuses to hang it)
Lights
Work area and seat
Beanbags, pads and other innovative sitting choices for companions and visitors
Extra parlor seating (seats, stools, futon and so on)
Pads
Picture outlines
Lounge chair and seats
Zone floor coverings
Craftsmanship, mirrors, and style
Hanging snares and instruments
Candles
Bookshelf
Covers
Side tables
Side and focus tables
Candles
Bedroom
The next point of focus is your bedroom. Of course, it has to be the most comfortable place in your home, a lot of great things happen there you know?
Bed frame
Nightstands/bedside dressers
Dresser with drawers to hold clothes
Full-length mirror
Art
Blankets
Pillows
Mattress and mattress pad
Comforter
Bed sheets
Duvet cover/duvet
Rug
Bedside lamps
Closet shelving
Shoe storage
Trunk
Closet organizers
Beddings- sheets, pillowcases
Blankets
Nightstands
Laundry hamper
Chair
Drapery or blinds
Wastebasket
TV
Clothing hangers
Hangers
Nightlight
Pillows
Fans or space heater
Door or full-length mirror
Trashcan
Curtain
Nightstand
Night light
Alarm clock
Pillows
Hamper
Hangers
Curtains
Full-length mirror
Under-bed storage containers
Kitchen
You will also need to make sure you take care of your kitchen, here are some of the essentials that you need to put in place in order to have a decent kitchen for a new apartment.
Teapot
Salt and pepper shakers
Rack liners
Handsoap
Trashcan and rubbish sacks
Aluminum foil
Cutlery set (Butcher's blade, paring blade, utility blades, steak blades, and bread cutting blade)
Espresso producer or Keurig machine
Blender and additionally nourishment processor
Blender
Peeler for vegetables and organic products
Dish towels
Colander
Stove gloves
Containers and dish sets
Lemon squeezer
Grater
Blending bowls
Saran wrap/stick wrap
Pitcher
Magnets
Storeroom supplies
Estimating glasses and estimating spoons Oat bowls and soup bowls
Microwave
Dishes and different size plates
Cooking sheets and preparing sheets
Canisters
Zest rack
Placemats
Pots and dish (sauce skillet and extensive pot)
Tupperware or Pyrex
Utensils and utensil plate
Dishwashing cleanser
Toaster or toaster broiler
Bathroom
Now let's talk about your bathroom a little. It has to be very clean and should have all the essentials that any bathroom would have. The list below is some of the things you need to get for your bathroom.
Shower window ornament and liner
Wastebasket
Hamper
Wipe
Shower tangle
Handsoap
Trash can
Over-the-door towel hook
Hand towels
Toiletries
Vanity plate
Seagrass bins for holding towels
Shower reflect
Cleaning supplies
Tissue
Shower caddy
Tissues
Shower towels
Washcloths
Bath mat(s)
Air freshener
Toothbrush holder Canisters for holding different things
Shower seat or stool
Plunger
Furniture
For furniture, it is important you have only the best quality. You will need them almost everywhere in your home, except you choose to sit on the bare ground. Take a look at some of the things you need to get.
Sofas
Bed
Dining table and chairs
Cabinets
Wardrobe
Dresser
TV stands
Desk and chair
Miscellaneous
This is the other items that you might be needing in your home that would come in handy for you. They might not be useful immediately, but you'll be glad to keep them.
Iron
Flood defenders
Emergency treatment pack
Electric lamps
Toolbox
Lights
Emergency treatment pack
Scissors
Sewing pack
Cleaning supplies
Additional ropes
Sled and nails
Multi-plugs
Matches
Batteries for divider clock and remotes
Floor brush and dustpan
Extra snares
Bins and receptacles for capacity
Stools for storage rooms and storerooms
Air channels
Batteries for smoke locators
Chargers for your gadgets
Additional ropes
Clothing Bins
Containers for capacity
Mop
Lights
Timekeepers
Carbon monoxide locator
Vacuum Iron and pressing board
Envelopes for reports
Cleaning tools and supplies
You must keep the entirety of your home clean, and this is some of the things you will need to clean your home.
Clothing crate
Wipes
Stepping stool or step stool
Shower bottles
Plume duster
Mop and mop container
Vacuum cleaner
Container
Floor brush and dustpan
Trash can
Paper towels
Window cleaner
Floor brush and dustpan
Cleaning towels
Cleanser and clothing cleanser
Trash sacks
Clothes
What to do after settling down in your home
After you have settled in your home there are things that you are meant to put in place, and you should pay close attention to the state of the home before you moved in and also when you finally moved in. here are some of the things that you can check after settling.
The first thing to do is to make sure you try to document the state of the home upon moving in. save them for your own use or for a legal purpose that might arise, who knows? You can keep some of the documents, or you can also share some with the owner of the apartment so that you can both come to a mutual agreement.
The next thing you should also do is to make the boxes, and all the items you have moved are placed in their rightful places. When you plan on moving, you should have in mind that you have work to do, prepare yourself to work, and try as much as possible to arrange the things that you can arrange for that day.
Another thing you can do is to take a look and explore your neighborhood so that you can get familiar with the area. Take a stroll to use a map or just walk and know places that you might know if you stayed in your home. Take a walk and find the closest store, try to see where the nearest gas station is and other useful locations like that.
You can also help yourself by going to your neighbors and getting to know them. A formal introduction is key to being accepted. A good relationship and first-time impression with your neighbors is an excellent start to helping you get to know your way around faster. If your neighbors are nice enough, they can act as your tour guide and help you get to know how the neighborhood works faster.
We hope we have been able to comprehensively capture a list of the most basic and necessary thing that you will need when moving for the first time to your new apartment. You should equally note that the first most important thing when you want to move is to have a certified and trusted moving company that can help you with very decent and professional service.
Even if you have everything figured out, it can still be ruined by a poor service provided by these moving companies. You might be wondering why you may need a moving company, and here is why. Before you moved to your first new apartment, you must have been staying somewhere, and you would have gotten items, if the items are more than what you can carry in your car, then you might be needing a moving company.
If you also get your apartment in at a location far away from where you primarily stay, then you might be needing cross country movers to help you move all of your properties and items across different places. Make sure you carry out extensive research on the cross country mover that you will be selecting.